Sports
GU tries to solve Tigers at Arena
Sat., Feb. 7, 2009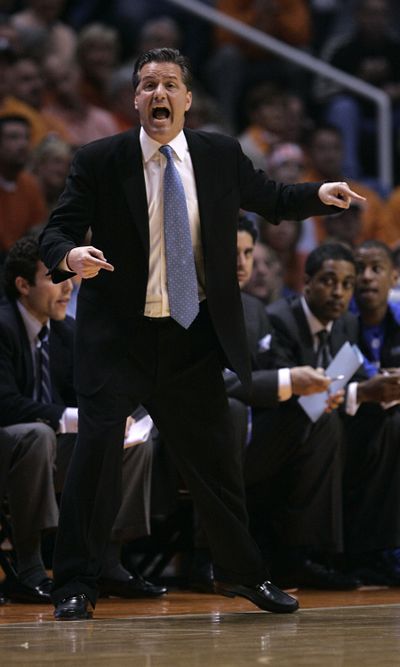 Basketball purists probably carry fond recollections of the Gonzaga-Memphis games the last three years.
There was Adam Morrison scoring 34 points, but the Tigers rallying from a six-point second-half deficit for an 83-72 win three years ago in Memphis, one of just four losses GU suffered that season.
There was a 78-77 Memphis win in overtime against a short-handed but valiant Bulldogs team at the Arena two years ago.
And there was the top-ranked Tigers' 81-73 victory at the FedEx Forum in Memphis a year ago as Derrick Rose and Chris Douglas-Roberts combined for 40 points.
"We've had some great games with them in the past," Gonzaga head coach Mark Few said. "We just need to break through and win one of them."
Gonzaga's next opportunity comes tonight against the 14th-ranked Tigers (19-3) at 6 at the Arena. Memphis has won 13 straight, the second-longest streak in the nation. The 18th-ranked Bulldogs (17-4) have reeled off nine consecutive wins.
Asked if Gonzaga owes the Tigers one, senior point guard Jeremy Pargo cracked, "We owe them three. It's a game that we've looked forward to for a while and I'm pretty sure they've looked forward to it, too."
The teams have dominated their respective conferences. Gonzaga has won eight straight WCC titles and is well-positioned for No. 9 after defeating second-place Portland 93-78 on Thursday. Memphis has ruled Conference USA, winning its last 50 conference games.
"It's just totally different going from a highly skilled team with incredible shooters (Portland) to one of the greatest collection of athletes in all of college basketball," Few said. "They can really defend, they're hard to score on, they're very athletic on the glass and they mix in some presses."
Memphis, which lost to Kansas in overtime in the NCAA championship last year, lost Rose, Douglas-Roberts and Joey Dorsey to the NBA. Rose was the top overall pick while Douglas-Roberts and Dorsey were selected in the second round.
But the Tigers reloaded with freshman Tyreke Evans, who averages a team-high 16.8 points, 5.4 rebounds, 3.9 assists and 2.4 steals. Seniors Robert Dozier (11.8 points, 6.9 rebounds) and Antonio Anderson (10.5 points, 4.9 rebounds), and juniors Shawn Taggart (10.1 points, 7.0 rebounds) and Doneal Mack (9.5 points, 41 3-pointers) join Evans in the starting five.
Reserves see considerable time, but Memphis will be without injured freshman forward Wesley Witherspoon (knee) and freshman forward Matt Simpkins, who was dismissed from the team earlier this week.
The Tigers took off after Evans took over at point guard.
"We had a dumb coach early in the year who didn't have Tyreke at point guard," Memphis head coach John Calipari said. "That has really changed us and has made guys more comfortable. Now we have to get him playing a little better. We're playing tougher, more physical and that's what you need to be doing to be able to advance in the NCAA tournament."
The Zags are looking forward to their annual game in the Arena.
"Thirteen thousand compared to 6,000," Pargo said of the difference between playing in the Arena and the McCarthey Athletic Center. "That's it. That's the only difference."
Local journalism is essential.
Give directly to The Spokesman-Review's Northwest Passages community forums series -- which helps to offset the costs of several reporter and editor positions at the newspaper -- by using the easy options below. Gifts processed in this system are not tax deductible, but are predominately used to help meet the local financial requirements needed to receive national matching-grant funds.
Subscribe to the sports newsletter
Get the day's top sports headlines and breaking news delivered to your inbox by subscribing here.
---