News > Features
Simpson's just a country girl at heart
Sun., Feb. 8, 2009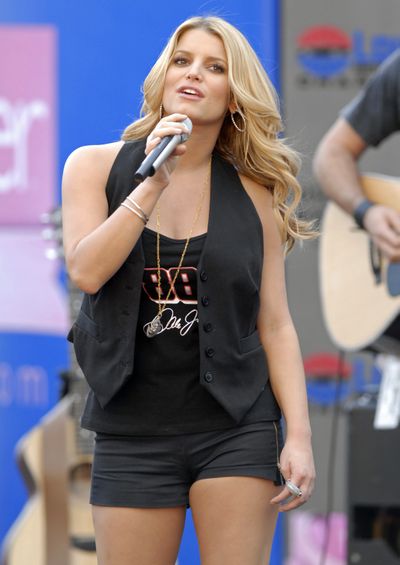 It wasn't the sort of career move anyone saw coming. Jessica Simpson: pop pinup, reality show princess, tabloid celebrity and country singer?
Truth to tell, Simpson didn't exactly see Nashville as part of her star journey, either.
"I didn't set out or say to myself, 'I'm going to make a country record,' or anything like that," Simpson said. "There were just songwriters in Nashville I wanted to write music with. And what we did ended up being country.
"I never looked at country as being too far removed from what I had been doing. But then I never really felt that, in the pop world, I owned everything I was doing. … Going to Nashville and writing with those writers helped me dig into a deeper side of myself."
Something works. Her debut country album, "Do You Know," hit No. 1 on the country charts and No. 4 on the pop charts upon its release last fall. A Nashville single called "Come on Over" has won considerable airplay.
But then Simpson, 28, is used to big numbers. The other four LPs the native Texan has released in the past decade have all achieved gold or platinum status. The country conversion, it seems, was as much a cry for credibility as anything else.
Her music has always been a hit, but it paled next to the profile that Simpson created offstage, beginning with the 2003 MTV reality series "Newlyweds: Nick and Jessica" that chronicled the early days of her marriage, which eventually failed, to pop singer Nick Lachey.
"I don't know if you ever get used to tabloids and people making up stories about you and writing about you when you're not really attached to it, like you would be if you were giving an interview," she said. "You never get used to that. But there is a way to not allow that to be your focus. I really just have to detach myself from the world of gossip and preconceived ideas."
One of Simpson's first major public stabs at country nose-dived. At a December 2006 taping of the Kennedy Center Honors, Simpson performed as part of a tribute to lifelong idol Dolly Parton. But after botching the lyrics to "9 to 5," and then being dissatisfied with a second recorded attempt for the broadcast, Simpson withdrew from the event.
But the silver lining to such a public and professional humiliation was Parton herself, who befriended the singer, offered encouragement and penned the title tune for "Do You Know."
Another member of country-music royalty, Loretta Lynn, also has praised Simpson. In Marie Claire magazine, Lynn said, "People ought to give her a chance. She's got a great voice, she's beautiful – I don't know what else they want."
"When people like Loretta Lynn and Dolly Parton believe in you and want to help people catch a glimpse of the talent God has given you," Simpson said, "well, I just hope to be able to do that for somebody else someday."
The birthday bunch
Composer-conductor John Williams is 77. ABC News anchor Ted Koppel is 69. Actor Nick Nolte is 68. Comedian Robert Klein is 67. Actress Brooke Adams is 60. Actress Mary Steenburgen is 56. Author John Grisham is 54. Singer Vince Neil of Motley Crue is 48. Actress Mary McCormack is 40. Actor Seth Green is 35.
Local journalism is essential.
Give directly to The Spokesman-Review's Northwest Passages community forums series -- which helps to offset the costs of several reporter and editor positions at the newspaper -- by using the easy options below. Gifts processed in this system are not tax deductible, but are predominately used to help meet the local financial requirements needed to receive national matching-grant funds.
Subscribe to the Coronavirus newsletter
Get the day's latest Coronavirus news delivered to your inbox by subscribing to our newsletter.
---