Sports
Basketball helped rekindle her life
Tue., Feb. 10, 2009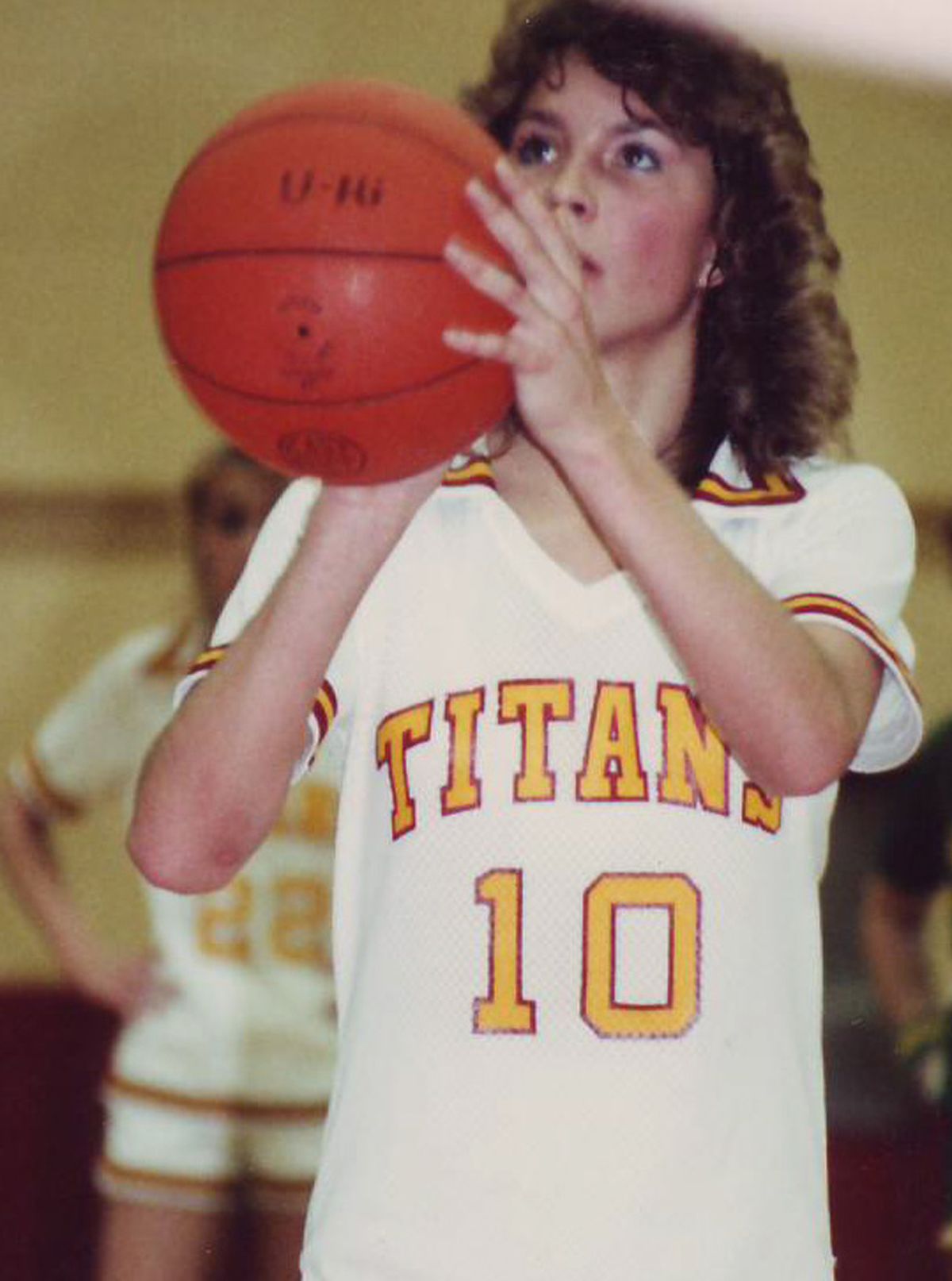 Photo courtesy of Sonya Elliott (Photo courtesy of Sonya Elliott / The Spokesman-Review)
Sonya Elliott was flying home from a modeling assignment in Hawaii last month, husband and two children waiting for her at home in Seattle.
Staring into the darkness from her widow seat, many thoughts crossed her mind.
"I remember thinking how thankful I am, from where I came from," she said, choking up at the thought.
She wasn't reflecting on her All-Greater Spokane League basketball career at University, her four seasons at Eastern Washington, highlighted by an appearance in the 1987 NCAA tournament her junior season, or her modeling career.
She only thought back to when her second life started, when she woke up in the hospital after a train hit the car in which she was riding and killed her fiancé just days before their wedding.
It was Oct. 20, 1991.
"Like anybody that's going through the loss of somebody they love, when you're in it you don't see that it can get better," she said. "To me, it's unbelievable where I'm at."
Through a love of basketball she learned to love life, and love again.
"When you play sports you learn a good work ethic; not to give up," she said. "When I was physically and emotionally going through recovery, when I didn't think I would be able to go on, because of sports … you learn to keep going."
She tells her story through a book she hopes to have published soon: "Back on the Court. A young woman's triumphant return to life, love and basketball."
"I want to be able to help other people, inspire them," she said. "Even though times can be really hard, there is hope. You can find happiness."
• • •
Sonya Gaubinger didn't have much to complain about growing up. The Titans made it to regionals her sophomore year. The 5-foot-8 forward was second-team All-GSL as a junior and tied for second in scoring in the GSL with teammate Kris Kallestad at 14.8 points a game. She was third in scoring at 17.4 as a senior, a point behind league MVP Lisa Oriard of Gonzaga Prep, and repeated her second-team honor.
She played in 111 games at Eastern, ninth on the career list. The Eagles went 70-41, winning the Big Sky Conference title in 1987 and losing 75-56 to Oregon in the 1987 NCAA tournament. She was twice academic all-conference.
After graduating with a degree in communications, she moved to Seattle to continue her modeling career. Despite modeling, coaching at Blanchet High School and waiting tables to make ends meet, she continued to play basketball. At an open gym in 1991 she met Mark Overholt.
"Playing basketball against a man tells me more about him than any date," Elliott has written. "I got to know the real Mark that afternoon. He didn't give me a break. He took me to the hoop, crashed the boards, and stole my passes. He used his body to move me out of the way and get loose balls, and then he'd flash me a smile. Mark captured my heart with his intensity. …"
Their first date was dinner and a Sonics' game. It was a whirlwind romance, but less than three weeks before the wedding, returning to Seattle after a bridal shower, tragedy struck when they decided to leave the highway near Ritzville.
• • •
Elliott's injuries were life-threatening, requiring six hours of surgery: shattered right arm and leg, bruised heart, punctured lung, and lacerated spleen and kidney.
She was in the hospital two weeks, then moved to her parent's home, wracked with pain physically and emotionally. She slept in a hospital bed set up in the living room and got around in a wheel chair.
When she wasn't angry she was depressed, often taking it out on her mom and dad, pointedly ignoring her mother's suggestion to write.
"I didn't want to think of going there," she said.
"Why me's" were overwhelming her.
While she was in the hospital she saw herself on television in her first major commercial, touting soloflex. She was filming that when Overholt proposed.
"I can't even tell you," she said of her reaction. "It just seemed unreal. I thought I would never be able to move again, be active. It was hard to see that."
Then one day she picked up a pen and started journaling. Writing was physically painful because of the damage to her right arm but it proved to be emotionally liberating as she transferred her feelings to a page.
"Maybe it was time … time for me to vent," she said.
Slowly she moved away from the wheel chair and started thinking about her future.
"When I could finally get up and walk around I was going crazy," she said. "I was 25, I was supposed to be married. I'm pretty independent but I'm lucky I had my parents."
She found an outlet when Nordstrom's asked for her help backstage for a runway show in Seattle.
"When I came to Seattle, all I thought was how could I move back here," she said, "even though I had a lot of scars and couldn't walk very well."
After she returned home her agency landed her another backstage job.
Just six months after escaping death she returned to Seattle for good.
"It could have been a lot worse, physically," she said. "The doctors said I was in great shape. That probably helped me recover. Athletes, once they start working out, have that drive."
• • •
That's still a long way from rebuilding a life and finding love again, which in itself is a Valentine Day's movie script.
One day a friend of Overholt's, a baseball coach, invited her to a game. He was upfront, explaining he had a player that reminded him of Overholt and seeing him might be therapeutic.
It was true.
And it turned out, the catcher reminded her of a friend from college, Eagles football player Jason Elliott.
"I hadn't thought about him in years," she said. "Then I kept thinking about him. I'm actually the one that called him."
All she knew is the name of the company he worked for, getting the phone number off a toothpaste box. It was 1-800-transfer-transfer- transfer-and-transfer- yet-again-voice mail.
"I hung up and said, 'Oh my gosh, what have I done?' " she recalled.
Elliott called back and the rest, as the cliché goes, is history – except it wasn't that simple.
"I felt uncomfortable at first, going out with somebody," she said. "For a long time I wouldn't go out in public. He hung with me."
They have been married 14 years and have two children, Charlie, 11, and Cass, 8.
• • •
Don't underestimate the role basketball played in her life in general, as well as her recovery in particular.
She played pickup ball as a release and coached in high school to survive. Its lessons were motivation for recovery. She continues to play city league to compete, coach her kids for the love of the game and work clinics to give back.
"What is amazing – I feel so lucky – is Sheryl Swoops is on my rec team," Elliott said of the former WNBA MVP. "It's the next best thing to my dream of playing in the WNBA, playing next to one of the best."
She is busy volunteering at her children's schools and writing.
"I wanted to be able to help other people, inspire them," Elliott said. "Even though times can be really hard, there is hope. You can find happiness.
"Believe me, when I was in the middle of it, I didn't think I would. I wished I had been killed."
Instead, thanks to basketball, she has rediscovered life and love.
Local journalism is essential.
Give directly to The Spokesman-Review's Northwest Passages community forums series -- which helps to offset the costs of several reporter and editor positions at the newspaper -- by using the easy options below. Gifts processed in this system are not tax deductible, but are predominately used to help meet the local financial requirements needed to receive national matching-grant funds.
Subscribe to the sports newsletter
Get the day's top sports headlines and breaking news delivered to your inbox by subscribing here.
---