News > Features
'Queen of Mean' is on the scene
Tue., Feb. 10, 2009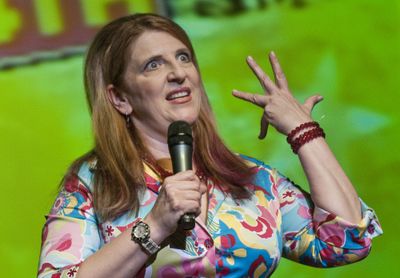 Lisa Lampanelli says dreadful and appalling things for a living. She is a cartoon of unsuppressed hatreds and unmedicated hostilities, as foul-mouthed as a Marine.
And people love her for it.
At the moment, Lampanelli, 47, is the hottest female stand-up comic not named Sarah Silverman. Within the past year, "the Queen of Mean" has sold out both Radio City and Carnegie Hall on an endless comedy tour.
HBO aired her first stand-up special. Her autobiography ("Chocolate, Please," a reference to Lampanelli's fondness for black men) arrives later this year.
Like Don Rickles, Lampanelli's paint-peeling persona is partly well-honed shtick and partly an extension of her personality.
"I call myself an insult comic," she says. "I take no pride in being called a comedian. I like 'insult comic' because nobody can … do it."
Years of performing have taught Lampanelli how far she can push things. People know what they're getting when they pay $40 to see her.
In more contemplative moments, Lampanelli reflects that her audience gets the lack of malice behind her words. They relate to her self-deprecation, too, such as her frequent jokes about her low standards in men.
"I've gotten a few fan letters that put it really well," she says. "They like how (my act) brings everyone to the same level, how it shows we're really exactly all alike and how it defuses language, like Lenny Bruce did."
Real hate doesn't play well, she says, adding, so, "I only make fun of the people I really like."
Like the late George Carlin, Lampanelli went to Catholic schools and grew up in a voluble household of five. Her father was a contract negotiator for Sikorsky Aircraft in Connecticut. Lampanelli's comic inspiration is her mother, a genteel and often clueless bigot.
"I always kind of use her voice for a lot of things because she's very entertaining and amusing," Lampanelli says.
After graduating from Syracuse University, Lampanelli worked as a journalist, but she found that she enjoyed being behind a microphone during weekend gigs as a party DJ. She was 30 when she tried stand-up.
Her big breakthrough came after she appeared on a series of celebrity roasts televised by Comedy Central starting in 2002.
Soon, she was appearing on "The Tonight Show" and on Howard Stern's radio program while graduating from clubs to theater dates.
"It's much more shocking to hear a woman saying what she does than a man," says Allyson Jaffe, at the DC Improv comedy club. "It's just really surprising. That's why she's playing 800-seat theaters instead of smaller clubs."
About two years ago, in an interview with The Washington Post, she spoke about how much she'd sacrificed for her career – all the years of living out of a suitcase, the lonely nights in crummy clubs, the loss of family life.
And then, overcome by it all, the "Queen of Mean" did something really shocking. She broke down and sobbed.
The birthday bunch
Actor Robert Wagner is 79. Guitarist Don Wilson of The Ventures is 76. Singer Roberta Flack is 72. Bassist Bob Spalding of The Ventures is 62. Country singer Lionel Cartwright is 49. Actress Laura Dern is 42. Country singer Dude Mowrey is 37. Actress Elizabeth Banks is 35. Singer Eric Dill is 27. Actress Emma Roberts is 18.
Local journalism is essential.
Give directly to The Spokesman-Review's Northwest Passages community forums series -- which helps to offset the costs of several reporter and editor positions at the newspaper -- by using the easy options below. Gifts processed in this system are not tax deductible, but are predominately used to help meet the local financial requirements needed to receive national matching-grant funds.
Subscribe to the Coronavirus newsletter
Get the day's latest Coronavirus news delivered to your inbox by subscribing to our newsletter.
---