Sports
Bradley, U.S. top Mexico in World Cup qualifier
Thu., Feb. 12, 2009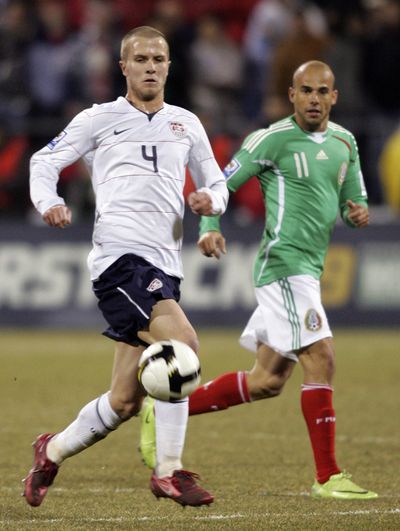 Michael Bradley scored twice to lead the United States to a 2-0 victory over Mexico in a World Cup qualifier Wednesday night in Columbus, Ohio, preserving the Americans' domination in the series over the last nine years.
On a wet and windy night at Crew Stadium – under the threat of a tornado watch – the Americans ran their record to 9-0-2 on U.S. soil against Mexico since 2000.
Bradley kicked a rebound of Oguchi Onyewu's header into the goal from 6 yards out. His other goal came from 28 yards out off a pass from Donovan.
The match was the first of 10 in the final round of qualifying for each team. The United States plays at El Salvador before taking on Trinidad and Tobago on April 1 in Nashville, Tenn.
MLS issues deadline: MLS commissioner Don Garber gave AC Milan a Friday deadline to work out a transfer deal for David Beckham or he said he would not approve a transfer from the Los Angeles Galaxy. The league owns the contract of the 33-year-old midfielder who wants to stay with the Italian club.
College basketball
UNC wins at Duke
Ty Lawson scored 21 of his 25 points in the second half, and No. 3 North Carolina rallied past host No. 6 Duke 101-87 at Cameron Indoor Stadium in Durham, N.C. The Tar Heels (22-2, 8-2 ACC) became the first team in nine seasons to hit triple digits against Duke (20-4, 7-3). The loss snapped the Blue Devils' 14-game home-court winning streak.
No. 1 UConn beats No. 23 Syracuse: Hasheem Thabeet had eight points, 16 rebounds and seven blocks to lead No. 1 Connecticut (23-1, 11-1 Big East) to its 12th straight victory, 63-49 over No. 23 Syracuse in Storrs, Conn., the fifth loss in six games for the Orange (18-7, 6-6).
Costner, N.C. State beat Wake Forest: Brandon Costner scored 23 points to help North Carolina State (13-9, 3-6 ACC) defeat No. 7 Wake Forest (18-4, 5-4) 82-76 in Raleigh, N.C.
Dayton beats No. 14 Xavier: Chris Wright led a balanced offense with 19 points, and host Dayton (22-3, 8-2) ended its six-game losing streak against Xavier (20-4, 8-2) with a 71-58 win at Dayton, Ohio, in one of the Atlantic 10's marquee matchups of the season.
Paris back to double-doubles: Courtney Paris got back into double-double territory with a season-high 25 points and 19 rebounds to lead No. 2 Oklahoma (21-2, 9-0 Big 12) to a 58-49 women's basketball win against No. 16 Iowa State (18-5, 6-3) in Norman, Okla. Two games after her record-breaking string of 122 straight double-doubles was snapped, Paris turned it on in the second half to guide the Sooners to their 17th straight win.
Texas women upset: Dominic Seals had a double-double with 11 points and 12 rebounds and Kierra Mallard scored a team-high 15 points to lead Texas Tech (14-9, 4-5 Big 12) to an upset over No. 12 Texas A&M (18-5, 6-4) 60-53 at Lubbock, Texas.
NBA
Celtics ruin Paul's return
Paul Pierce scored 30 points and the Boston Celtics spoiled Chris Paul's return from injury with an 89-77 victory over the host New Orleans Hornets. Paul, who'd missed four games with a right groin strain, finished with 13 points and five assists in 32 minutes.
Baylor sues Clippers, NBA: Elgin Baylor, the former Los Angeles Clippers general manager who was dismissed last fall after 22 years, has sued the team, the NBA and team owner Donald Sterling alleging employment discrimination. The lawsuit maintains that Baylor was "discriminated against and unceremoniously released from his position with the team on account of his age and his race."
Miscellany
Armstrong scraps plan
Lance Armstrong scrapped his much-publicized plan to set up an independent drug-testing program because of high costs and nearly impossible logistics.
When Armstrong announced his comeback last year, the seven-time Tour de France winner said he wanted to prove he was clean, and was teaming with anti-doping expert Don Catlin, who would test him and post the results online.
But Catlin told the Associated Press that after months of negotiations, both sides realized the program wasn't workable this year.
Armstrong began his comeback last month in Australia. He is training this month in preparation for the Tour of California, which starts Saturday. He also has announced plans to ride in the Tour de France this summer.
Hollywood's golf pro dies: Eric Monti, the former longtime golf pro at Hillcrest Country Club in Los Angeles who won three PGA tournaments in the 1950s and early '60s, died Feb. 1 of prostate cancer at his home in Laguna Woods, Calif. He was 91. At Hillcrest, Monti instructed a who's who of Hollywood celebrities including Henry Fonda, Burt Lancaster, Kirk Douglas, Danny Thomas, Danny Kaye and Jack Benny.
Crosby's shootout goal leads Pens: Sidney Crosby's hard wrist shot fooled San Jose goalie Brian Boucher for the only goal in the shootout and the host Pittsburgh Penguins rode Marc-Andre Fleury's strong goaltending to a 2-1 NHL victory over the Sharks. Crosby is one of the league's least-efficient scorers in shootouts, previously going 9 for 32 in his career. Fleury turned aside 36 of 37 shots.
Vonn out of today's competition: Lindsey Vonn may be out of the world championships completely after tendon surgery to her right thumb, the result of cutting herself on a broken champagne bottle during a victory celebration. The U.S. Ski Team said that Vonn is out of today's World Cup giant slalom and has been downgraded to a possible starter for Saturday's slalom in Val d'Isere, France.
Local journalism is essential.
Give directly to The Spokesman-Review's Northwest Passages community forums series -- which helps to offset the costs of several reporter and editor positions at the newspaper -- by using the easy options below. Gifts processed in this system are not tax deductible, but are predominately used to help meet the local financial requirements needed to receive national matching-grant funds.
Subscribe to the sports newsletter
Get the day's top sports headlines and breaking news delivered to your inbox by subscribing here.
---
Subscribe and log in to the Spokesman-Review to read and comment on this story