News > Spokane
Former legislator dies of cancer
Thu., Feb. 12, 2009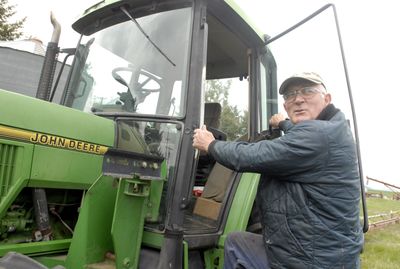 Former Idaho Rep. Wayne Meyer died early Tuesday of colon cancer. He was 59.
Meyer, a bluegrass farmer and Republican from Rathdrum, served in the Idaho House from 1995 to 2004 and held positions on the Education, Business and Joint Finance-Appropriations committees.
Meyer fought to secure funds to protect North Idaho's underground drinking water source, sponsored a bill that made the huckleberry the state fruit, helped maintain simulcast dog-racing in Idaho, and helped create the dual enrollment system that allows high school juniors and seniors to take college courses for credit. He was also a high school basketball referee for 22 years.
Meyer's funeral is scheduled for Friday at St. Pius X Catholic Church in Coeur d'Alene.
Spokane
SNAP will take calls for aid Saturday
People looking for help in paying their power bills have one extra day this week to request it.
Spokane Neighborhood Action Programs will accept phone calls for energy assistance from 9 a.m. to 1 p.m. Saturday, this week only.
The federal government doubled the funds available for energy assistance in Washington and Idaho this year.
The number is (509) 242-2376.
Coeur d'Alene
Police say woman lied about rape
A woman who said she was raped in a North Idaho College restroom by a man disguised as a woman has been charged with lying to police.
The woman faces a charge of filing a false report, said Sgt. Christie Wood, spokeswoman for the Coeur d'Alene Police Department.
When detectives reinterviewed the woman, her story didn't match information police had uncovered, Wood said.
The woman, who is not a student at the Coeur d'Alene college, told police the attack occurred Jan. 30, but she didn't report it to campus security until Feb. 6.
Her name was not released.
Spokane County
Volunteers sought for tax committee
Spokane County is seeking volunteers for an advisory committee that will track spending from a tax designed to raise money for emergency communications and Crime Check.
The committee will ensure that residents are informed about how the county is using money generated from the one-tenth of 1 percent sales and use tax.
Of the six members on the committee, two will serve one-year terms, two will serve two-year terms and the final two will serve four-year terms.
Anyone interested in volunteering should contact Ginna Vasquez at (509) 477-2265 or gvasquez@spokanecounty.org.
OAKLAND, Calif.
Charges dropped against musician
The Alameda County district attorney's office has dropped charges against a member of the group Saving Abel and an employee of the band accused of forcing a 17-year-old girl to perform oral sex after a concert in Oakland, Calif.
Prosecutors and defense attorneys for 33-year-old Jason Null, of Corinth, Miss., and 21-year-old Brandon Danger, of Tampa, Fla., say a video recording contradicted the girl's claims. The charges were dropped Tuesday.
Assistant District Attorney Tom Rogers says the video taken after a concert in Oakland last week shows the girl led people to believe she was older and was not forced into the sex act with Danger.
Null, a guitar player with Saving Abel, and Danger, a guitar stringer, were facing felony sex charges.
Saving Abel performed at the Spokane Arena on Monday.
From staff and wire reports
Local journalism is essential.
Give directly to The Spokesman-Review's Northwest Passages community forums series -- which helps to offset the costs of several reporter and editor positions at the newspaper -- by using the easy options below. Gifts processed in this system are not tax deductible, but are predominately used to help meet the local financial requirements needed to receive national matching-grant funds.
Subscribe to the Coronavirus newsletter
Get the day's latest Coronavirus news delivered to your inbox by subscribing to our newsletter.
---
Subscribe and log in to the Spokesman-Review to read and comment on this story