News > Washington Voices
In firefighting legacy, Howerton finds personal passion
Mt. Spokane senior pursuing firefighting
Thu., Feb. 12, 2009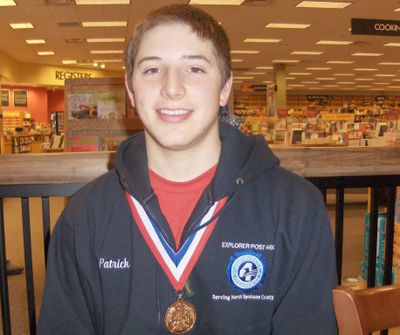 Firefighting runs in Patrick Howerton's blood.
His great grandfather retired as deputy fire chief for the city of Spokane. His uncle is the division chief of training in Spokane Valley Fire District 1, and his father is a captain in Station 44 in Fire District 4, volunteering his time when he is not building houses.
Howerton, inspired by his father's dedication to his volunteer work, followed the footsteps of the male role models in his family and took up firefighting last year. To his absolute delight, the Mt. Spokane High School senior quickly found he not only loves it, but is very good at it; in fact, he represented Washington in the national firefighting competition in Kansas last June, a part of the national competition of Skill USA, and fnished 11th. He recently finished second in this year's regional competition.
When Howerton joined Explorer Post 460, a fire cadet program offered to Riverside and Mt. Spokane high schools and sponsored through Spokane Fire District 4, he made a two-year commitment to car pool every school day to Deer Park for the fire science program. He loves every part of the program.
In November of 2007, at the annual Skill USA regional competition, he placed third in the firefighting division. From there, he went on to the state competition in April and walked off with the gold medal, advancing to nationals.
Howerton has found his passion while studying his International Fire Fighting Standard Manual and practicing rolling up that heavy hose. Of the 70 possible points on the written test, he scored an impressive 69. He then outdid the other contestants on the rest of the test: search and rescue, the endurance, speed, strength and forcible entry skill. He scored a 100 percent.
For Howerton, this has been a time of tremendous learning and growth. Not only has he reaffirmed his passion, but he also has found his career path, almost effortlessly.
"I have been on a few tough calls as ride-along and saw some tough things. And I still want to do it. I still like what I do." he said. "It is the fact that I know I am helping people, the adrenaline rush, the action; all of it. It excites me."
Local journalism is essential.
Give directly to The Spokesman-Review's Northwest Passages community forums series -- which helps to offset the costs of several reporter and editor positions at the newspaper -- by using the easy options below. Gifts processed in this system are not tax deductible, but are predominately used to help meet the local financial requirements needed to receive national matching-grant funds.
Subscribe to the Coronavirus newsletter
Get the day's latest Coronavirus news delivered to your inbox by subscribing to our newsletter.
---
Subscribe and log in to the Spokesman-Review to read and comment on this story