Sports
Cougars need strong finish for 3rd straight postseason appearance
Thu., Feb. 12, 2009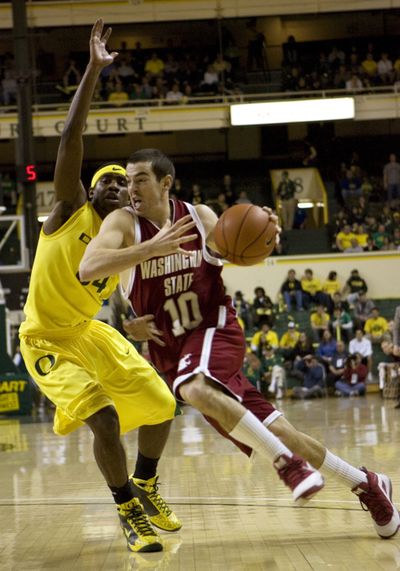 PULLMAN – The past two years, Washington State's men's basketball team has entered mid-February wondering what its NCAA tournament seed would be. Rarified air, for sure, for the Cougars, who hadn't been in the postseason since 1996, but deserved considering they won 52 games combined the last two seasons.
But this February is different.
Valentine's Day is coming and WSU hasn't earned its way into the postseason, whether the NCAA, the NIT or the two new kids on the block, the College Basketball Invitational, a 16-team tournament in its second year, or the newest tourney, sponsored by the Web site collegeinsider.com, another 16-team affair kicking off this March.
Add it all up and there are 129 postseason spots available for the 343 Division I basketball teams. Though a .500 record isn't mandatory for the NIT or CBI, earning a postseason berth without one is a near impossibility.
That's the rub for the 12-11 Cougars.
"I would say our goal is you want to play in postseason," WSU coach Tony Bennett said this week. "But you can't get too hung up on that. It's to the point where I guess, to finish over .500, you have to win four games out of the last however many you have.
"Whether that guarantees you postseason play, who knows?"
There is a way for WSU to guarantee playing after the Pac-10 tournament, of course. Just win the thing – and the conference's automatic berth.
"I guess anything's possible," said senior Daven Harmeling, part of WSU's two recent NCAA teams. "There were a number of games where we're right there. But I feel our back is definitely against the wall."
But barring that occurrence, WSU (4-7 in the Pac–10) would need to finish 4-3 in their last seven regular season games to ensure a break-even record.
That won't be easy.
First up tonight is Oregon, followed by a Saturday game with Oregon State, both WSU victims the first time through the league. Road trips to Los Angeles (for No. 11 UCLA and USC) and Seattle (UW) sandwich a homestand with Arizona and No. 18 Arizona State. The Cougars lost to all but ASU the first time through.
"Defensive consistency," Harmeling said when asked what the Cougars need to improve to play in the postseason. "Take the first five minutes of the Cal game … we played aggressively. As coach Dick Bennett used to say, we played defense like our hair was on fire. We were flying around, playing defense with an edge.
"We have to do that for 40 minutes."
The younger Bennett doesn't need a conflagration, but he would appreciate better play.
"I just want our guys to play with a sense of urgency, battle their guts out, bring as much soundness (as they can) and see where that puts us at the end of the year," Bennett said. "If that's good enough to get you a consideration for postseason play because we've played well enough, so be it.
"If it's not, I still want the quality of play to be there. That's quite honestly where I'm at, as opposed to keep looking at records and numbers and what is this team doing and what is that team doing."
Harmeling wants the seniors – Taylor Rochestie, Aron Baynes and Caleb Forrest – to earn one more taste of the postseason, if only to cleanse the palate.
"It would mean a lot to me," he said. "It would seem to leave a terribly sour taste in my mouth to not make the postseason."
Bennett would like to play past March 14, because of the experience it would bring his younger players, some of whom are contributing this season and will be called upon to lead next year's team.
"I think the valuable thing about postseason play without a doubt, in my opinion, more than the practices and all that, are just the experiences, that experience," he said. "Those experiences for your young kids, just for the consistency of your program, can really be helpful."
Local journalism is essential.
Give directly to The Spokesman-Review's Northwest Passages community forums series -- which helps to offset the costs of several reporter and editor positions at the newspaper -- by using the easy options below. Gifts processed in this system are not tax deductible, but are predominately used to help meet the local financial requirements needed to receive national matching-grant funds.
Subscribe to the sports newsletter
Get the day's top sports headlines and breaking news delivered to your inbox by subscribing here.
---