News > Spokane
Rare Yakama Sahaptin language taught at university
Elder helping students reclaim culture
Sat., Feb. 14, 2009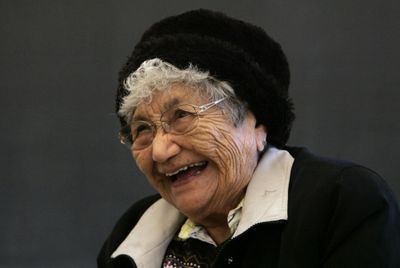 EUGENE, Ore. – When his foreign language instructor says something, University of Oregon freshman Carson Viles knows it's important to pay attention.
"I might never get a chance to hear that phrase again," he said.
It's true. Viles is taking Yakama Sahaptin, one of a family of American Indian languages spoken along the Columbia River and offered for the first time this year at the UO. The class, taught by native speaker and Yakama elder Virginia Beavert, is not a typical foreign language class. There are no textbooks, no study-abroad programs, no dubbed TV shows, and the instructor is one of only 200 people who can converse in the target language.
Viles knows the importance of hearing native speakers such as Beavert.
"It's the only way you can sound right," he said. "You hear how they speak and when they pause."
Viles grew up in Eugene and graduated from Willamette High School. He's a member of the Confederated Tribes of Siletz, and he's a linguistics major with a particular interest in American Indian languages.
Studying such languages is a family affair for Viles. His brother is in the Sahaptin class and also studies Chinook Wawa, a trade language. Viles and his father are also studying Dee-ni, a language spoken on the Siletz reservation in Lincoln County.
Viles is one of a new generation trying to reclaim his family's language and culture. "It's up to young Indian people," he said.
And they need help from elders like Virginia Beavert.
Now 87, Beavert grew up speaking a variety of American Indian languages, and said she didn't realize they were imperiled.
"I never worried about it – I thought everybody knew how to talk," she said.
She was born in a bear cave in Eastern Oregon after her father's hunting party got stranded in the snow.
"My mother was very pregnant, but he couldn't make her stay home. She was stubborn," Beavert said. She was raised by her great-grandfather and great-grandmother in a village where no one spoke English. She served as a wireless radio operator during World War II, and worked as a medical transcriptionist.
In her 40s, at the urging of her stepfather, she went to Central Washington University where she earned a degree in anthropology. In the course of her studies, she wrote the book about Yakama Sahaptin: the Yakima Language Practical Dictionary, published in 1975.
After finishing the dictionary, Beavert was the first woman elected to the Yakama general council. She served for 14 years before retiring to care for her 90-year-old mother.
"All we did was talk our language," Beavert said. "When she was gone, I didn't know what to do with myself."
She decided to go back to school. In 1997, she earned a master's degree in bilingual and bicultural education from the University of Arizona.
Today, she's a doctoral candidate at an age where most people are content to watch daytime television.
"I'm trying to retire," she said. "People say, 'What on earth is this old lady doing on campus?' "
Joana Jansen, a doctoral student who is working to comprehensively document Sahaptin grammar, hopes Beavert doesn't make good on her threat to retire anytime soon.
"No one else could teach this class," she said.
Jansen said about half of the class's 10 students are American Indian. Other students "just thought it was cool" to study such a language, she said.
The course also can be applied toward the language requirement for earning a bachelor's degree, which states that students must show proficiency in a second language equivalent to completing two years of college study.
Local journalism is essential.
Give directly to The Spokesman-Review's Northwest Passages community forums series -- which helps to offset the costs of several reporter and editor positions at the newspaper -- by using the easy options below. Gifts processed in this system are not tax deductible, but are predominately used to help meet the local financial requirements needed to receive national matching-grant funds.
Subscribe to the Coronavirus newsletter
Get the day's latest Coronavirus news delivered to your inbox by subscribing to our newsletter.
---