Sports
Cardinals dominate, claim regional wrestling title
Eight champions in nine weight classes for NIC
Sun., Feb. 15, 2009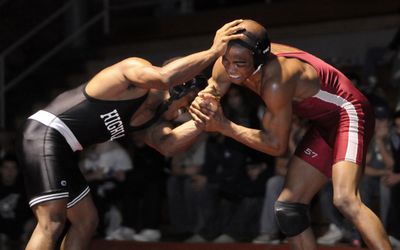 Talk about being rude hosts.
Or perhaps it was the North Idaho College wrestling team protecting its turf.
Whatever it was, it was nothing short of dominating as the NJCAA Region 18 finals turned into something akin to a dual meet Saturday evening at NIC's Christianson Gym.
The Cardinals advanced nine into the finals, winning eight while qualifying all 10 of their wrestlers to nationals, as NIC cruised to a 10th straight regional championship and 34th out of the last 37.
Second-ranked NIC finished with 129 points, easily outdistancing No. 3 Clackamas Community College (76.5). Southwestern Oregon Community College was third (73).
"This is pretty much our 600th dual victory," said NIC freshman Lester Brown, who shook off two losses to Aaron Smith of Highline to capture the 133-pound title with a 5-2 win.
NIC finished the regular season with 599 dual victories in school history.
Brown had a one-point loss and an overtime setback to Smith during the regular season. Brown and Smith are ranked second and third, respectively, in the nation.
"I knew it was there," Brown said. "The last couple of times he outworked me. Coach got me ready. This is a precursor. Our focus is a national title."
NIC coach Pat Whitcomb, who was named the Region 18 coach of the year, was impressed with Brown.
"He had to fend off some things at the end," Whitcomb said. "He had to score at the end. That's what it's going to take to win a national title."
NIC sophomore Tim McGoldrick defended a regional title, needing just 13 seconds to pancake Trent Stevenson of SWCC at 141.
"I came in here with a lot of confidence," McGoldrick said. "I've never lost in here. I take a lot of pride in that. I always step it up when we're in our own gym. I was in my zone."
NIC also got individual titles from Trevor Powell (125), Jeremy Bommarito (149), Lucas Chesher (157), Celic Bell (174), Kamron Jackson (184) and Rudi Burtschi (197).
Clackamas heavyweight Tyrell Fortune, ranked second in the nation, put on a show, scoring a 19-7 major decision over David Lopez of HCC.
Fortune was named the tourney's outstanding wrestler.
Whitcomb raved about his team.
"It's a good deal when you only lose two matches on the day," Whitcomb said. "I think they wanted to prove something in their gym. We're ranked second and Clackamas is ranked third. I think we distanced ourselves from them."
Clackamas coach Adam Whitlach applauded NIC's dominance.
"They're real good," Whitlach said. "Pat does a good job getting his guys ready."
Whitlach said he wouldn't be surprised to see some of the regional final matchups at nationals, Feb. 27-28 at Rochester, Minn.
Whitcomb pushed his team all week, focusing on training through regionals for nationals.
"This is the toughest regional tournament I've been involved with," Whitcomb said. "We're going to enjoy this. We wrestled extremely well. With the training we put these guys through this week, we actually expected them to wrestle a little flat."
Instead, the Cardinals flattened the competition.
Whitcomb was especially pleased with sophomore Lucas Chesher of Central Valley.
Chesher was sick this week, missing two practices. He didn't look sick Saturday, scoring a 14-6 major decision with seven takedowns over Zach Burnett of HCC.
"He got healthy and he looked healthy," Whitcomb said.
Whitcomb tried to put the team title in perspective.
"Winning eight of nine matches in the finals is something," he said. "The most important number is qualifying 10 for the national tournament. All the way up and down the lineup we wrestled well. We want that momentum going into the national tournament."
Local journalism is essential.
Give directly to The Spokesman-Review's Northwest Passages community forums series -- which helps to offset the costs of several reporter and editor positions at the newspaper -- by using the easy options below. Gifts processed in this system are not tax deductible, but are predominately used to help meet the local financial requirements needed to receive national matching-grant funds.
Subscribe to the sports newsletter
Get the day's top sports headlines and breaking news delivered to your inbox by subscribing here.
---