News > Features
Looking for balance is this Jane's addiction
Sun., Feb. 15, 2009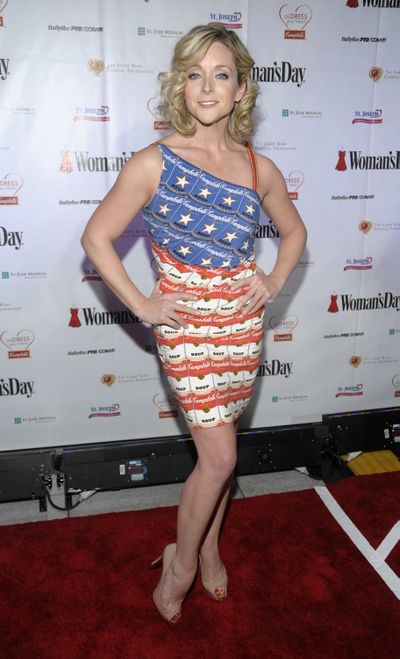 No one would ever have to ask Jane Krakowski what her astrological sign is. She's a die-hard Libra, always looking for balance in everything she does.
Take her gig as vain actress Jenna Maroney on the Emmy-winning sitcom "30 Rock": The show's New York location has allowed her to juggle Broadway (she won raves as the vamp Lola in "Damn Yankees" last summer) with TV. Even her stage name was a nice compromise: When everyone kept pronouncing the silent J in her family name Krajkowski, out came the J.
Co-starring with Tina Fey, Alec Baldwin and the rest of the "30 Rock" crew has been "a dream job" for Krakowski, who's certainly had her share of choice roles since skating her way to stardom in Broadway's "Starlight Express" in 1987. Along the way, Krakowski picked up a Tony Award for playing Antonio Banderas' sultry mistress in "Nine" and became a household name as nosy secretary Elaine Vassal on TV's "Ally McBeal."
Question: When I interviewed your co-star Jack McBrayer last year, he said to get more people to watch "30 Rock" he wanted to create a scandal and it would involve costumes and phone calls to authority. Do you have any ideas?
Answer: I would like to start a sex scandal. It's been a slow build, but this year we've had our largest audience, and they've consistently been getting larger. Maybe by season 5 we'll have a solid audience.
Q.: You weren't actually the first choice to play Jenna, were you?
A.: In the pilot, Rachel Dratch was playing Jenna. I was very lucky in the sense that when Tina called me to read, I had already seen the pilot, so I was able to get a taste of the humor they were going for. … And what's great is that the role has shifted a lot to cater more to me and what I do. Then Tina started working in more of my other talents. She worked in my singing and dancing. … Tina's husband, Jeff Richmond, writes all of the original songs for me. "Mystic Pizza: The Musical" was a perfect send-up of my world of Broadway. If I'm ever lucky enough to be part of an awards tribute, I hope they play "Muffin Top" in my little clip. That's how I want to be remembered.
Q.: And now they have you playing a version of Janis Joplin. Are you a fan of her music?
A.: I'm a huge fan and once that story line was written, I watched everything on YouTube, especially her Dick Cavett interviews. Of course, Jenna is putting her own wacky spin on it.
Q.: You've had some incredible guest stars this season. Is there anyone you were especially impressed by?
A.: I'm amazed just by who is showing up all the time. … Oprah coming was probably the big highlight for us. … Now I'd like to see if we can get Obama to come on.
The birthday bunch
Actor Kevin McCarthy is 95. Actor Allan Arbus is 91. Actress Claire Bloom is 78. Songwriter Brian Holland is 68. Drummer Mick Avory of The Kinks is 65. Actress Jane Seymour is 58. Singer Melissa Manchester is 58. Cartoonist Matt Groening is 55. Bassist Mikey Craig of Culture Club is 49. Actor Michael Easton is 42. Actress Renee O'Connor is 38. Singer Brandon Boyd of Incubus is 33.
Local journalism is essential.
Give directly to The Spokesman-Review's Northwest Passages community forums series -- which helps to offset the costs of several reporter and editor positions at the newspaper -- by using the easy options below. Gifts processed in this system are not tax deductible, but are predominately used to help meet the local financial requirements needed to receive national matching-grant funds.
Subscribe to the Coronavirus newsletter
Get the day's latest Coronavirus news delivered to your inbox by subscribing to our newsletter.
---
Subscribe and log in to the Spokesman-Review to read and comment on this story