News > Spokane
Tours pitched for Tubbs Hill
Panel to consider company's plan for walks
Wed., Feb. 18, 2009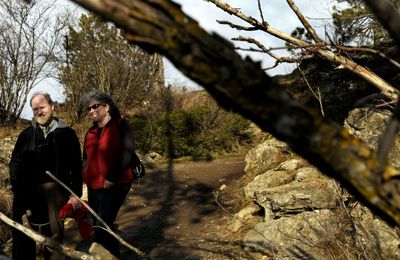 For 30 years, ROW Adventures has offered guided trips, beginning with whitewater rafting expeditions on the rivers of the Inland Northwest and evolving into a range of outdoor experiences worldwide.
Now the Coeur d'Alene company would like to bring that expertise home and offer guided interpretive walking tours of the city's crown jewel – Tubbs Hill.
ROW is proposing two trips daily accommodating up to 14 guests.
The fee would be about $25 a person, and a variation would include walking around the hill in one direction and kayaking back across Lake Coeur d'Alene.
"We've been thinking about this for a number of years," said Peter Grubb, who owns ROW with his wife, Betsy Bowen.
"What we as a guide service do … is bring the education and interpretive element into the experience. What we want to be for the visitor is their knowledgeable friend. They may not know much about the natural history of this area."
ROW pitched the idea to the Tubbs Hill Foundation and to the city's Parks and Recreation Commission.Both embraced the idea, but they decided that because Tubbs Hill is city property, the opportunity to offer guided walking tours should be open to any companies who might be interested in submitting a proposal.
The commission forwarded to the city's General Services Committee the recommendation that the city request proposals from any companies interested in providing such a service. That committee will consider the proposal Monday, after which its recommendation would go to the City Council, said Councilman John Bruning.
However, Bruning said of ROW's proposal: "We haven't heard of anyone else interested in doing this." Bruning is the council's liaison to the Parks and Recreation Commission and the General Services Committee.
"The city of Coeur d'Alene has to follow guidelines and not be exclusive," said Scott Cranston, chairman of the Parks and Recreation Commission. Cranston said one element that remains to be determined is what fees the city might charge a tour operator for permits or to assist with maintenance on Tubbs Hill.
"Some percentage would have to go back to the city of Coeur d'Alene to a dedicated fund, dedicated to Tubbs Hill maintenance," Cranston said, adding that those discussions are preliminary.
Bruning said he supports the idea of guided walking tours, but with limitations. He doesn't want any commercial enterprise to conflict with other users on the hill, he said. However, he said, there is a segment of the population that will not explore an area like Tubbs Hill unless they are on a tour.
"I think it would be fine on a limited basis," Bruning said. "I will support it as long as there are controls on it. I don't want to ruin the Tubbs Hill experience for everybody. I think the people offering the tours understand that as well."
Grubb said he looks at the tours as a way to enhance support for Tubbs Hill, considered a city treasure. He said guides would refer visitors to the Tubbs Hill Foundation for more information and would be trained to teach people about the flora, fauna and history of the area. The guides would help visitors develop a personal connection to Tubbs Hill, he said. They would educate people about the need to stay on trails, not litter, and not pick or harm vegetation.
"We've been thinking about this for at least a decade," Grubb said.
"There are enough new people that have moved into the area. The demographics have changed. More people are not as comfortable in the outdoors, and the number of tourists has changed. We think the opportunity is there and really, we're in a pretty ideal position to pursue that because of our experience and background."
Local journalism is essential.
Give directly to The Spokesman-Review's Northwest Passages community forums series -- which helps to offset the costs of several reporter and editor positions at the newspaper -- by using the easy options below. Gifts processed in this system are not tax deductible, but are predominately used to help meet the local financial requirements needed to receive national matching-grant funds.
Subscribe to the Coronavirus newsletter
Get the day's latest Coronavirus news delivered to your inbox by subscribing to our newsletter.
---
Subscribe and log in to the Spokesman-Review to read and comment on this story