Sports
Ex-A.D. suspects a plot
Harassment charges retribution, he says
Thu., Feb. 19, 2009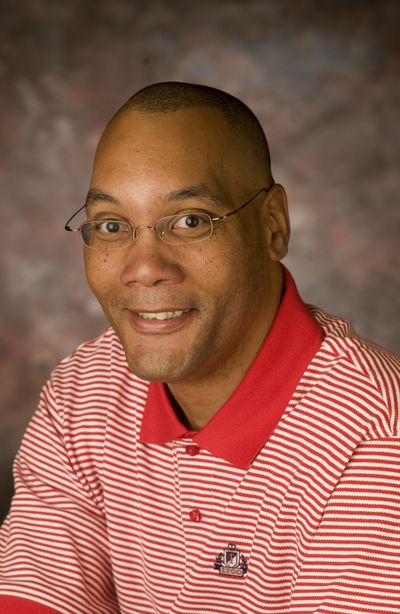 While Eastern Washington University mulls an appeal of the one-year ban on postseason football games levied by the NCAA Committee on Infractions, the Eagles' former athletic director is determined to make a more public appeal of his own.
Darren Hamilton discovered the original football violations regarding coaches in excess of the countable limit in November 2006 which led to the school's self-report to the NCAA three months later. In between, two complaints of sexual harassment were filed against Hamilton – and dismissed. Finally, just seven months after he'd been hired, Hamilton and Eastern separated in what the school called a termination and what Hamilton characterized as a "mutual agreement."
The day after that – March 16, 2007, according to an NCAA timeline attached to the infractions report – Hamilton contacted the association's enforcement staff and reported more possible violations within the athletic program.
Nearly two years passed before the NCAA sanctioned Eastern and former head coach Paul Wulff for those violations last week, but Hamilton – now the athletic director at Alcorn State – has again expressed concern that none of the subsequent media reports "question the motive of the sexual harassment (complaints) and the linkage with the NCAA infractions" which he discovered and reported.
"Paul Wulff not only did wrongdoings," Hamilton claimed this week, "but … also tried to conspire to cover up the transgressions that were found.
"He sent (EWU assistant coach) Chris Hansen out on a wild-goose chase to file a sexual harassment complaint."
That echoed a statement Hamilton made last year that the NCAA's findings "will be vindication it was a conspiracy."
Wulff's response: "That's ridiculous. Nobody conspired or did anything to him."
Advised that he had made a serious charge against Wulff and Hansen, Hamilton softened somewhat.
"One would question the motivation behind a sexual harassment complaint by an assistant football coach," he said.
Does he question it?
"I'd fall into that pronoun of 'one,' " Hamilton said. "Anybody who can read or think would, absolutely."
Hansen said he did not speak with Wulff before filing his third-party complaint – based on actions he said he witnessed at a staff Christmas function at Hamilton's home – and denied that his allegation had anything to do with football violations being reported.
"Not at all," he said. "I filed the complaint because he was touching a (female) basketball coach inappropriately right in front of me."
That complaint was dismissed by EWU investigator Vince Lemus, who wrote that, "It is more likely than not something may have happened … (but) whatever happened did not rise to the level of sexual harassment." Lemus also called into question Hansen's motivation in filing the complaint. A later complaint, filed by an assistant volleyball coach over an alleged incident at the same Christmas party, was rejected by Lemus as unsubstantiated.
While Hamilton feels he was a victim of retribution, Wulff – in remarks during a teleconference after the NCAA's findings had been announced – suggested Hamilton had acted vindictively in calling the enforcement staff the day after his termination.
"When he was fired, I think he called the NCAA and told them they had to do all this investigation," Wulff said. "I think there was a bitter dispute on that deal. The NCAA told me – they said 50 percent of all the deals they go and do are always disgruntled employees. That's how they get most of their information whenever they want to go do any kind of investigation. That's what I was told."
Though the NCAA report characterized Hamilton's call as a report of violations, Hamilton said he was inquiring about the progress of the investigation. And he maintained that he's "not disgruntled about leaving Eastern Washington.
"The only thing I'm disgruntled about is that there's a little blemish on my reputation," he said. "I never get upset about separations. People get laid off all the time. Because I have the mindset that I can do the job, there's another job out there for me."
He was hired at Alcorn State last April, and it didn't take long for controversy to follow him there. In November, Hamilton fired seven assistant football coaches without the knowledge of head coach Ernest Jones, who said he learned the news watching TV. Three days later, school president George Ross reinstated the coaches. On Dec. 5, Jones filed a $3 million lawsuit against the school, Ross and Hamilton, after which Jones received a letter from Hamilton saying his contract had been terminated.
His Eastern tenure was marked by friction, too. Athletic department personnel complained of a bullying style of management and threats of dismissal if it was discovered they had talked to superiors about him. EWU President Rodolfo Arevalo summoned all Eagles head coaches to a meeting before deciding to terminate Hamilton's contract.
Hamilton, however, said some of that friction stemmed from changes he was trying to implement, including an approach to NCAA compliance. That was illustrated, he said, when he discovered the football program had personnel described as coaches in excess of the 11-person limit and reported it to Arevalo and Frank Nelson, who at the time handled compliance issues.
"The coach (Wulff) said, 'Why do we have to do anything about it – that's how it's always been done?' " Hamilton recalled. "His statement (on Feb. 11) that he just did what (former coaches) Mike Kramer and Dick Zornes had done was the same thing he said to me. But that doesn't make it right."
He said Wulff "appeared" upset that the transgressions were reported, but Wulff insisted, "There was no dispute."
In announcing Hamilton's departure in 2007, an Eastern spokesman said the sexual harassment allegations were not a factor in Arevalo's decision. Hamilton was quoted as saying, "I'm not so sure."
"Certainly, there's got to be some correlation," he said this week. "There's a gentleman (Wulff) who's been on the job for 14 years, endeared as one of the native sons, compared to an outsider. These are questions I'm asking. I'm not necessarily saying that's fact. As a person who was run out of town on a rail, I'm not so sure you wouldn't want to question the timing."
Local journalism is essential.
Give directly to The Spokesman-Review's Northwest Passages community forums series -- which helps to offset the costs of several reporter and editor positions at the newspaper -- by using the easy options below. Gifts processed in this system are not tax deductible, but are predominately used to help meet the local financial requirements needed to receive national matching-grant funds.
Subscribe to the sports newsletter
Get the day's top sports headlines and breaking news delivered to your inbox by subscribing here.
---