Sports
Cougars must overcome USC's gimmicks on defense
Thu., Feb. 19, 2009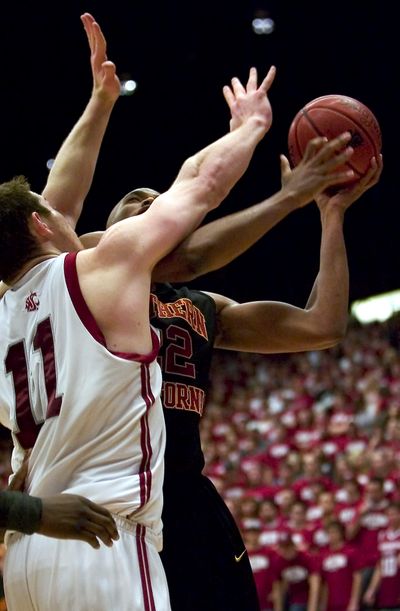 LOS ANGELES – One of the simplest instruments to play in an elementary school band is the triangle. Hold it on the top, put a metal wand inside and bang away. In rhythm, of course.
But when USC pulled out a triangle-and-two defense against Washington State in the teams' first meeting in Pullman four weeks ago, there was nothing easy about it for the Cougars.
The Trojans banged away at Aron Baynes and rendered Klay Thompson and Taylor Rochestie – the two Cougars covered man-to-man while the other three USC players played a triangle zone – nearly silent. WSU just never got in rhythm.
"I would sort of expect it again because it worked," said senior forward Caleb Forrest going into tonight's second meeting of the season with USC. "Guys like me and other guys who were open weren't hitting shots. So it seemed to be a good defensive plan for them."
Forrest came into the first USC game off his best performance as a Coug, having converted 8 of 9 shots for a career-high 19 points against UCLA. But against the Trojans, Forrest suffered through a 1-of-11 shooting night as WSU lost 46-44.
But Forrest wasn't the only Cougar – or Trojan for that matter – who didn't shoot well that night. WSU (13-12 overall, 5-8 in Pac-10 play) hit just 14 of 51 shots (a season-low 27.5 percent) against USC's triangle, box-and-1 and man defenses. The Trojans weren't much better, making just 35 percent of their shots, but they did hit 19 of 31 free throws to grab the win.
Thompson led WSU with 15 points, Baynes added 12 and Rochestie was held to six shots and six points. The six other Cougars who played combined for 11 points.
"I hope not," WSU coach Tony Bennett said when asked if he expected the same type of game tonight at the Galen Center. "They'll try to take your two good players out of your offense. You have to have other players step up."
That's what USC did in Pullman. The Trojans (15-9, 6-6) were without leading scorer Dwight Lewis (15.5 ppg), who missed the game with an ankle sprain. Center Taj Gibson, who averages 13.9 points and 9.6 rebounds, filled the gap down the stretch, scoring 10 consecutive points as USC rallied from an eight-point deficit.
"He's their leading perimeter scorer who provides an outside threat," Bennett said of Lewis, who tweaked the same ankle at practice Tuesday and didn't return to drills.
Notes
USC is on a three-game losing streak, all on the road. WSU has lost four of its last five. … The Trojans have yet to lose this year when they turn the ball over less than their opponents. Washington State has 25 more turnovers than it has forced, though the Cougars commit a Pac-10 low 11.4 per game. They force just 10.4.
Local journalism is essential.
Give directly to The Spokesman-Review's Northwest Passages community forums series -- which helps to offset the costs of several reporter and editor positions at the newspaper -- by using the easy options below. Gifts processed in this system are not tax deductible, but are predominately used to help meet the local financial requirements needed to receive national matching-grant funds.
Subscribe to the sports newsletter
Get the day's top sports headlines and breaking news delivered to your inbox by subscribing here.
---