News > Spokane
Death of college track coach stuns athletes, colleagues
Pin machine killed man, 38, at SCC bowling alley
Fri., Feb. 20, 2009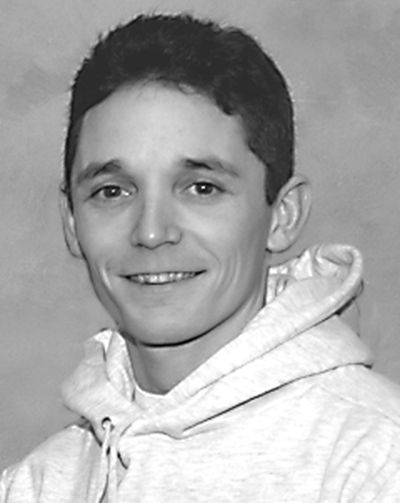 The death of a heralded running coach and Spokane Community College instructor in a bizarre bowling alley accident left the school and Northwest track community devastated Thursday.
Erik Anderson, 38, died instantly when a pin machine broke his neck, police said. He was in the pit behind the bowling lane, trying to dislodge a pin.
He had been teaching a bowling class in the basement alley of SCC's student activities center when the accident occurred about 11:30 a.m.
The approximately 25 students in the class learned of his death soon after when a maintenance worker found his body.
The accident set off a flurry of phone calls from Alexandria, Va., to Eugene, Ore., as friends and colleagues learned of the death of a coach described as inspirational, caring, fun-loving and dedicated to his family.
"That man was a mentor, friend and the best coach I've ever had in my life," said Billy Grubbs, a former jumper for Eastern Washington University. Grubbs was recruited by Anderson when he coached the track team at Clark College in Vancouver, Wash. "He was like my father away from home."
Anderson, who turned 38 on Sunday, served in the Gulf War for the Army before earning an associate's degree from Clark. He earned a bachelor's degree from Linfield College in Oregon in 1996, where he met his wife, Mariza, another runner on the track team. The couple had two young daughters.
Anderson coached track at Clark before joining Community Colleges of Spokane in 2004, where he'd been an assistant coach from 1996 to 1999.
He led the CCS fall cross country team and coached distance running during the indoor and outdoor track seasons. Track practice was canceled Thursday, and the team won't participate in a meet this weekend at the University of Idaho.
Team members met with grief counselors and school administrators Thursday afternoon, said Sean Coyle, a 19-year-old runner and Central Valley High School graduate.
"It was real tough, because it was probably over 150 people – men, women, adults and teenagers – that were all pretty broken up over this," Coyle said. "He's my coach, but it's as if I lost a dad, or someone more than a coach."
Anderson received numerous awards while at CCS and Clark College. He earned his master's degree in exercise science and physiology at Eastern Washington University in 2003. He was a champion runner in college and earned All-America honors in four events.
"I can't sing any higher praises for anyone than that kid," said Garry Killgore, track and cross country coach at Linfield. "He was one of the best people I've ever coached, and I've been at Linfield for 20 years."
Anderson didn't talk much about his war experience, Killgore said, but his job as a scout for Apache helicopters clearly affected him.
"He could withstand a lot more pain because of what he saw over there, and he used it to better his life," Killgore said.
Larry Beatty, head of the CCS track program, said Anderson's runners are heartbroken. "He wasn't just about getting the most out of the kids but helping them be better people," he said.
Grubbs, who coaches high school track in Virginia, learned of Anderson's death early Thursday afternoon. By that evening, word had spread across the Northwest Athletic Association of Community Colleges.
"It's been such a tragic, shocking day for us," said Grady O'Connor, track coach at Lane Community College in Eugene. "He was such a terrific young man."
The accident shut down the five-lane bowling alley in the basement of the Lair Student Center. The Washington state Department of Labor and Industries is investigating.
Steve LeBlanc, a student who works in the bowling alley, said the lane had problems with pins sticking and it was common for people to go back there to unjam them.
In a prepared statement, SCC President Joe Dunlap said the school was "devastated by this terrible incident."
"The loss of this outstanding coach, colleague and friend is a blow to us all," he said.
The community college is planning a campuswide memorial, and grief counselors are available to students and staff.
Track team members planned to meet for dinner Thursday night, and a group is planning a memorial run today.
"We need to draw strength from each other," Coyle said. "We're a family."
Staff writers John Blanchette and Jody Lawrence-Turner contributed to this report. Meghann M. Cuniff can be reached at (509) 459-5534 or
meghannc@spokesman.com
.
Local journalism is essential.
Give directly to The Spokesman-Review's Northwest Passages community forums series -- which helps to offset the costs of several reporter and editor positions at the newspaper -- by using the easy options below. Gifts processed in this system are not tax deductible, but are predominately used to help meet the local financial requirements needed to receive national matching-grant funds.
Subscribe to the Coronavirus newsletter
Get the day's latest Coronavirus news delivered to your inbox by subscribing to our newsletter.
---
Subscribe and log in to the Spokesman-Review to read and comment on this story