News > Spokane
Old building's site will become parking for Convention Center
Fri., Feb. 20, 2009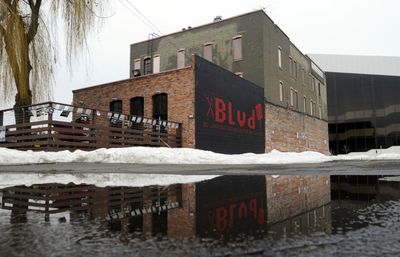 The agency that runs the Spokane Convention Center plans to demolish a century-old building in April to make way for more parking.
Earlier this month, the Spokane Public Facilities District's board agreed to pay Diamond Parking $2.1 million for about four-tenths of an acre across the street from the INB Performing Arts Center.
That action followed a Spokane City Council decision to condemn the land as well as adjoining property owned by investors led by architect Glen Cloninger. City leaders have tried for more than 25 years to buy the block, which mostly has been used in recent years as private parking, for possible Convention Center expansion.
Late last year, the district agreed to pay Cloninger's group $7 million for his 1.4 acres and settle a lawsuit. The district also agreed to issue Cloninger an apology.
Kevin Twohig, executive director of the district, said work could start as soon as April to tear down the last remaining building on the block, a structure built in 1909 and leased by The Blvd. House of Music.
"We've had no indications that anyone would object to us tearing it down," Twohig said.
With the full block now in control of the Public Facilities District, the hodgepodge of lots will be repaved and barriers removed to create more attractive and convenient parking, Twohig said. Officials also are planning to install solar-powered lights on the site.
In the long run, the land will be used for expansion of the Convention Center and possibly a parking garage, Twohig said. On average, convention centers are expanded every 10 years, he said.
"By 2012, we need to be ready to roll with the next one," he said. Spokane voters approved the most recent expansion in 2002.
Kristen Griffin, the city's historic preservation officer, said that if the district moves forward with demolition of The Blvd., her office will review a demolition request before a permit is issued. The building is not listed on a city or national historic registry, but if the structure is eligible for the National Register of Historic Places, the district might have to meet certain conditions before tearing it down.
The 1930 city directory listed the address as home to the labor bureau for the Chicago, Milwaukee, St. Paul and Pacific Railroad and as the Northwestern Hotel.
The Blvd., which has been in the building about four years, has leased the former B-Side, 230 E. Riverside Ave., said Geoff Johnson, the business's general manager. The new location is being renovated and will open April 1. The current site will stay open until March 31, he said.
Courthouse opening
A new federal courthouse will be dedicated Tuesday at 6450 Mineral Drive in Coeur d'Alene.
The 60,000-square-foot, three-story building will house the U.S. District Court, U.S. Bankruptcy Court and U.S. Magistrate Court, and offices for Probation and Pre-Trial Services, U.S. attorneys, U.S. Marshals Service and U.S. Trustees.
JDL Enterprises of Bellevue will own the building, designed by ALSC Architects of Spokane. Garco Construction of Spokane was the builder.
Chief Bankruptcy Judge Terry Myers, Acting General Services Administration Regional Administrator Robin Graf, JDL President John Luger and Coeur d'Alene Mayor Sandi Bloem will speak at the event, which begins at 10 a.m. on the second floor.
Cabela's attracts millions
Speakers at the Spokane-Kootenai Real Estate Research Committee 2009 market forum in Coeur d'Alene delivered a grab bag of information and insights Wednesday. Optimist or pessimist, there was something for every one of the 600 who attended:
•Glenn Crellin, director of the Washington Center for Real Estate Research, consoled those unhappy with a PMI Group Inc. index that said the likelihood housing prices in Kootenai County will be lower in two years is 60 percent. For Spokane, the odds are just 7.7 percent.
For really horrendous markets like Ft. Lauderdale, Fla., or Riverside, Calif., the index figure is more than 99 percent, Crellin said, noting the index report used second-quarter 2008 numbers.
PMI, by the way, stands for Private Market Insurers.
•Dani Bielec-Kramer of Coldwell Banker Schneidmiller Realty said the Post Falls Cabela's, which opened in November 2007, attracted 2 million visitors last year. Wal-Mart will break ground soon in The Pointe in Post Falls development at the Cabela's, she said, and a Lowe's home improvement store will follow.
•Dave Black, chief executive officer of NAI Black, said the lease for its store at Grand Boulevard and 29th Avenue costs Walgreens $37 per square foot, the highest ever for a retail location in Spokane.
•Harry Kraemer Jr., professor at Northwestern University and former chief executive at Baxter International, characterized the economic turmoil as "an accumulation of recessions" delayed by the Federal Reserve Bank under former Chairman Alan Greenspan.
Grants for homeless aid
Washington state organizations that assist the homeless will receive $38.3 million in federal grants, U.S. Housing and Urban Development Secretary Shaun Donovan announced Thursday.
Among the 170 groups qualified for the funds are 31 in Spokane County that will receive a total $2.6 million.
Spokane County will receive $167,707 to support emergency shelters.
Here's the Dirt is a weekly report on new developments and businesses openings, closings or movement in the Inland Northwest. E-mail
business@spokesman.com
or call (509) 459-5528.
Local journalism is essential.
Give directly to The Spokesman-Review's Northwest Passages community forums series -- which helps to offset the costs of several reporter and editor positions at the newspaper -- by using the easy options below. Gifts processed in this system are not tax deductible, but are predominately used to help meet the local financial requirements needed to receive national matching-grant funds.
Subscribe to the Coronavirus newsletter
Get the day's latest Coronavirus news delivered to your inbox by subscribing to our newsletter.
---
Subscribe and log in to the Spokesman-Review to read and comment on this story