News > Features
There's no love like animal love
Fri., Feb. 20, 2009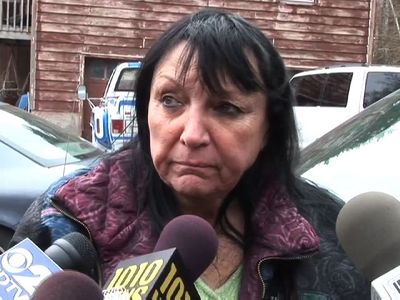 Domestic squabble occur every day. But according to the New York Post, the kind of domestic quarrel that hit Sandra Herold and her friend Charla Nash on Monday was undeniably strange.
Monday was when Herold's 200-pound pet chimpanzee, Travis, went on a rampage, mauled Nash and attacked New York police before being shot and killed.
Those interviewed by the Post say the strangeness began long before.
"It's just weird," one friend said. "It's an animal, not a person. What she had with that monkey was not normal."
While it's not clear there was any "monkey-panky" going on, the Post reported, the two were intimate.
"She fed him filet mignon and lobster tails," Post reporters wrote. "They shared cozy glasses of wine. They bathed and slept together. He tenderly brushed her hair. She gave him gifts and sweet kisses. He drew her pictures."
Herold lost her daughter to a car accident several years ago, and her husband died a couple of years after that.
"(I)t seems that this animal became almost a parody of her relationship with her husband," Howard Welsh, a professor of clinical psychiatry at NYU, told the Post.
Animal love: Chapter 2
Mickey Rourke, who is up for an Academy Award on Sunday for his role in "The Wrestler," is grieving the death of his beloved dog, Loki, a Chihuahua who died at age 17. "Loki is deeply missed but with me in spirit," Rourke said. "I feel very blessed that she fell asleep peacefully in my arms."
Even Nemo would have survived
Television star Tracy Morgan says a faulty fish tank light apparently sparked a fire Wednesday morning in his New York City apartment. But the "30 Rock" star said the fire was contained to the area around the aquarium and – most important – "even the fish are OK."
A little water, she was fine
Seems singer/actress Beyoncé's little sister, Solange Knowles, passed out Tuesday night in Los Angeles' airport. Knowles said she'd dozed off after taking some cold medicine – and woke up in a hospital, where doctors told her she was suffering from dehydration and released her.
First, terminate the deficit
Ecstatic that his state's budget has passed, California Gov. Arnold Schwarzenegger has an added reason to be happy. Ain'titcool.com reports that Schwarzenegger is mulling an offer to play a character called The Governator in Sylvester Stallone's film "The Expendables."
Quotable quote
"There are things that give me no pleasure: objects, clothes, jewelry. I've worn them all, but all that stuff interferes with my daily life." That's French First Lady and former model Carla Bruni-Sarkozy, commenting on her "austere temperament."
The birthday bunch
Actor Sidney Poitier is 82. Actress Sandy Duncan is 63. Guitarist J. Geils of The J. Geils Band is 63. Actress Brenda Blethyn is 63. Actor Peter Strauss is 62. Singer-bassist Walter Becker of Steely Dan is 59. Model Cindy Crawford is 43. Actor Andrew Shue is 42. Actress Lili Taylor is 42. Actress Lauren Ambrose is 31. Singer Rihanna is 21.
Local journalism is essential.
Give directly to The Spokesman-Review's Northwest Passages community forums series -- which helps to offset the costs of several reporter and editor positions at the newspaper -- by using the easy options below. Gifts processed in this system are not tax deductible, but are predominately used to help meet the local financial requirements needed to receive national matching-grant funds.
Subscribe to the Coronavirus newsletter
Get the day's latest Coronavirus news delivered to your inbox by subscribing to our newsletter.
---
Subscribe and log in to the Spokesman-Review to read and comment on this story