News > Features
Chef brews up a Spanish stew
Wed., Feb. 25, 2009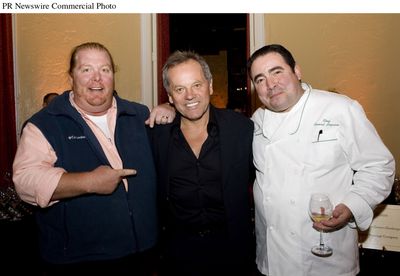 The king and queen of Spain were among those who got a dash of profanity from celebrity chef Mario Batali last week.
The incident occurred Thursday at a $1,000-a-plate dinner during the South Beach Wine & Food Festival, in Coral Gables, Fla.
At the dinner, which honored Spain's growing international culinary presence, Batali dropped some royally naughty words as he played host for the event in the presence of King Juan Carlos and Queen Sofia.
Growing impatient when the crowd didn't quiet down quickly enough after he stepped to the microphone, Batali used a familiar four-word profanity and asked the audience if he could have "10 seconds of your time."
Batali dropped the f-bomb again while introducing chef Jose Andres, whose Los Angeles restaurant, The Bazaar, has been heralded by critics.
He finished by grabbing Andres' bottom.
Those seated near the royal couple said the queen blanched. Gloria Estefan chortled.
Andres, meanwhile, kept his cool.
"This is what food and wine from Spain will do to you," he explained.
Fonda still 'Hanoi Jane' to some
About a dozen Vietnam veterans and other protesters picketed on Saturday in front of the theater where Jane Fonda is starring in the Broadway play "33 Variations."
"Jane Fonda is a traitor," said Dan Maloney. "She got on Hanoi radio and called every U.S. serviceman a war criminal."
Though she defends her anti-war activism, Fonda, 71, has described the incident in Hanoi as "a betrayal" of American forces. "That two-minute lapse of sanity will haunt me until the day I die," she wrote.
Rice cooks up a book deal
Former Secretary of State Condoleezza Rice has signed a three-book deal worth a reported $2.5 million. The first tome will cover Rice's years in the administration of George Bush.
Rice also will write a memoir about her family and her childhood in segregated Birmingham, Ala. The third book will adapt the memoir for young-adult readers.
Old Hollywood partied hardy
The talk Monday morning was all Oscar, following the eight statuettes given to "Slumdog Millionaire." Meanwhile, the official New York Oscar Night Party drew a who's who of old Hollywood, including Shirley Knight, Celia Weston, Rip Torn, Patricia Neal, Sylvia Miles and Elaine Stritch, along with the likes of Geoffrey Rush, Denis O'Hare, Burt Young, Amy Wright, Tovah Feldshuh, Lisa Eichhorn, Tina Louise and David Rasche.
Rourke wrestles the gold Spirit
Forget the Oscars. The Film Independent Spirit Awards on Saturday crowned "The Wrestler" as its top winner. Mickey Rourke ("The Wrestler") won the lead-male category and Melissa Leo ("Frozen River") beat out Summer Bishil, Anne Hathaway, Tarra Riggs and Michelle Williams for best actress.
The birthday bunch
CBS newsman Bob Schieffer is 72. Actress Diane Baker is 71. Actress Veronica Webb is 44. Actor Alexis Denisof is 43. Actress Tea Leoni is 43. Comedian Carrot Top is 42. Actress Lesley Boone is 41. Actor Sean Astin is 38. Singer Daniel Powter is 38. Actor Justin Berfield is 23.
Local journalism is essential.
Give directly to The Spokesman-Review's Northwest Passages community forums series -- which helps to offset the costs of several reporter and editor positions at the newspaper -- by using the easy options below. Gifts processed in this system are not tax deductible, but are predominately used to help meet the local financial requirements needed to receive national matching-grant funds.
Subscribe to the Coronavirus newsletter
Get the day's latest Coronavirus news delivered to your inbox by subscribing to our newsletter.
---
Subscribe and log in to the Spokesman-Review to read and comment on this story