Sports
Lobbestael arrest latest headache
Players will decide fate of suspended QB
Wed., Feb. 25, 2009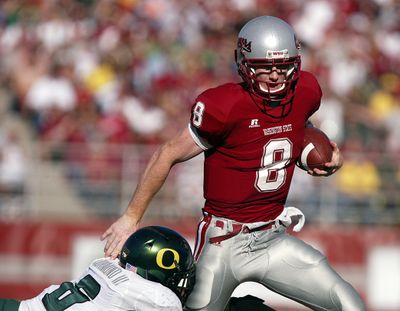 PULLMAN – When Washington State sophomore-to-be – and possible 2009 starting quarterback – Marshall Lobbestael was arrested early Sunday morning and charged with an alcohol offense, it capped a bad couple of weeks for the program and head coach Paul Wulff.
Wulff was recently sanctioned by the NCAA for violations that occurred while he was Eastern Washington's head coach. Just as that was dying down, he had to deal with his 19-year-old quarterback spending time in jail, charged with being a minor exhibiting the signs of having consumed alcohol, a gross misdemeanor.
"These types of things, unfortunately, are never going to cease completely in society and all our lives," Wulff said Tuesday of the incident. "You have to have a good system and good people in place, and support system, to work through these issues and improve from them. That's our goal here."
Wulff has talked with Lobbestael, who started three games last season before suffering a season-ending knee injury against Oregon State. Asked if Lobbestael was drinking that night, Wulff answered in the affirmative.
"He knows it's no different than all our players, when they get an (alcohol violation), they are automatically suspended until we do our research and he gets to sit in front of the unity council and discuss the options," said Wulff, referring to the players' group that decides on team punishment.
But though Wulff said Lobbestael, who was unavailable for comment, doesn't deny having been drinking earlier in the evening, he said the player does not agree with some reports of his arrest.
"Let's just say that there's conflicting information out there right now," Wulff said.
No one contests that Lobbestael and his friend were helping a female friend home from a party Saturday night, the trio walking down Colorado Street in an area known as Greek Row.
According to Pullman Police Commander Chris Tennant, the department spokesman, officers "saw two guys, one of them was Lobbestael, carrying an unconscious female," and made contact with the trio.
"Obviously (they were) worried about the female," Tennant said. "The female woke up, she was intoxicated but not incapacitated, she was underage (and) she was arrested for exhibiting (signs of intoxication) and brought down to the police department."
According to the police report, the incident began at 12:33 and took about 20 minutes to process.
Neither Lobbestael nor the other male was arrested at the time, though Tennant could not give a reason why.
"I don't have the information on that," he said. "I assume that either they weren't that intoxicated or the officers were more concerned about the female. And drunk people walking around Greek Row isn't necessarily that unusual, either."
Lobbestael, who is still rehabbing his ACL and MCL injuries, continued home on foot, Wulff said, and "his friend, who had not drank at all, drove him down (to the police station) to pick her up."
Sometime after 1 a.m., a police receptionist noticed a truck parked near the department's sally port, the entrance used to transport prisoners. Tennant said this made her nervous, so an officer went out to investigate.
Lobbestael was in the passenger seat, either asleep, passed out or hunched over, according to what the arresting officer told Tennant.
Though there is some disagreement concerning Lobbestael's condition and what was in the vehicle, Tennant said no one argues he was arrested at 1:24 a.m., taken inside, fingerprinted, photographed and jailed until released later that morning.
The minor exhibiting charge has a maximum penalty under Washington law of up to a year in jail and a $5,000 fine. Tennant, however, said the usual fine for a first-time offender is $425, "but it's totally up to the judge."
Whatever the criminal penalties, Lobbestael, like every WSU football player, faces a peer review and punishment.
"Really, it's kind of anticlimactic," Wulff said. "We have a policy and procedure that will be dealt with, we'll deal with it quickly and move forward.
"When they do make mistakes, we help them and, when they take that help and get better, that's the blessing in all of this. That's what we're here to do. That's the biggest part of my job as the head coach is to help these guys become better men and learn from their mistakes."
Local journalism is essential.
Give directly to The Spokesman-Review's Northwest Passages community forums series -- which helps to offset the costs of several reporter and editor positions at the newspaper -- by using the easy options below. Gifts processed in this system are not tax deductible, but are predominately used to help meet the local financial requirements needed to receive national matching-grant funds.
Subscribe to the sports newsletter
Get the day's top sports headlines and breaking news delivered to your inbox by subscribing here.
---