Sports
NIC's chance on McGoldrick pays off
Wrestling team seeks 14th national title this weekend
Wed., Feb. 25, 2009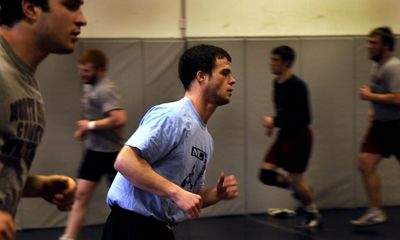 North Idaho College sophomore wrestler Tim McGoldrick had to travel about 2,500 miles to get a second chance and find himself. It's been well worth it.
Three years ago, McGoldrick received a full-ride scholarship to Rider University, an NCAA Division I school in Lawrenceville, N.J., about 90 minutes from his home in northeastern Pennsylvania.
When McGoldrick arrived at Rider, though, he quickly discovered he wasn't ready for college.
"I wasn't mature enough. I had the wrong mindset," McGoldrick said. "I didn't know the meaning of student-athlete. I wasn't managing my time well."
McGoldrick dropped out about halfway through the first semester. After talking to his coach, he re-enrolled for second semester. But things didn't improve. He continued to have difficulty finding classrooms and managing his time.
"It would have been a better fit for me to go to a (junior college) right out of high school so I could have gotten used to the rigorous schedule of balancing school and wrestling," McGoldrick said. "I was just overwhelmed and wasn't ready."
McGoldrick knew of NIC's reputation as a junior college power. So he called NIC coach Pat Whitcomb.
"I came out here and NIC took a chance on me, and it's been the best move of my life," McGoldrick said. "I have so much respect for the coaches taking a chance on me."
The 141-pound McGoldrick captured his second Region 18 championship, one of eight Cardinals to do so when they bulldozed their way to the regional title. McGoldrick and NIC will seek national titles when the NJCAA tournament begins a two-day run Friday in Rochester, Minn.
"He's a talent. He's got the whole package," Whitcomb said. "From the neutral position he's one of the better ones. He's real well balanced. He's in great shape and has confidence. It's a major difference over last year."
McGoldrick dropped a weight class this year after winning a regional title at 149 last year. He suffered a high ankle sprain two weeks before regionals a year ago, and the injury nagged him at nationals.
He went 1-2 at nationals, falling a win short of placing at least eighth and being an All-American.
"I was at about 60 percent at nationals," McGoldrick said. "I couldn't defend any shots."
Had McGoldrick been healthy, Whitcomb is sure he would have placed.
"Not to make excuses, but when he hurt his ankle he went into survival mode," Whitcomb said. "He had to do most of his training on a bike from that point. It made all the difference in the world in him placing."
McGoldrick, who is ranked eighth in the nation, made the commitment to drop a weight for two reasons. He wanted to help the team, but he also thought it would open a spot for his brother, Ian.
But Ian dislocated a shoulder and was lost for the season.
"At that point we thought it wouldn't be fair to the team for me to juggle around in the lineup," McGoldrick said. "So I committed to stay at 141. It was for the team."
Controlling his weight has been more difficult than his toughest match this year.
Last year, his weight hovered between 156 and 158 early in the week. This year, he's had to stay from 148-150
"After the national tournament I'll never see 141 again," McGoldrick said. "It won't take me a week to be back up over 160. I'll wrestle at 149 next year."
The defending national champ, Aaron Senzee of St. Louis Community College/Meramec, is back at 141. He and McGoldrick are seeded on opposite sides of the bracket. McGoldrick would like to meet him in the title match.
"I feel like I'm the biggest 141 in the nation," McGoldrick said. "I don't see anyone being stronger than me on the mat. I've been saying all year that the only guy that can beat me is myself. I think I can dominate (my weight). I've put in the time."
McGoldrick and his teammates, who are ranked second, are riding momentum into nationals.
"The last couple of weeks we've been really clicking," McGoldrick said. "When you're pulling for each other, that can go a long way. Nobody is wrestling for themselves. There aren't any individuals on our team. To come back with anything less than a national title … I'd go as far to say that would be a disappointment."
Whitcomb agrees. But it will be a challenge to knock off three-time defending national champ Iowa Central Community College.
NIC, which has won a record 13 national titles, is seeking its first championship since 2003.
"Iowa Central is the favorite," Whitcomb said. "We have to have an exceptional weekend to win, which you should if you want to win a national title. We can't just have an OK weekend. If our regional championship team wrestles like that at nationals, I want to be in that corner."
Local journalism is essential.
Give directly to The Spokesman-Review's Northwest Passages community forums series -- which helps to offset the costs of several reporter and editor positions at the newspaper -- by using the easy options below. Gifts processed in this system are not tax deductible, but are predominately used to help meet the local financial requirements needed to receive national matching-grant funds.
Subscribe to the sports newsletter
Get the day's top sports headlines and breaking news delivered to your inbox by subscribing here.
---
Subscribe and log in to the Spokesman-Review to read and comment on this story