News > Idaho
Coach gets top Idaho salary
Among state employees, top 10 wage-earners work in education
Fri., Jan. 2, 2009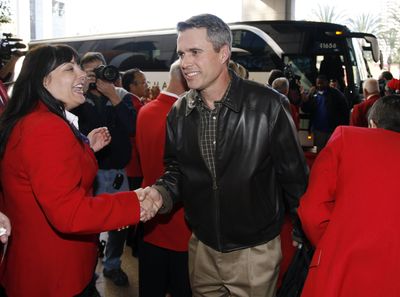 BOISE – Idaho's highest-paid state employee isn't the governor, a university president or a key scientist – it's Boise State University head football coach Chris Petersen.
Petersen heads the list of a record 310 Idaho state employees who now out-earn Gov. Butch Otter. The list has swelled from 284 last year, in part because Otter opted to turn down his scheduled 3 percent pay raise this year and stick with last year's salary of $108,727.
"He feels that if the other employees aren't getting raises, he shouldn't get a raise either," said Otter's budget chief, Wayne Hammon. "So he'll just turn it back."
Petersen's $806,998 salary, which comes from both state and private sources, is now almost eight times the governor's salary. It's risen with the success of BSU's football program, ballooning from $400,000 two years ago – when Petersen also was the state's highest paid employee. It was $725,109 last year after the Broncos won the Fiesta Bowl.
Idaho's state salaries fall off quickly from Petersen's, with BSU head basketball coach Greg Graham coming in second at $343,678. BSU President Bob Kustra places third at $299,416, followed by Idaho State University President Arthur Vailas, $286,650; BSU athletic director Eugene Bleymaier, $266,115; and University of Idaho academic faculty member and dean Aicha Elshabini, $230,838.
Steve Shaw, a political scientist at Northwest Nazarene University, said the news is reminiscent of Babe Ruth's famous answer when asked why his contract gave him a salary bigger than that of then-President Herbert Hoover. "I had a better year than he did," Ruth said.
Shaw said the salary discrepancies show some "misplaced priorities," at a time when the state is making sharp budget cuts. "The coaches' salaries have just kind of exploded over the years," he said.
In 2007, a survey by the Council of State Governments ranked Otter's pay 35th among the 50 states, and well below the national average of $124,398. Otter also receives a $4,500 monthly housing allowance, since Idaho is one of six states with no official governor's residence.
Among those who now make more than the governor are his chief of staff, an array of university officials, physicians employed by the state Department of Health and Welfare, the investment manager for the state retirement fund, the director of the office of the state Board of Education, top executives of several state departments and divisions, and all of the state's district judges.
Idaho's state controller's office prepares a report for legislators each year on state employee pay, including the breakdown on how many are paid more than the governor. That figure dropped to a low of 81 in 2001, but has steadily climbed.
This year, the top 10 highest paid state employees all work for universities. Overall, a study released earlier this month found that Idaho state employees on average make 15 percent below market wages for their jobs.
Local journalism is essential.
Give directly to The Spokesman-Review's Northwest Passages community forums series -- which helps to offset the costs of several reporter and editor positions at the newspaper -- by using the easy options below. Gifts processed in this system are not tax deductible, but are predominately used to help meet the local financial requirements needed to receive national matching-grant funds.
Subscribe to the Coronavirus newsletter
Get the day's latest Coronavirus news delivered to your inbox by subscribing to our newsletter.
---