News > Business
Apple's Jobs addresses worries over his health
Tue., Jan. 6, 2009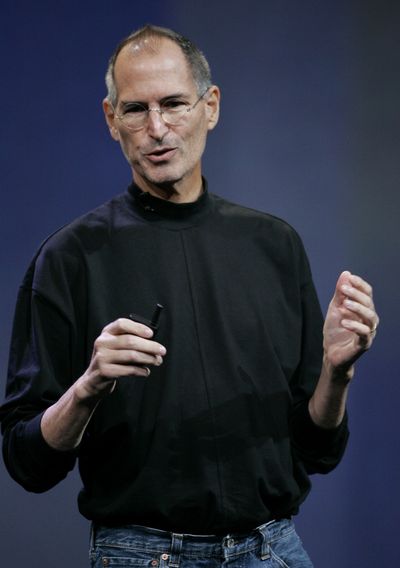 NEW YORK – Apple Inc. founder Steve Jobs, a survivor of pancreatic cancer whose gaunt appearance in the past year has alarmed the Mac and iPod lovers who look to him as an oracle, said Monday he has an easily treated hormone imbalance and will remain in charge of the company.
The news sent Apple stock up more than 4 percent on a down day for much of the market. But Jobs did not say whether the problem was related to the cancer, and some analysts said the health watch may not be over.
The CEO's health is an important issue for any company, but especially for Apple, where Jobs has presided over a decade of huge success. His mix of secrecy and high-design principles, seen in the rollouts of new Mac computers, the iPod music player and the iPhone, has become a trademark.
In a public letter, Jobs, 53, said his thinness had been a mystery even to him and his doctors until a few weeks ago, when "sophisticated blood tests" confirmed that he has "a hormone imbalance that has been 'robbing' me of the proteins my body needs to be healthy."
"The remedy for this nutritional problem is relatively simple and straightforward, and I've already begun treatment," he wrote. "Just like I didn't lose this much weight and body mass in a week or a month, my doctors expect it will take me until late this spring to regain it."
Jobs, who co-founded Apple with Steve Wozniak in 1976 at the dawn of the personal computer revolution, left in 1985 and returned as CEO in 1997, slashing unprofitable product lines and helping rescue the company from financial ruin.
Jobs announced in 2004 that he had undergone successful surgery to treat a very rare form of pancreatic cancer – an islet cell neuroendocrine tumor. The cancer is easily cured if diagnosed early. Jobs did not have a deadlier and more common form of pancreatic cancer called adenocarcinoma.
Even so, fears that Apple would lose his leadership percolated in 2008 as Jobs appeared pale, worn and notably thinner in the face. Apple said he was suffering from a common bug, but the New York Times cited anonymous sources who said Jobs had undergone "a surgical procedure" to address the problem that had caused him to lose weight.
Worries about Jobs intensified after Apple said in December that he would not make his annual keynote address today at the Macworld conference in San Francisco. It was at Macworld in 2007 that Jobs introduced the iPhone. Apple said Jobs would not take the stage because this year will mark the company's last appearance at the show, which is run by a separate company. Phil Schiller, an Apple marketing executive, will give the company's presentation instead.
But after Apple's official statements didn't quell the discussion of Jobs' health, the CEO said he released his letter Monday "so that we can all relax and enjoy the show tomorrow."
He closed it by saying: "So now I've said more than I wanted to say, and all that I am going to say, about this."
For Apple investors, it seemed that was good enough. Apple stock rose $3.83, 4.2 percent, to close at $94.58.
Local journalism is essential.
Give directly to The Spokesman-Review's Northwest Passages community forums series -- which helps to offset the costs of several reporter and editor positions at the newspaper -- by using the easy options below. Gifts processed in this system are not tax deductible, but are predominately used to help meet the local financial requirements needed to receive national matching-grant funds.
Subscribe to the Coronavirus newsletter
Get the day's latest Coronavirus news delivered to your inbox by subscribing to our newsletter.
---
Subscribe and log in to the Spokesman-Review to read and comment on this story