News > Spokane
Bush to designate marine monuments
Three Pacific island areas to be preserved
Tue., Jan. 6, 2009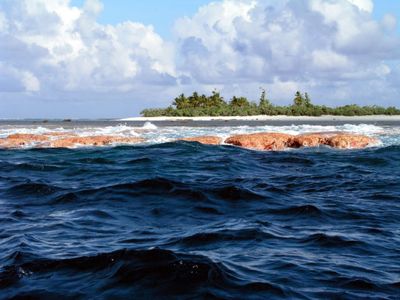 WASHINGTON – Parts of three remote and uninhabited Pacific island chains are being set aside by President Bush as national monuments to protect them from oil and gas extraction and commercial fishing in what will be the largest marine conservation effort in history.
The three areas – totaling some 195,274 square miles – include the Mariana Trench and the waters and corals surrounding three uninhabited islands in the Northern Mariana Islands, Rose Atoll in American Samoa and seven islands strung along the equator in the central Pacific Ocean.
Each location harbors unique species and some of the rarest geological formations on Earth – from the world's largest land crab to a bird that incubates its eggs in the heat of underwater volcanoes.
All will be protected as national monuments – the same status afforded to statues and cultural sites – under the 1906 Antiquities Act. The law allows the government to immediately phase out commercial fishing and other extractive uses.
However, recreational fishing, tourism and scientific research with a federal permit could still occur inside the three areas.
"These locations are truly among the last pristine areas in the marine environment on Earth," said James Connaughton, chair of the White House Council on Environmental Quality, who added the resources the administration wanted preserved would be fully protected.
The president plans to make the designation official today at a ceremony at the White House.
It will be the second time Bush has used the law to protect marine resources. Two years ago, the president made a huge swath of the Northwestern Hawaiian Islands a national monument, barring fishing, oil and gas extraction and tourism from its waters and coral reefs. At the time, that area was the largest conservation area in the world.
The three areas to be designated today are larger, and came with some opposition. Northern Mariana Islands government officials and indigenous communities initially objected to the monument designation, citing concerns about sovereignty, fishing and mineral exploration.
The protected areas will extend 50 nautical miles off the coral reefs and atolls at the three monuments, which will be officially called the Marianas Marine National Monument, Rose Atoll Marine National Monument, and the Pacific Remote Islands Marine National Monument.
Local journalism is essential.
Give directly to The Spokesman-Review's Northwest Passages community forums series -- which helps to offset the costs of several reporter and editor positions at the newspaper -- by using the easy options below. Gifts processed in this system are not tax deductible, but are predominately used to help meet the local financial requirements needed to receive national matching-grant funds.
Subscribe to the Coronavirus newsletter
Get the day's latest Coronavirus news delivered to your inbox by subscribing to our newsletter.
---
Subscribe and log in to the Spokesman-Review to read and comment on this story