News > Features
Pitt shows more mature life view
Tue., Jan. 6, 2009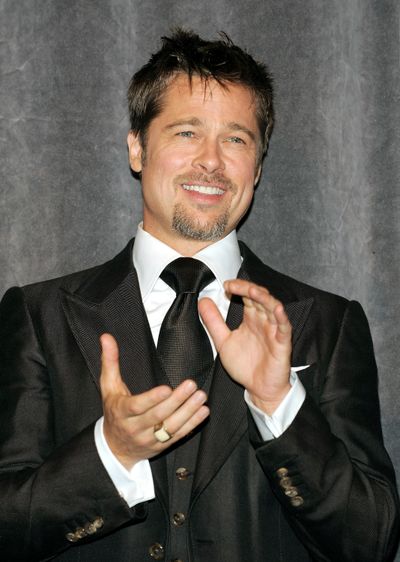 The days might be numbered for the old Brad Pitt – the absurdly handsome leading man who couldn't seem to keep his shirt on in a movie for more than five minutes.
Now it's time to meet the new, older (and presumably wiser, but no less photogenic) Brad Pitt, as he reflects on the themes of his latest film, "The Curious Case of Benjamin Button."
Portraying the title character, a man who's born as an octogenarian and ages backward into infancy, Pitt says he had some personal reckoning to do with the temporality of things.
"Once you hit 40, you start re-examining the math of it all," says the actor, who turned 45 on Dec. 18. "I'll trade wisdom for youth any day," he says.
That existential swap lies at the heart of David Fincher's film, loosely adapted by screenwriter Eric Roth from a 1922 short story by F. Scott Fitzgerald. Brought into the world on Armistice Day, 1918, as a slack-skinned, 80-year-old man, Benjamin bears witness to many of the century's epochal events.
But none of Benjamin's picaresque adventures shapes him more than his relationship with Daisy Fuller (Cate Blanchett). The bittersweet irony of their predicament raises the question of whether "Benjamin Button" is, in the end, a tragedy.
"It's a tragedy in the sense that any love involves loss, and that's the risk you take," Pitt responds. "And the greater the love, the greater the loss. I certainly feel that now with the woman I'm with, and the children that I have. But whatever the course may be, this time together is extraordinary."
"The woman" Pitt means, of course, is Angelina Jolie, his parenting partner for six children (three biological, three adopted).
"I had a whole other life and I got to experience a lot," Pitt says. "And I probably got away with more than I should. And it kind of ran its course, you know."
Even though Fincher has known the actor for 15 years and directed him in two previous movies ("Se7en," "Fight Club"), he says he was unprepared "for the degree to which he (Pitt) has become comfortable with who he is."
Pitt's startling appearance "from the neck up" as Benjamin was achieved with the help of several smaller body doubles and a bevy of computer-generated imagery. Pitt says he "focused on the knees, and the spine giving out, the relaxed vocal quality, the loss of elasticity."
Movies are a kind of fountain of youth, in which the stars of our memories can remain forever immune to mortality. But Pitt, the onetime golden boy of Hollywood, sounds ready to turn to the next chapter.
What matters more than one's age, he suggests, is maintaining a creative spirit.
"Another thing the film points to," he says, "you meet someone who is maybe in their 60s, 70s, even 80s, and you meet them as that person, anyone beyond the age of retirement, so to speak. And you seldom realize they had a whole life of experience. They were just as virile and ingenious and capable as you believe yourself to be."
The birthday bunch
Actress Bonnie Franklin is 65. Singer Kim Wilson of the Fabulous Thunderbirds is 58. Country singer Jett Williams is 56. Guitarist Malcolm Young of AC/DC is 56. Comedian Rowan Atkinson is 54. Singer Kathy Sledge of Sister Sledge is 50. Director John Singleton is 41. Actor Danny Pintauro is 33.
Local journalism is essential.
Give directly to The Spokesman-Review's Northwest Passages community forums series -- which helps to offset the costs of several reporter and editor positions at the newspaper -- by using the easy options below. Gifts processed in this system are not tax deductible, but are predominately used to help meet the local financial requirements needed to receive national matching-grant funds.
Subscribe to the Coronavirus newsletter
Get the day's latest Coronavirus news delivered to your inbox by subscribing to our newsletter.
---
Subscribe and log in to the Spokesman-Review to read and comment on this story