Sports
Still big man on the block (where he lives)
Tue., Jan. 6, 2009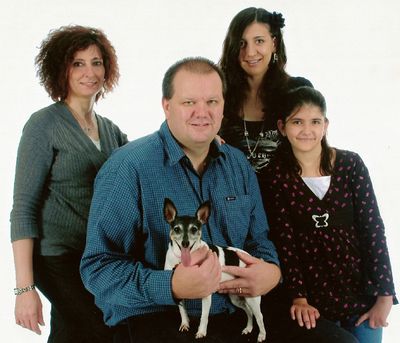 Some 23 years after establishing himself as a likeable low-post load and legendary rebounder at Eastern Washington University, John Randa is still chasing down basketballs.
But instead of swapping elbows and hip checks on the court with a bunch of other nasty bigs – like the late Kevin Duckworth, who once stomped intentionally on his head – Randa is leisurely rebounding missed shots for his youngest daughter, Vanessa, in the driveway of his family's home in Langley, British Columbia.
That might seem a bit tame for someone who once served as the beefy enforcer on an Eastern team still in its infancy as an NCAA Division I program. Yet Randa seems completely comfortable in the laid-back role of a husband and father of two.
"I really enjoyed my time at Eastern," said Randa, 45, who has spent the last 19 years as a corrections officer at the Burnaby Youth Custody Center in nearby Burnaby, B.C. "I played with some good guys and have a lot of great memories from there, but it doesn't compare with having kids and raising a family.
"People always say, 'College, you know, that was the best time of my life.' No it isn't. The best time of my life is right now – watching and helping my kids grow up. College doesn't even come close."
Still, Randa, a native of Surrey, B.C., managed to put together a pretty good three-year run in Cheney after transferring from North Idaho College in the fall of 1983.
After undergoing knee surgery and missing the 1983-84 season when the Eagles finished 4-22 in their first year as an independent D-I program, the 6-foot-8 Randa – falsely listed at a mere 235 pounds on EWU's roster – established himself as a regular the following year, averaging 9.6 points and a team-high 7.9 rebounds while throwing around the 265 pounds he was actually carrying.
The Eagles went 12-15 that winter, but came back the following year to win 20 of 28 games, setting a single-season school record for Division I victories that still stands. Randa averaged 9.3 points as a senior, and set a D-I school record that also remains intact by pulling down an average of 9.2 rebounds – including a career-high 18 in a 74-54 win over Idaho State.
It was during his junior year that Randa had his memorable encounter with Duckworth, a former two-time NBA All-Star and Portland Trail Blazers fan favorite, who died from congestive heart failure last fall at the age of 44.
Duckworth was a 7-foot, 275-pound center at Eastern Illinois when the Panthers visited Reese Court in late November of 1984. EWU won the game 75-71 in overtime, but what Randa remembers more vividly than the final score was falling down in the lane, only to have Duckworth stomp on his head.
"He did it on purpose, really," Randa claimed. "And I have to say that was the only time I actually saw stars when I was playing basketball. I thought I was going out."
Too groggy to retaliate immediately, Randa – with the help of teammate Rob Otis – waited until later in the game to extract revenge.
"I got Otis to run him across the lane, and then I elbowed him in a bad area," Randa explained. "I mean, he was too big to fight, right?"
That was one of many elbows the normally easy going Randa unleashed while wearing an Eagles uniform.
"I'm not really a big fighter," he said. "I haven't been in a fight in 20 years. But on the court, it's kind of a different thing. You've got your role, and my role was the enforcer role when I played.
"You had to make sure guys didn't do dirty things to your teammates. And if a guy does dirty on you, you've got get him back. That was always my philosophy. It was my rule."
It was a rule that, in all likelihood, prevented him from making the Canadian national team after leaving Eastern without a degree following his record-breaking senior year.
According to Randa, he was playing well during tryouts for the national team, but took umbrage at a "cheap-shot" punch to the face thrown by a potential teammate that started a full-scale brawl.
"Coach didn't like that," said Randa, who was cut from the team a short time later.
From there, with the help of former EWU head coach John Wade, who was an Eagles assistant during his stay in Cheney, Randa hired an agent and ventured out of the country, where he spent a little over three years playing for teams in Argentina, Mexico, Venezuela and Portugal.
He met his wife, Anabela, in Portugal, and they were married in August of 1989 on the Rock of Gibraltar in the same room in the Rock Hotel in which the late music legend John Lennon and Yoko Ono exchanged their wedding vows in March of 1969.
Randa and his wife had no idea about the history of the room until they were informed about it after the ceremony by a desk clerk trying to sell them a souvenir marriage certificate.
"She told us we used the same room as John and Yoko," Randa explained, "and I'm thinking, 'I don't know if that's good or bad. I didn't mind John, but Yoko was a little crazy, right? Anyway, I didn't buy the certificate. I had no use for it."
Randa did, however, fly about 11 family members to the wedding, and – in his own unorthodox manner – convinced his oldest sister, Christine, to serve as his best man.
Upon returning to Canada, Randa and his wife settled in the Vancouver area where Anabela still teaches. They return every couple of years to Portugal, along with their daughters, Andreia, 17, and Vanessa, 9.
He has stayed in contact with several of his former college teammates, including Otis, Dexter Griffen, Dave Thompson and Leroy Dean, and follows Eastern's basketball fortunes over the Internet. The Eagles' 6-2 start this winter even had him thinking about the possibility of having his 1985-86 team's school record of 20 D-I wins topped.
"I really want them to beat it," Randa said. "I wouldn't care at all. I still love that school and all of the opportunities it gave me."
And he figures if Vanessa keeps improving her shooting – with an assist from Dad's driveway rebounding efforts – Eastern's women's team might someday end up with a Randa on its roster, as well.
Local journalism is essential.
Give directly to The Spokesman-Review's Northwest Passages community forums series -- which helps to offset the costs of several reporter and editor positions at the newspaper -- by using the easy options below. Gifts processed in this system are not tax deductible, but are predominately used to help meet the local financial requirements needed to receive national matching-grant funds.
Subscribe to the sports newsletter
Get the day's top sports headlines and breaking news delivered to your inbox by subscribing here.
---
Subscribe and log in to the Spokesman-Review to read and comment on this story