Sports > Gonzaga athletics
Twins owner Pohlad, a former Zag, dies at 93
Tue., Jan. 6, 2009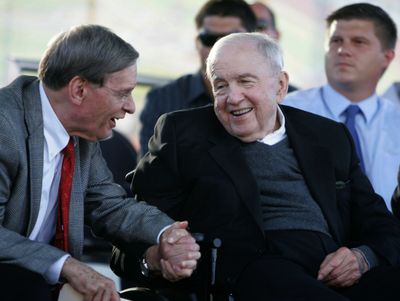 MINNEAPOLIS – Carl Pohlad, a billionaire banker whose Minnesota Twins won two World Series titles during his nearly quarter-century as owner, died Monday. He was 93.
A football player at Gonzaga University, who graduated in 1939, Pohlad served in the Army during World War II. He remained active into his 80s before a variety of back, hip and leg ailments made it hard to get around and ultimately impossible to walk. Even after turning 90, though, he continued to make regular trips to the Metrodome to watch his team play – often wearing his lucky red socks and stopping by manager Ron Gardenhire's office before the game.
According to Forbes magazine's 2008 rankings, Pohlad was the second-richest Minnesotan with a net worth of $3.6 billion.
When Pohlad paid Calvin Griffith $38 million for the Twins in 1984, he was widely credited for saving baseball in Minnesota.
"I live and die by every pitch," he once said. "I want so badly for them to win. … If it isn't competitive and you don't have a team with character, it won't be any fun."
Minnesota won the World Series in 1987 and 1991 in tense seven-game showdowns against the St. Louis Cardinals and Atlanta Braves. Fans filled the Metrodome, waving Homer Hankies, but the ballpark, built inexpensively to open in 1982, quickly became shunned by many for its stuffy, artificial atmosphere.
Revenue streams were also limited, which hurt the Twins' ability to keep up with bigger-spending teams in bigger markets. As the team threatened to leave, his reputation took a hit.
He threatened to sell the club to a North Carolina investor, a deal later shown to be a maneuver to convince the state to sign off on new-stadium funding.
After a decade-long pursuit to replace the Metrodome, the Twins got the go-ahead from the state in 2006.
Though largely perceived as a hard-driving miser, Pohlad and his wife, Eloise, who died in 2003, together donated millions of dollars to charitable causes.
Local journalism is essential.
Give directly to The Spokesman-Review's Northwest Passages community forums series -- which helps to offset the costs of several reporter and editor positions at the newspaper -- by using the easy options below. Gifts processed in this system are not tax deductible, but are predominately used to help meet the local financial requirements needed to receive national matching-grant funds.
Subscribe to the sports newsletter
Get the day's top sports headlines and breaking news delivered to your inbox by subscribing here.
---
Subscribe and log in to the Spokesman-Review to read and comment on this story