News > Idaho
Brad Little named lieutenant governor
Emmett rancher served five terms in Idaho senate
Wed., Jan. 7, 2009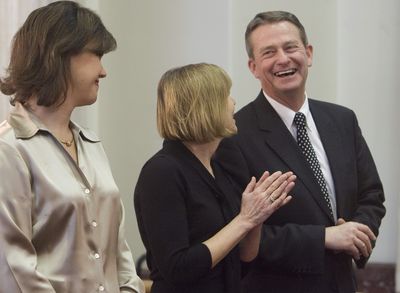 BOISE – Brad Little, a rancher and state senator from Emmett, Idaho, was chosen by Gov. Butch Otter on Tuesday to be Idaho's new lieutenant governor, as former Lt. Gov. Jim Risch was sworn in to the U.S. Senate to replace retiring Sen. Larry Craig.
Little, the Senate majority caucus chairman, is a popular senator and longtime friend of Otter, who started his career as a state representative in 1973 alongside Little's father.
Otter interviewed about 30 candidates for the post and said he asked every hopeful, "If not you, who?" Those willing to answer "all said Brad," the governor said.
Little, 54, is a University of Idaho graduate with a degree in agribusiness. A married father of two, he's heir to the sheep-raising fortune amassed by his grandfather, Andy Little, who came to Idaho from Scotland in 1894 and became known as the "sheep king of Idaho."
"This is very humbling. This is really an honor for me to serve," the five-term state senator said. "This is sure going to be a new adventure."
Otter said part of Little's appeal is he's willing to commit to run for the position in two years. "I fully intend to endorse him and campaign for him," he said.
"Nobody understands the issues, the personalities or the possibilities better than him, and nobody will work harder for the people of Idaho."
Little said job creation will be his top priority.
"This national economy has thrown us a curve. We need to preserve the quality of life we've got … (to) get Idaho booming and boiling."
Sen. Shawn Keough, R-Sandpoint, was among those Otter interviewed for the job. Of Little, she said, "I think it's a great choice. Brad is a good leader and he'll do a great job."
Lieutenant governor is a part-time job paying $27,820. Duties include presiding over the Senate, serving as acting governor in the governor's absence and succeeding if the governor leaves office.
Otter, who served 14 years as lieutenant governor under governors of both major parties, noted that a lieutenant governor's duties also include anything the governor assigns. He plans to have Little work on economic development, trade missions and vetting potential appointees.
There had been some speculation that the GOP governor might pick one of the Republican hopefuls considering a run for Congress in two years against newly elected Democratic 1st District Rep. Walt Minnick, who also was sworn into office Tuesday.
That would have given that candidate a boost in statewide name recognition before making a congressional bid.
"Certainly that could have been one of the cards we could have played," Otter told reporters.
But, he said, "I was looking for not just a future candidate for some higher office, but I was also looking for a great partner, and a person that I thought could handle the responsibilities that I wanted to extend to that office."
Otter stopped short of saying he'll seek a second term as governor but acknowledged that he's already raising money "to replenish my campaign fund."
The Associated Press contributed to this report.
Local journalism is essential.
Give directly to The Spokesman-Review's Northwest Passages community forums series -- which helps to offset the costs of several reporter and editor positions at the newspaper -- by using the easy options below. Gifts processed in this system are not tax deductible, but are predominately used to help meet the local financial requirements needed to receive national matching-grant funds.
Subscribe to the Coronavirus newsletter
Get the day's latest Coronavirus news delivered to your inbox by subscribing to our newsletter.
---