Sports > Gonzaga basketball
Blanchette: Zags' meltdown came at inopportune time here
Wed., Jan. 7, 2009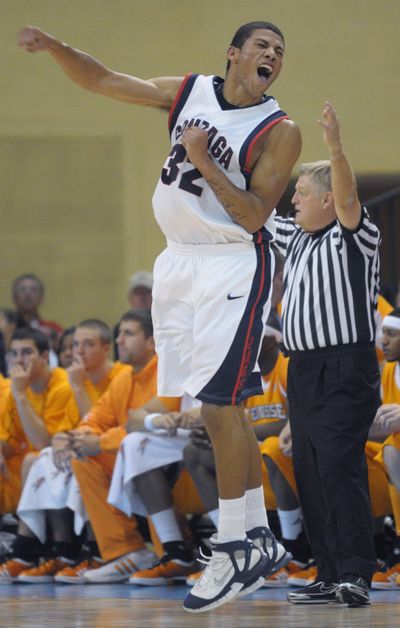 The mercury didn't drop this fast the week before Christmas.
The snow – all 80 inches of it – hasn't fallen with such force.
Your 401K has had a softer landing.
What more can be said? Gravity itself can take lessons from the Gonzaga Bulldogs, who have tumbled in a bad way the same way gas prices have to the good.
In the space of four dreary weeks – just as Spokane was desperate for a diversion from marathon digouts, berm bumper bowling and roof collapses – the Bulldogs collapsed, too. Fourth in both polls on Dec. 8, the Zags this morning are down there with the Socialist Workers and Natural Law candidates of college basketball – the "others receiving votes." Picking through the detritus, we find them 30th in the Associated Press vote and 36th in the coaches' poll. This is even more pronounced than the great crash of '06-07, when Gonzaga needed just three weeks to go from 16th to nary a write-in from any of the voting coaches – not even from Dan Monson, who not that long ago used to draw a paycheck from the place.
Egad. When did Nike start outfitting the Zags in Despair Jordans?
When did wearing the red uniforms suddenly seem like the perfect tonic for a momentum change?
This bummer began, you recall, with an upset loss to Arizona, and resumed with the overtime punch to the gut in Seattle from Connecticut. Inexplicable swoons against Portland State – at home, no less – and Utah followed, and now the Zags must try to get well tonight at 15th-ranked Tennessee. Seeing as the Vols are still smarting from a loss to GU on a neutral floor in November, this is a little like treating a broken ankle with a steady regimen of jump rope.
The Zags this week professed no panic, as they should – this rodeo having several go-rounds remaining. Still, there was an interesting and direct analysis from coach Mark Few about the root of the current ills.
"If A.J. Price's 'prayer' 3 doesn't go in, I think it changes our whole mentality," Few said, referencing the UConn guard's overtime-forcing bucket. "It's a shame that it's that simple. Mentally, that has had a huge impact on this club."
Well, no question it was a heartbreaker.
So they need to get over it.
This is hardly lost on Few, who embarked on that very journey within hours of the loss, knowing another challenge was at the door. He also knows he's dealing with players "18 to 22 years old" who cannot be programmed so easily.
"And even though we can talk and sit down on couches and analyze it and try to move them past it, that shot doesn't go in – and it was a very tough shot – and I think we're in a lot better place mentally for the Portland State game," Few said, "and probably the same could be said for the Utah game."
Few seemed to be in a circle-the-wagons state of mind this week – raking the roof, if you will, lest it cave under the weight of the considerable public grumping his players can't help but hear.
He was quick to note that he didn't think "there's any doubt we've played the toughest non-conference schedule in the country," and while there are computers out there to split hairs he's not laying down fog. The Zags are 3-3 against teams in the top 60 of the current Ratings Percentage Index, and 1-1 against two others in the top 125. Tennessee redux and Memphis are still to come. Other schools have a case, too – Temple has played 10 top 150 teams, six of them true road games – but the Zags have no apologies to make.
"It allowed us to get some marquee wins," he said. "The flip side is, if you don't play 'A' or 'A-plus' in those games, you're putting yourself in jeopardy to get beat."
And he again threw slush on a notion that gained some purchase back in November.
"This is not the most talented team ever at Gonzaga," he insisted. "When we're playing together, we're pretty darned good and collectively, we have nice balance. But individually we're not quite good enough to play off one or two guys."
And again, he's mostly right. It's a skilled team with any of six guys capable of going off for a bunch any given night – but it's also one with nearly no inside game and rebounding best described as indifferent, a condition not likely to improve dramatically.
What it is, however, is an experienced, veteran team – behind only the 2000 and 2004 Zags in that regard. As such, it really had no business fainting the way it did down the stretch against UConn or the past two games against teams that are solid, but not special. Maybe it was telling, after the Bulldogs showed some grit in those early wins in Orlando, that Few refused to make any general proclamations about perceived gains in toughness, suggesting that's something best assessed game by game. Apparently, one shot has proven him right.
For if the Zags are truly that fragile emotionally, this current freefall may be the least of their problems.
Local journalism is essential.
Give directly to The Spokesman-Review's Northwest Passages community forums series -- which helps to offset the costs of several reporter and editor positions at the newspaper -- by using the easy options below. Gifts processed in this system are not tax deductible, but are predominately used to help meet the local financial requirements needed to receive national matching-grant funds.
Follow along with the Zags
Subscribe to our Gonzaga Basketball newsletter to stay up with the latest news.
---
Subscribe and log in to the Spokesman-Review to read and comment on this story