Police thank man for heroism
20-year-old rescued driver from burning vehicle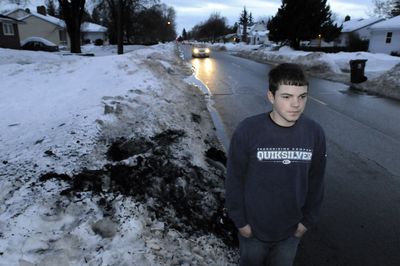 It looked liked just another car stuck in the snow. Summoned from his basement bedroom by his mother, Joshua Myers looked out the living room window and saw a van lodged in a berm across the street from his north Spokane home late Tuesday.
The 20-year-old ran downstairs to throw on warm clothes and headed outside, quickly realizing the van wasn't just stuck – its driver was passed out at the wheel, and the engine was on fire.
When the man didn't wake up, Myers grabbed a shovel from his front yard and smashed the van's sliding-door window, allowing him to unlock the driver's door and pull the man out just after 11:30 p.m.
Now police are calling the 2007 North Central High School graduate a hero.
On the day a story about a Spokane man firing a shot at a plow-truck driver gave the city a prominent place on the prominent Web site the Drudge Report, police say Myers' story serves as a reminder that the city's residents can and will help one another.
"The Spokane Police Department thanks Mr. Myers for going above and beyond to make Spokane a safer place to live," Officer Kevin King said in a news release.
It took at least a minute for Myers to free the man, later identified as Edo A. Pierre, 52. Flames shot up from the van's hood to the windshield, and smoke made it difficult to breath. Fear kicked in, but adrenaline took over.
"I didn't want the car to explode when I was right next to it, but I figured I had a little bit of time," Myers said.
Calling his actions "heroic," police Officer Michelle Madsen said Myers saved Pierre from serious injuries and possible death.
Two cars drove by the scene in the 5800 block of North Belt Street and didn't stop, Myers said.
Pierre, who newspaper archives show has at least two convictions for drunken driving, was arrested and booked into Spokane County Jail on a drunken driving charge, where he remained Wednesday.
Myers' mother, Jodi Miethe, watched the rescue from the front yard as she called 911.
Emergency crews arrived a few minutes after Myers pulled Pierre to safety. By that time, the fire had engulfed the van.
The adrenaline rush kept him up for hours, Myers said.
He first turned down medical attention but then called for help after going inside and realizing he had trouble breathing. Medics treated him for smoke inhalation and a cut on his hand. He was able to fall asleep early that morning, he said.
Laid off from his construction job, Myers said his unemployment turned into a blessing Tuesday night.
Had he been scheduled for work that morning, "I'd probably be asleep."
---