News > Nation/World
Russia shuts all gas lines to Europe via Ukraine
U.S., European Union protest move
Thu., Jan. 8, 2009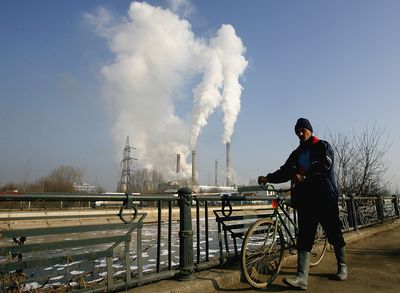 MOSCOW – Russia cut off all gas supplies to Europe through Ukraine on Wednesday, playing hardball in a weeklong standoff that has left more than a dozen countries struggling to cope with dwindling energy supplies in the depths of winter.
The U.S. put the blame squarely on Russia, accusing Moscow of using its energy resources to threaten its neighbors.
But Prime Minister Vladimir Putin endorsed the move, even as factories shut down in eastern Europe, schools closed and tens of thousands of people scrambled to find other ways of keeping warm.
Insisting that Ukraine was responsible for the crisis, Putin appeared determined to force Kiev to back down and accept increased prices for natural gas. The two sides were to meet today in the first face-to-face talks since negotiations broke down on New Year's Eve.
The effects of the gas cutoff reverberated across the continent, with Bulgaria, the EU's poorest member, among the worst hit. Croatia declared a state of emergency and Hungary instituted gas rationing for industries. In Bosnia, woodcutters revved up their chain saws to cut wood for fireplaces.
"It is a shame that in the last two decades our rulers did not look for alternative sources of energy supplies. It's again up to Moscow," retired teacher Anelia Petrova said in Sofia, the Bulgarian capital.
The EU accused both Russia and Ukraine of using consumers as pawns in their dispute.
"It is unacceptable that the EU gas supply security is taken hostage to negotiations between Russia and Ukraine," EU spokeswoman Pia Ahrenkilde Hansen said.
In Washington, U.S. officials criticized Russia for the energy crisis.
"Cutting off these supplies during winter to a vulnerable population is just something that is unacceptable to us," State Department spokesman Robert Wood said.
U.S. national security adviser Stephen Hadley warned Moscow if it continues to threaten its neighbors and manipulate their access to energy it will "compromise any aspirations for greater global influence."
Bulgaria, Croatia, the Czech Republic, Greece, Italy, Macedonia, Romania, Serbia, Slovakia, Slovenia and Turkey all reported a halt in Russian gas shipments by Wednesday. Others – including Austria, France, Germany, Hungary and Poland – reported substantial drops in supplies.
Russia's gas monopoly Gazprom stopped all gas shipments to Ukraine on Jan. 1 after the two countries failed to agree on prices and transit fees for 2009, but kept supplies flowing to Europe over Ukraine's pipelines.
Russia reduced supplies Tuesday, accusing Ukraine of siphoning off gas meant for Europe. But Putin ordered Gazprom to stop all shipments Wednesday.
"This should be done publicly and in the presence of international observers," he told Gazprom CEO Alexei Miller.
EU Commission President Jose Manuel Barroso pressed Putin and his Ukrainian counterpart Yulia Tymoshenko for a quick resolution to the standoff.
"If this matter is not solved, it will raise very serious doubts about the reliability of Russia as a supplier of gas to Europe and Ukraine as a transit country," Barroso said.
Local journalism is essential.
Give directly to The Spokesman-Review's Northwest Passages community forums series -- which helps to offset the costs of several reporter and editor positions at the newspaper -- by using the easy options below. Gifts processed in this system are not tax deductible, but are predominately used to help meet the local financial requirements needed to receive national matching-grant funds.
Subscribe to the Coronavirus newsletter
Get the day's latest Coronavirus news delivered to your inbox by subscribing to our newsletter.
---
Subscribe and log in to the Spokesman-Review to read and comment on this story