Sports
Stanford, California surprise prognosticators
Thu., Jan. 8, 2009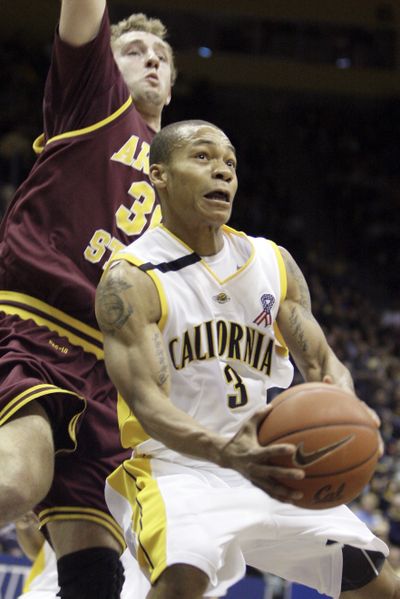 PULLMAN – They seemed like the biggest shakeups to hit the Bay Area since the last temblor.
California was losing sophomore Ryan Anderson to the draft. Ditto Stanford and the Lopez twins. Ben Braun was out as Cal's basketball coach, replaced by former Cardinal coach Mike Montgomery. Not to be outdone, Stanford and coach Trent Johnson parted ways, replaced by longtime Duke assistant Johnny Dawkins.
What in the name of Pete Newell was going on with Bay Area Pac-10 hoops?
Only a revival, that's all.
But a revival few saw coming, what with the Bears picked to finish eighth and Stanford ninth in the media's Pac-10 preseason poll.
Yet, when the travel partners make the trek to Washington this weekend, Cal will come with a 13-2 overall record and atop the conference standings after sweeping the Arizona schools last weekend at home. The Cardinal are even better overall, at 11-1, but 1-1 in conference play after last Thursday's 30-point loss to ASU.
First up for Washington State is Cal, a team that rode Anderson's 27 points to a 69-64 win in Pullman last season. But with Anderson – and Braun – gone, this is a different Cal team.
It's better.
"I'm surprised the way they handled Arizona and Arizona State, yeah," WSU coach Tony Bennett said. "I thought those would be battles. They handled them. Which tells you a lot about how well they're playing."
Bennett's not alone, because even Montgomery, back in the college game after stints as the Golden State Warriors' coach and then as a radio broadcaster, didn't see such success coming.
"I don't know what I expected," he answered when asked about the hot start. "We just wanted to try to play sound basketball and try to get the kids to have some fun."
The Bears are having fun by shooting the ball with deadly accuracy. They are converting 49.9 percent of their shots, including a nation's best 50.5 percent from beyond the 3-point arc – more than 7 percent better than the next-best team.
Jerome Randle leads the nation from long range, hitting 55.9 percent of his 68 attempts, though 6-foot-6 guard Theo Robertson, back after missing all of last season after hip surgery, is atop Cal's statistics, hitting 61.7 percent. It's just that Robertson's 29 made 3-pointers aren't enough to get him ranked nationally.
"We shoot the ball pretty well," Montgomery said. "Theo's been a great shooter and Jerome's been probably better than anybody would have expected in terms of his ability to shoot the ball and get shots."
Though guard Patrick Christopher was named Pac-10 player of the week, it's the 5-10 lightning bolt Randle who makes the Bears go. The junior is scoring at 19.5 points-per-game clip and has a nearly 2-to-1 assist-to-turnover ratio. He had a career-high 26 points and 10 assists in the Bears' 81-71 upset of Arizona State.
"The direct challenge is he has a green light to score," said WSU point guard Taylor Rochestie, who will probably bear the biggest burden against Randle. "Anybody who has the green light, especially if they are playing well and has confidence, is hard to guard.
"The fact he has the confidence to pull up and shoot the 3 right away, that immediate threat makes you get out and guard him. And then he's one of the quickest players in the country. So if you try to get out and guard him, he can also go by you."
With the addition of Montgomery, Bennett knew Cal's personality would change. He just didn't know Randle would be the catalyst, though Bennett remembers seeing Randle in high school and thinking he was the best guard he saw that year.
"I knew they would be very well coached and physical and tough," Bennett said of the Bears. "I didn't know Randle would be playing as well as he is. He's playing as well as any guard in the country right now."
Stanford's persona has changed as well. With the two 7-foot Lopez twins inside the past two years, the Cardinal slugged it out with the Cougars, winning all three times last season and four of the last five.
But now the Cardinal are more of a finesse team – on the offensive end. With Lawrence Hill or Josh Owens, both just 6-8, playing the post, Stanford spreads the floor, even running the Flex offense occasionally, courtesy of assistant coach Dick Davey, the former Santa Clara head coach.
Of course, new coach Dawkins worked under a pretty good head coach for 11 years in Duke head man Mike Krzyzewski. The Cardinal aren't Duke yet, but they are doing a decent imitation.
"Not many people thought that Cal and Stanford would be able to compete with the UCLAs, the Arizona States or Arizonas in our league," Bennett said. "They already proved that they can. They had great players in the programs.
"With Cal, they have a great coach. With Stanford, they have a young coach, but he's really fitting their style. … They have a strong trio of seniors in Hill, (Anthony) Goods and (Mitch) Johnson. They are all great perimeter guys."
Local journalism is essential.
Give directly to The Spokesman-Review's Northwest Passages community forums series -- which helps to offset the costs of several reporter and editor positions at the newspaper -- by using the easy options below. Gifts processed in this system are not tax deductible, but are predominately used to help meet the local financial requirements needed to receive national matching-grant funds.
Subscribe to the sports newsletter
Get the day's top sports headlines and breaking news delivered to your inbox by subscribing here.
---
Subscribe and log in to the Spokesman-Review to read and comment on this story