News > Spokane
Summer's father to receive sentence
Prosecutor seeks 75 years for death
Thu., Jan. 8, 2009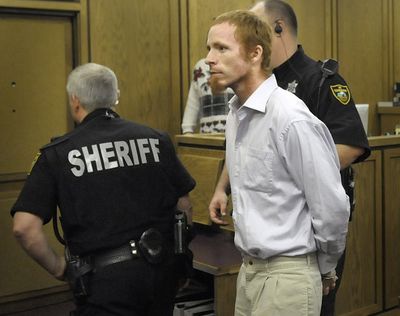 There's a difference of nearly 50 years in the sentencing recommendations for Jonathan Lytle, the man convicted in November of homicide by abuse in the torture death of his daughter, 4-year-old Summer Phelps.
The Spokane County prosecutor's office asked for an exceptional sentence of 75 years for Lytle, 30, while Lytle's lawyers say the sentence shouldn't exceed 26 1/2 years, the high end of the range for homicide by abuse for someone with no prior criminal record.
Lytle's sentencing was scheduled for 9 a.m. today in Spokane County Superior Court.
The prosecutors also seek a 75-year sentence for Lytle's wife, Adriana Lytle – Summer's stepmother – because of her "deliberate cruelty" and active role in the girl's death. Adriana Lytle pleaded guilty last year to homicide by abuse and will be sentenced, also by Judge Michael P. Price, on Friday.
The jury that convicted Jonathan Lytle agreed that there were "aggravating circumstances" in Summer's death, including deliberate cruelty to a vulnerable small child by an adult in a position of trust. That verdict cleared the way for the prosecutor's request for an exceptional sentence.
Over six months in 2006 and 2007, Summer was beaten, bitten, shocked with a dog collar, burned with cigarettes, denied food and dunked in water after being forced to wash urine-soaked clothes for hours in a bathtub. Her long, red hair was pulled out in clumps. She died March 10, 2007, submerged in the family bathtub.
"The ER physician and charge nurse, both with extensive experience, consider it the worst case of child abuse they ever saw," Deputy Prosecuting Attorney Jack Driscoll says in his sentencing memorandum, among multiple court documents filed in the case during the past few weeks. "If ever a case cries out for the most severe punishment, it is this one."
In their memorandum, Edward Carroll and Dennis Dressler, Lytle's court-appointed lawyers from Spokane County Counsel for Defense, agree that Lytle's crime was "heinous." But they point out that Lytle has no criminal history, and that homicide by abuse carries a standard sentencing range of 20 to 26 ½ years for someone with no prior convictions.
Because the offense doesn't carry a possible sentence of life imprisonment without possibility of parole, the court must sentence Lytle to a "finite number of months," Lytle's lawyers say. He will be eligible for earned release time of 10 percent of his sentence, they say.
Under the prosecutor's request, Lytle wouldn't be eligible for parole until he was 95, the lawyers say.
"In effect, then, 900 months would be a sentence of life without possibility of parole," according to their memorandum.
The Spokane community has been "shocked and outraged by this case, and the outpouring of sympathy for Summer Phelps has been almost unprecedented," the lawyers note. They ask the judge to balance society's demands for justice with the requirements of state law.
In their review of other exceptional sentences in homicide by abuse cases since the law was enacted in 1987, the lawyers note the maximum sentence imposed was 53 years, not 75. "The sentence sought by the state is clearly not proportional," they concluded.
If the sentence his lawyers request were imposed, Lytle would be eligible for release when he is 52.
Reach Karen Dorn Steele at (509) 459-5462 or karend@spokesman.com.
Local journalism is essential.
Give directly to The Spokesman-Review's Northwest Passages community forums series -- which helps to offset the costs of several reporter and editor positions at the newspaper -- by using the easy options below. Gifts processed in this system are not tax deductible, but are predominately used to help meet the local financial requirements needed to receive national matching-grant funds.
Subscribe to the Coronavirus newsletter
Get the day's latest Coronavirus news delivered to your inbox by subscribing to our newsletter.
---
Subscribe and log in to the Spokesman-Review to read and comment on this story