News > Spokane
In brief: Train crash death ruled a suicide
Thu., Jan. 8, 2009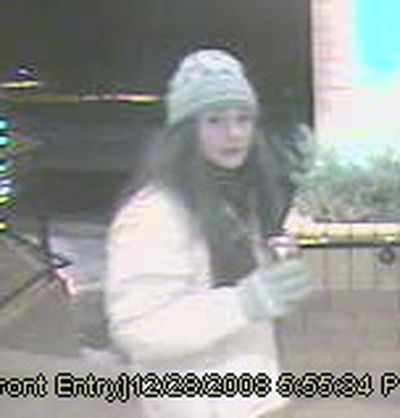 The man killed Tuesday when a freight train slammed into his Chevy Suburban had been reported as missing and despondent by his wife, according to the Spokane County Sheriff's Office.
Stanley G. Hicks, 54, died in what authorities have ruled a suicide after he pulled his SUV onto the tracks at Idaho Road and Trent Avenue as an eastbound BNSF Railway Co. train approached, sheriff's spokesman Dave Reagan said.
Witnesses said Hicks had been stopped near the tracks for nearly an hour. Investigators said the train was traveling between 40 and 50 mph when it broadsided the Suburban and pushed it more than 1,000 feet down the railroad.
Hicks was found belted into his seat with the SUV in park, Reagan said.
The Spokesman-Review and the Sheriff's Office generally don't report suicides unless they are done in a public manner.
Report graffiti to Crime Check
Residents who want to report graffiti should now call Crime Check.
The previous number, (509) 477-GANG, has been retired, said Spokane County Sheriff's Office Sgt. Dave Reagan.
To report graffiti, call (509) 456-2233. It also can be reported online through the Spokane County Sheriff's Office Web site, www.spokanesheriff.org, Reagan said.
Coeur d'Alene
Information sought on burglaries
Coeur d'Alene police are seeking the public's help with identifying two people wanted in connection with the theft of several items from Parkside Condominiums, 601 E. Front Ave.
The condominium's office and lobby were targeted, said Sgt. Christie Wood. Computers, a flat-screen television and tools were among the stolen items.
Anyone with information should call (208) 769-2291.
Pendleton, Ore.
Teens arrested in bomb threat
Police arrested two boys accused of threatening to bomb Pendleton High School.
The threat and the discovery of an unclaimed backpack emptied classrooms Monday morning. An explosives unit found nothing in the backpack and students returned to class.
An officer reviewed the school's video system and identified a 15-year-old as the person who called in the threat from one of the school's pay phones. A 17-year-old stood by listening.
Pendleton police cited the boys with disorderly conduct and initiating a false report and booked them into a juvenile facility. Lt. Mark Swanson says the older boy was charged because he made no attempt to stop what was taking place.
Boise
Stennett to miss session kickoff
Idaho Senate Minority Leader Clint Stennett, D-Ketchum, will miss at least the first portion of the 2009 Legislature that starts next Monday as he recovers from treatment for brain cancer.
Jon Thorson, the former mayor of Sun Valley, will fill in for Stennett, as he did in the 2008 session.
Stennett was diagnosed with cancer a year ago and has been undergoing treatment. He says his prognosis remains good but the latest round of therapy has left him extremely fatigued.
Stennett is the second Senate Democrat to announce a temporary replacement.
Sen. Edgar Malepeai, from Pocatello, says Dick Sagness will fill in while he takes care of his ailing wife.
From staff and wire reports
Local journalism is essential.
Give directly to The Spokesman-Review's Northwest Passages community forums series -- which helps to offset the costs of several reporter and editor positions at the newspaper -- by using the easy options below. Gifts processed in this system are not tax deductible, but are predominately used to help meet the local financial requirements needed to receive national matching-grant funds.
Subscribe to the Coronavirus newsletter
Get the day's latest Coronavirus news delivered to your inbox by subscribing to our newsletter.
---
Subscribe and log in to the Spokesman-Review to read and comment on this story