News > Spokane
Defense says stepmother deserves break
Fri., Jan. 9, 2009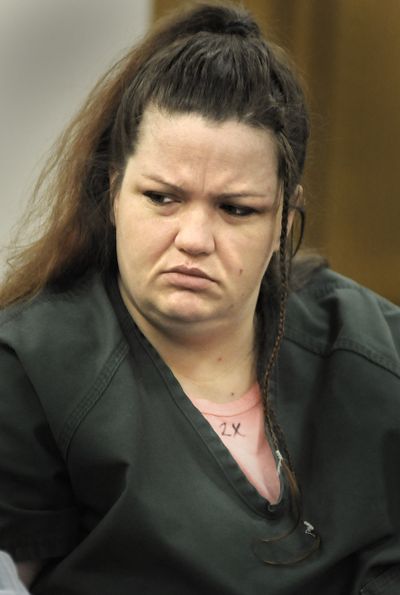 Adriana Lytle's addicted mother injected methamphetamine when Adriana was in the womb. Her mother's boyfriends and her father sexually abused her. She suffered from mental illness and abused drugs. She met her husband, Jonathan Lytle, in a homeless shelter in Mount Vernon, Wash., court documents say.
Lytle's life has been a "history of hell," according to defense psychologists who will testify today at her sentencing for her role in the death of her stepdaughter, 4-year-old Summer Phelps.
Court documents filed for the first time this week give a glimpse into Adriana Lytle's rough childhood and her ongoing psychological problems. She has been held in Spokane County Jail since Summer's death in March 2007 and hasn't granted any media interviews. Until now, most of the personal details about her life have been kept in sealed court files.
Lytle pleaded guilty last year to homicide by abuse in Summer's death, admitting she played a part in the six-month cycle of severe abuse that led to the child's death. Prosecutors want her sent away for 75 years – the same sentence Jonathan Lytle got Thursday from Superior Court Judge Michael Price.
"If ever a case cries out for the most severe punishment, it is this one," Spokane County Deputy Prosecutor Jack Driscoll wrote in his Dec. 4 sentencing brief.
But her court-appointed lawyers from the Spokane County Public Defender's Office argue in their Jan. 6 sentencing memorandum that 75 years – effectively a life sentence – is too much.
The 34-year-old mother of a baby boy deserves a break in the form of a prison sentence that would free her around age 58, they argue.
"The evidence at sentencing is expected to reveal that Adriana had an unusual upbringing that included severe abuse, but that she is capable of being rehabilitated," according to the brief by public defenders John Whaley and Anna Nordtvedt.
Child Protective Services took Adriana Lytle, whose birth name is Adriana Midwood, away from her drug-dependent and unstable mother, but when she went to foster care, older boys tried to molest her and she ran away. She was sent to live with her father at age 12, but he was an alcoholic who was "physically, emotionally and sexually abusive" to her from age 12 to adulthood. She dropped out of high school, abused drugs and alcohol and later sought mental health services in Michigan for depression and anxiety, according to the defense brief.
In 2004, she moved to Washington and was placed on Social Security disability due to her mental health problems. In February 2005, she was living in a homeless shelter in Mount Vernon where she met her future husband. She became pregnant with their son, Johnny, and they married in March 2006 shortly before his birth.
Because she tested positive for marijuana during her pregnancy, Child Protective Services became involved with the family. They monitored Johnny's early development in Spokane but missed signs of Summer's abuse, in part because Jonathan Lytle took Summer out of their apartment when the nurse was expected to visit so she wouldn't see Summer's bruises, according to testimony last fall in Jonathan Lytle's trial.
Summer came to live with the Lytles in August 2006 for a two-week visit that dragged on for months.
"Adriana, who was frustrated by the seemingly endless stay by Summer, was ill equipped to deal with a 4-year-old stepchild" and was prevented by her "controlling" husband from seeking outside help for her issues, the defense brief says.
Clinical psychologists E. Clay Jorgensen and Frank C. Hamilton will testify today about her mental problems and her belief that "force was the way discipline should be invoked" because force was used on her as a child. She had "extremely unrealistic" expectations for how Summer should behave and lacked empathy because of her own history of being abused, according to the psychologists.
Local journalism is essential.
Give directly to The Spokesman-Review's Northwest Passages community forums series -- which helps to offset the costs of several reporter and editor positions at the newspaper -- by using the easy options below. Gifts processed in this system are not tax deductible, but are predominately used to help meet the local financial requirements needed to receive national matching-grant funds.
Subscribe to the Coronavirus newsletter
Get the day's latest Coronavirus news delivered to your inbox by subscribing to our newsletter.
---
Subscribe and log in to the Spokesman-Review to read and comment on this story