News > Features
O.A.R. shines on 'All Sides'
Of a Revolution begins West Coast leg of tour at Knitting Factory
Fri., Jan. 9, 2009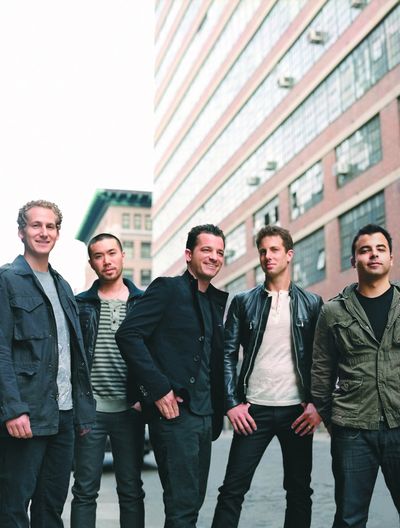 Few rock bands have truly seen all sides of success in the music business.
From making mainstream moves with high-profile TV spots and heavy radio rotation, to creeping up from being one of the best-kept secrets online through a slow-burn spread of downloads, Of a Revolution is one of them.
Better known as O.A.R., Of a Revolution climbed the rungs of college radio, peppered the Internet with videos of its live show, and eventually went on to sell out Madison Square Garden.
Their fifth album, "Stories of a Stranger," gave band members their first chart single with radio play in 2005 and gradually went platinum in 2006.
They figured that was as good as it was going to get. They didn't count on the success of 2008's "All Sides."
The album debuted at No. 13 on the Billboard 200, and the leadoff single, "Shattered," reached No. 1 on the Adult Album Alternative chart and No. 2 on Hot Adult Contemporary, and peaked at the No. 2 most-played video on VH1 in November.
So it came as a bit of surprise that after 11 years in the biz, the alt-jam sextet – which kicks off the West Coast leg of its "All Sides" tour on Thursday at The Knitting Factory Concert House – scored several career highs last year.
"I didn't think we could make a more commercial record than 'Stories of a Stranger,' " saxophonist Jerry DePizzo said during a telephone interview from his home in Maryland.
"We weren't thinking about any of that. We went in to make the music we love. 'Shattered' was an added bonus."
Through a 2008 summer tour that opened with a slot at the Bonnaroo festival and closed at The Gorge with Dave Matthews Band, O.A.R. had a series of added bonuses with extensive use of its music for ESPN, Fox and Ford commercials.
But for O.A.R., the biggest highlights center around a USO tour of Kuwait and Iraq in 2007 and MTV's "A Night for Vets" concert special last year, as well as a concert in December at Texas' Fort Hood, one of the Army's largest and most diverse military outposts.
DePizzo said he doesn't agree with war, but that he was grateful to offer some escapism to the soldiers and their families.
"(Being in Iraq) was an amazing experience. I have a lot of great memories of it," he said. "There were also other things I'd rather not see again.
"But we feel obligated to entertain them. It was our job to make them feel like 22-year-olds. These people are out there doing something they may not agree with and putting their lives on the line by doing something that I really don't have the stomach for."
The impact on the band of playing in a war zone, and greeting soldiers as they say goodbye to their families before being sent to battle, is telling in one track from "All Sides," titled "War Song."
But more than one song about war would have been too much.
"We could have written a whole album about that experience, but we wanted to write one song that focuses on the journey we took, and lyrically, 'War Song' tells that part of the story," DePizzo said.
"We didn't want to make an entire record about one tour. We wanted to entertain people."
In the end, he said, that's the most gratifying part of the business.
"When you get older, some of that splinters off and the two become different paths – playing music you love, versus trying to make it in the business," DePizzo said. "We've been fortunate enough to make smart business decisions, so we don't have to compromise the creative ones.
"Listen, I just want to play music for a living, and we've done that at a high level, but it starts and stops with the audience."
Local journalism is essential.
Give directly to The Spokesman-Review's Northwest Passages community forums series -- which helps to offset the costs of several reporter and editor positions at the newspaper -- by using the easy options below. Gifts processed in this system are not tax deductible, but are predominately used to help meet the local financial requirements needed to receive national matching-grant funds.
Subscribe to the Coronavirus newsletter
Get the day's latest Coronavirus news delivered to your inbox by subscribing to our newsletter.
---
Subscribe and log in to the Spokesman-Review to read and comment on this story