News > Nation/World
Relief agencies curtail work in Gaza
Security Council votes 14-0 for cease-fire
Fri., Jan. 9, 2009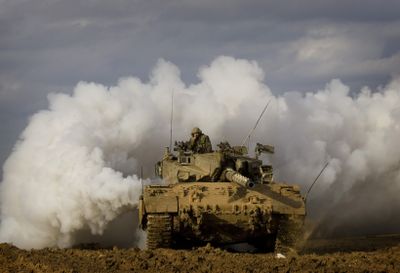 GAZA CITY, Gaza Strip – On a day of rising tension between Israel and international relief agencies, the Red Cross and the United Nations curtailed operations in the Hamas-ruled Gaza Strip on Thursday, and the U.N. Security Council approved a resolution calling for a cease-fire in the Palestinian territory.
In a 14-0 vote, with the United States abstaining, the Security Council called for an "immediate, durable and fully respected cease-fire" in Gaza that would lead to the full withdrawal of Israeli forces.
Arab and Western diplomats could not guarantee that the resolution would silence Israeli guns or stop Hamas from firing rockets into southern Israel. But they expressed hope that it would jolt the warring factions onto a new course.
Efforts to end the bloodshed were pushed by growing dismay over the toll Israel's 13-day-old offensive has taken on Gaza's civilian population and aid workers.
The International Committee of the Red Cross and the U.N. Relief and Works Agency said they were suspending movement of their staffers in the coastal enclave because of the risk posed by Israeli forces. The announcements came after Israeli gunfire Thursday killed two U.N. workers in a relief convoy and wounded a Red Cross driver.
The Red Cross issued an unusually tough statement accusing Israel of preventing ambulances from reaching wounded civilians in Gaza.
On Thursday, wounded survivors of an Israeli shelling of a family compound described a hellish two-day wait for medical help. When Red Cross workers finally arrived, they said, they found four small children, emaciated but alive, next to their mothers' corpses.
The Sammouni family's nightmare began when Israeli forces surrounded their Gaza City neighborhood and shouted Arabic commands over loudspeakers for everyone to leave to avoid being hurt.
It ended in a hospital across town as survivors of the shelling wept and told how wounded loved ones had bled and starved until ambulances finally were allowed to reach them.
"There was a chance to save some of our wounded," Wael Fares Sammouni, a 39-year-old Palestinian vegetable merchant, said Thursday as he mourned the loss of his wife and five of their 10 children. "But they bled for too many hours."
The episode highlighted Gaza's dependence on relief agencies that have been struggling to keep its 1.5 million people alive and fed during the Israeli military assault.
Israel pressed its offensive Thursday, hitting weapons-smuggling tunnels and other targets from the air. But it kept ground troops on the outskirts of cities, delaying for now a deeper, full-scale ground assault on Hamas' urban strongholds.
Hamas fired 24 rockets into Israel, well below its peak.
In Gaza, Israel for a second day briefly suspended its offensive to give people a three-hour break to stock up on food and other essentials or move to safer places.
Just before the pause, the U.N. relief agency said the gunner of an Israeli tank opened fire on one of its food convoys, killing a Palestinian driver and another U.N. employee in their truck.
A U.N. spokesman, Adnan Abu Hasna, said the agency had coordinated the convoy with Israel, and the vehicle was marked with a U.N. flag and insignia.
The U.N. agency provides food aid to about half of Gaza's residents and runs dozens of schools and clinics in the impoverished Palestinian enclave. Israeli fire has hit two of the U.N. schools this week, killing more than 45 Palestinians who had sought refuge inside.
Israel says it is trying to stop years of rocket attacks on its border communities by Hamas, an Islamic group that seized control of Gaza in 2007 from a rival Palestinian faction.
More than 750 Palestinians have been reported killed in Gaza since the Israeli offensive began on Dec. 27.
At least 11 Israelis have been killed, eight of them soldiers.
Local journalism is essential.
Give directly to The Spokesman-Review's Northwest Passages community forums series -- which helps to offset the costs of several reporter and editor positions at the newspaper -- by using the easy options below. Gifts processed in this system are not tax deductible, but are predominately used to help meet the local financial requirements needed to receive national matching-grant funds.
Subscribe to the Coronavirus newsletter
Get the day's latest Coronavirus news delivered to your inbox by subscribing to our newsletter.
---
Subscribe and log in to the Spokesman-Review to read and comment on this story