News > Spokane
Abusive stepmother gets 62.5 years in girl's death
Sat., Jan. 10, 2009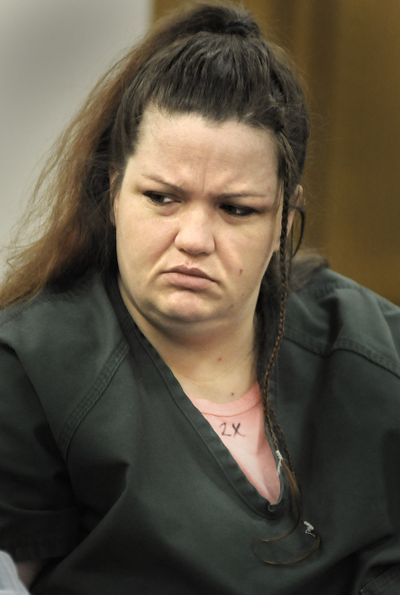 Adriana Lytle, severely abused as a child herself, was sentenced to 62 1/2 years in prison Friday for her role in a cycle of beatings and torture that killed her stepdaughter, 4-year-old Summer Phelps.
Lytle, 34, pleaded guilty last year to homicide by abuse in the death of Summer, the daughter of her husband, Jonathan Lytle.
Jonathan Lytle was sentenced Thursday to 75 years in prison for the same crime, which child abuse experts testified was the most brutal they'd ever seen. A jury found him guilty of homicide by abuse with aggravated circumstances last fall.
Summer was beaten, burned with cigarettes, shocked with an electric dog collar, denied food, had her hair yanked out and was forced to wash urine-soaked clothing for hours in a bathtub. She died after slipping, exhausted, under the water in the tub March 10, 2007.
While Adriana Lytle tried to revive her, Jonathan Lytle stepped out to smoke a cigarette and took an hour and a half to get her to the Deaconess Medical Center emergency room, according to testimony in his trial.
The lengthy sentences requested by prosecutors and imposed by Spokane Superior Court Judge Michael P. Price were far above the standard sentencing range for homicide by abuse cases. Price said the horrific nature of Summer's abuse justified sentences that could keep the Lytles in prison for the rest of their lives.
Defense attorneys argued for a sentence of approximately 26 years for Adriana Lytle, saying she had been sexually and psychologically abused as a child but could be rehabilitated. Prosecutors asked for 75 years.
Her sentencing was temporarily delayed because Spokane County jail officials didn't comply with a Jan. 6 order from Price to allow her to come to her sentencing hearing in civilian clothes instead of a jail jumpsuit. Price ordered her returned to jail to change clothes.
Public defenders John Whaley and Anna Nordtvedt called two psychologists who testified about Adriana Lytle's childhood abuse and depression and their effect on her ability to be a parent. She also took the stand, saying statements she made to the police shortly after Summer's death that she was the child's main disciplinarian weren't true.
"I was trying to protect my husband … and I'm not trying to protect him anymore," she said.
Price commented from the bench on her "troubled and difficult" life, which included over a decade of sexual abuse by her father, a suicide attempt and a series of unhealthy relationships with men.
However, Price said, he'd also learned from the experts that she is a "smart person" who had several opportunities to tell nurses who visited the Lytles' cramped studio apartment that she was overwhelmed caring for an infant and a stepdaughter she resented.
"Never did Ms. Lytle ask for help that was literally on her doorstep," Price said.
He also noted that her baby, Johnny, had no abrasions or bruises and was thriving – while Summer, sleeping just a few feet away, was "literally dying."
"You abused and tortured this little girl until she was dead," Price said as he imposed the long sentence.
Local journalism is essential.
Give directly to The Spokesman-Review's Northwest Passages community forums series -- which helps to offset the costs of several reporter and editor positions at the newspaper -- by using the easy options below. Gifts processed in this system are not tax deductible, but are predominately used to help meet the local financial requirements needed to receive national matching-grant funds.
Subscribe now to get breaking news alerts in your email inbox
Get breaking news delivered to your inbox as it happens.
---