News
Budget woes put lawmakers in grim mood
Sat., Jan. 10, 2009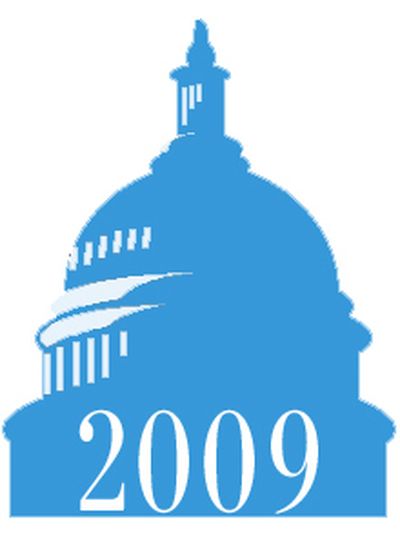 OLYMPIA – Each January, by tradition, Washington's top lawmakers choose theme songs for the upcoming session. Most are lighthearted. Speaking to reporters last week, Senate Majority Leader Lisa Brown read from a Bob Dylan song. "Broken hands on broken plows, broken treaties, broken vows," she read. "Broken pipes, broken tools, people bending broken rules. "Hound dog howling, bull frog croaking, everything is broken." Welcome to Olympia, on the eve of a $6 billion state budget shortfall. Brown and the state's other 148 lawmakers on Monday will begin a high-stakes battle over what to cut, what to save, and whether they can persuade a recession-saddled public to support tax increases. The state's budget woes are fixable, Brown says, but it won't be easy. "We're in uncharted territory," said state Sen. Karen Fraser, D-Olympia. The $6 billion gap is unprecedented, although as a percentage, the state's faced worse. "It's not even remotely close to what the 1933 and 1935 legislatures faced," said historian Don Brazier. Still, he said, "this is the worst that I've seen, and I've been here 42 years." Many lawmakers say the public doesn't grasp the depth of the crisis. State dollars help pay for schools, roads, colleges, prisons and a social safety net that hundreds of thousands of people rely on for medical care, food stamps and other help. Last month, Gov. Chris Gregoire proposed a two-year, no-new-taxes budget that even she said she hated. She promised last fall that she wouldn't raise taxes in a weak economy. She said she expects at least $1 billion from the federal government to help close the gap. Gregoire's proposed cuts included: •a 42 percent cut to the state's health-insurance program for the working poor, •12 percent cuts at state colleges, •doing away with $700 million in cost-of-living raises for state workers and teachers, •and stripping health care and small monthly stipends from more than 21,000 people deemed "unemployable," often due to mental health problems. The plan stunned advocates and state workers, who quickly called for "creative solutions" — i.e. a tax increase — to ease the worst cuts. But leading lawmakers say they're not talking about a tax hike — yet. First, they say, they want to scrub the budget as hard as they can. "If we look at that first, we assume that every single dollar we're spending, we're spending exactly the right way," said Fraser. "I think that some of us have said all along that you don't rule (a tax increase) out, but it's not where you start," said Brown, D-Spokane. The law sets a high hurdle for tax hikes: approval by two-thirds of the Legislature or by most of the state's voters. Brown is suing to overturn that rule, but no one knows how or when the state's high court will rule. In recent decades, Olympia has responded to budget woes with a mix of cuts and new money. But lawmakers have good reason to be leery of tax hikes. Twice in recent history, big tax increases have knocked the ruling party out of power. In the early 1980s, Republicans controlled the House, Senate and governor's mansion. Desperate to bridge a shortfall in a recession, they imposed a sales tax on food. Voters rebelled. They killed the plan with a ballot measure. In 1982, they voted out enough Republicans to hand control of the statehouse to Democrats. The same thing happened in 1994, after a $1 billion hike in taxes and fees by Democrats. Angry voters booted out many Democrats, giving Republicans control of the House. Privately, lawmakers, advocates and unions are weighing tax pros and cons and what might win voter support. Some options: •Increase the sales tax. A one-cent increase would bring in about $2.3 billion over the next two years. But that would push the already-high sales tax to nearly 11 percent in some parts of the state. •Expand the sales tax: Taxing things like candy, security services, stockbrokers, and janitorial services would raise more than $500 million a year, according to the liberal Economic Opportunity Institute. •A tax on high earners? A sliding 3 percent to 5 percent state income tax on people earning $200,000 or more would mean $1.3 billion a year, according to the EOI. But it would likely require amending the state constitution. •Close some tax breaks. Doing away with tax breaks for soda syrup, travel agents, high-tech research, insurance agents and others, EOI estimates, would bring in about $200 million more a year. Then there's the question of winning voter support for such a plan. "You might want to target certain types of programs that are very important to the public," said Rick Bender, with the Washington State Labor Council. The group may poll to see what's palatable, he said. Democrats "will punish the most vulnerable to draw sympathy, like painful cuts for children," predicts state Sen. Mark Schoesler, R-Ritzville. He and other Republicans say that the problem is simple: the state budget has grown too big. Republican state Sen. Joe Zarelli of Ridgefield said Democratic budget writers agreed to expensive new programs "in hopes that the good times would continue forever." Brown counters that no one foresaw the speed and depth of the national financial crisis. To try to spur the economy, Senate Democrats plan to unveil a state stimulus plan next week that focuses heavily on environmental industries. "We want to build the bridge to the next economy," she said, "not the bridge to nowhere." As Senate budget writers prepare a plan, Brown said, she and other Democrats are laying out some priorities: •protect jobs and try to spur new ones, •protect families and affordable housing, •cut costs for schools by reducing state mandates. House Speaker Frank Chopp said that budget should be viewed as "a moral document" that protects the most vulnerable. He cited those 21,000 unemployable people getting health care and a $339 monthly stipend from the state. "If we don't handle this situation correctly, many people could die," said Chopp, D-Seattle. Richard Roesler can be reached at (360) 664-2598 or by e-mail at richr@spokesman.com.
Local journalism is essential.
Give directly to The Spokesman-Review's Northwest Passages community forums series -- which helps to offset the costs of several reporter and editor positions at the newspaper -- by using the easy options below. Gifts processed in this system are not tax deductible, but are predominately used to help meet the local financial requirements needed to receive national matching-grant funds.
Subscribe to the Coronavirus newsletter
Get the day's latest Coronavirus news delivered to your inbox by subscribing to our newsletter.
---
Subscribe and log in to the Spokesman-Review to read and comment on this story