News > Idaho
Idaho lawmakers look ahead to tough session
Sat., Jan. 10, 2009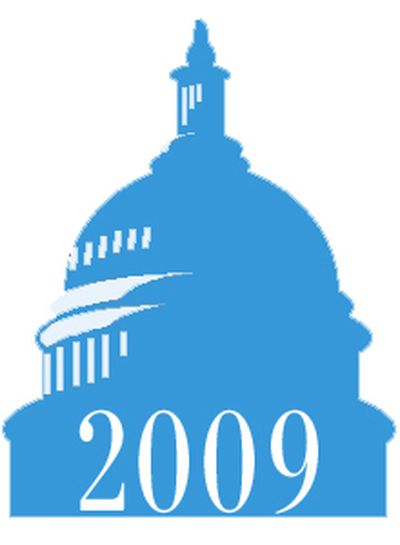 BOISE - Bleak. Dismal. Gloomy. Difficult. Really, really tough. That's how Idaho state legislators and officials are describing the legislative session ahead, with state revenues slipping, budget cuts bringing cries of outrage from some of the state's most vulnerable citizens, and the governor's much-vaunted but stalled effort to boost transportation funding back before lawmakers in the worst of all possible climates. Raise taxes in a recession? It's a tall order, but that's what Idaho Gov. Butch Otter is proposing, though he's careful to clarify that he's looking to "user fees" to fund pressing transportation needs – increases in the state's gas tax, car and truck registration fees, a tax on rental cars, and more. "You can call it a fee increase, you can call it whatever you want, but it comes out of the same pocket that those taxes come from," Otter said, acknowledging that he'll have a lot of convincing to do to get his plan passed this year. The governor held seven big public meetings across the state over the summer, and his staff has been traveling the state meeting with legislators to try to sell them on his $240 million plan. The problem is that Idaho's road funding, which comes almost entirely from gas taxes and vehicle registration fees, has been flat for years, while materials costs have skyrocketed and roads are collapsing under the increasing burden of traffic. The 25 cents-per-gallon gas tax hasn't been raised since 1996, but even with lots more cars, people are getting better gas mileage – and thus paying less in gas tax. Everything from filling potholes to plowing snow is starting to suffer. Traffic congestion has reached an appalling state of gridlock in the state's largest-population area, the Treasure Valley, where the morning and evening commute from Canyon County to Boise has turned into a stop-and-go mess. "The money that I'm talking about … is just for trying to maintain the quality of the asset, the $16 billion asset that we have," Otter said. Things are so bad that Ada County voters overwhelmingly approved a local vehicle-registration fee increase to fund some limited road fixes in November, with 67 percent support. But a similar measure in Kootenai County failed, with only 24 percent support. "I'm talking to my constituents," said state Rep. Bob Nonini, R-Coeur d'Alene. "I've not had any of 'em say to me, 'Go down there and support gas tax and registration fees because the roads are falling apart.' … I'm going to need some heavy, hard convincing to support any kind of an increase." State Rep. Frank Henderson, R-Post Falls, worries about crimping struggling businesses. "We need to be conservative on raising the cost, especially to our commerce," he said. "In Idaho, almost all our commerce is dependent on truck freight," from timber to agriculture. Some lawmakers are pinning their hopes on a $550,000 audit of the Idaho Transportation Department they commissioned last year, which will be unveiled Jan. 19 to show how the state could save money with efficiencies there. "Whatever we can do there is like raising money," Henderson said. Otter already has ordered a 6 percent cut in ITD administration costs this year. The transportation debate will take place against a dismal economic backdrop. It appears that Idaho's state general fund tax revenues will be about 8 percent less this year than they were last year – a large and stunning shortfall that's already forcing painful cutbacks in the budget that was set for this year. There's worse to come, state economists warn. Otter says he'll recommend no raises for state employees next year, a major retreat from one of his big pushes in office. Already, agencies have begun ordering state workers to take time off work without pay; layoffs are in the works. And proposed cuts at the state Department of Health & Welfare in things like treatment hours for the developmentally disabled have those recipients and their families crying foul. Otter said he's already had to face a troubled mother whose autistic son will see a reduction in treatment hours because of state budget cuts. "That puts a real face on it," the governor said. "Cutting a budget like that is almost as difficult as raising taxes." But, he said, "If the money's not there, we can't do it." Henderson said, "The cuts are going to be severe. People will be angry – not disappointed, they will be angry. So I think the debates will be prolonged." Only K-12 public schools have been protected from the budget cuts so far, and Otter has warned that in next year's budget, schools may suffer too. Idaho has never set a budget for public schools that was less than the previous year's, and school funding comprises nearly half the state budget. Pinching education would create a political firestorm, and now that Idaho has shifted a substantial chunk of school funding off the property tax and onto the state budget, there's nothing to insulate the schools from state cuts. With that backdrop, lawmakers still will struggle with an array of other issues, from child-care licensing to liquor law reform to seatbelt fines. Said House Speaker Lawerence Denney, "I think it is going to be a very challenging session." Betsy Z. Russell can be reached toll-free at (866) 336-2854 or bzrussell@gmail.com. For more news from Boise go to www.spokesman.com/boise.
Local journalism is essential.
Give directly to The Spokesman-Review's Northwest Passages community forums series -- which helps to offset the costs of several reporter and editor positions at the newspaper -- by using the easy options below. Gifts processed in this system are not tax deductible, but are predominately used to help meet the local financial requirements needed to receive national matching-grant funds.
Subscribe to the Coronavirus newsletter
Get the day's latest Coronavirus news delivered to your inbox by subscribing to our newsletter.
---
Subscribe and log in to the Spokesman-Review to read and comment on this story