News > Nation/World
Chu hearing forecasts new focus in energy policy
Wed., Jan. 14, 2009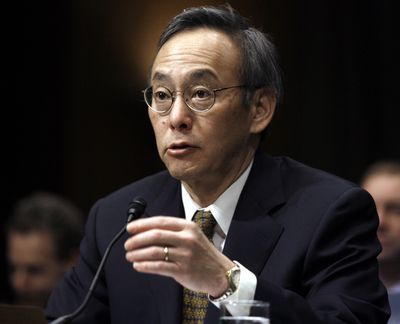 WASHINGTON – The Nobel Prize winner nominated to head the Energy Department said Tuesday that he would focus the agency in part on global warming, a sharp departure from the agency's priorities during the Bush administration.
"If we continue on our current path, we run the risk of dramatic, disruptive changes to our climate," physicist Steven Chu told the Senate Energy and Natural Resources Committee during his confirmation hearing.
Since 2004, Chu has headed the Energy Department's Lawrence Berkeley National Laboratory, which he redirected to focus on renewable energy. President-elect Barack Obama tapped Chu for Energy secretary last month.
At the hearing, Chu – who often rides his bike to work – called for investments in energy efficiency and renewable energy. At the same time, he presented himself as a pragmatist who won't reject taking advantage of energy sources just because they are out of favor with environmentalists.
New nuclear plants, continued reliance on coal-fired power plants and U.S. oil and gas drilling are all necessary, Chu said. Environmental groups such as the Natural Resources Defense Council (NRDC) have urged Obama to move the United States to 100 percent renewable electricity from sources such as solar and wind power.
"We need all solutions," Chu said. "We need to make them as clean as possible as quickly as possible."
The NRDC declined to comment, but one industry group took heart from Chu's statements. "We were encouraged by what we heard on nuclear and clean coal," said the National Association of Manufacturers' Keith McCoy.
Chu seemed headed for an easy confirmation as early as Jan. 20, the day Obama will be inaugurated, said committee Chairman Sen. Jeff Bingaman, D-N.M. His qualifications drew praise from committee Democrats and Republicans alike.
"It's great to have somebody of Dr. Chu's intelligence running the Energy Department," said Sen. Bob Corker, R-Tenn.
On global warming, Chu said the United States should lead the way in cutting greenhouse gases. Chu, the son of Chinese immigrants, said he hopes that China – the world's largest source of the main greenhouse gas – will follow.
President Bush cited inaction by China and India in his opposition to the Kyoto Protocol, a 1997 global-warming treaty adopted by nearly 200 nations. The treaty exempted most developing nations, including China, from having to cut their global-warming emissions.
"The United States should take the first step and hopefully the Chinese will immediately, very closely follow," Chu said.
That drew a gentle rebuke from Sen. Evan Bayh, D-Ind.
"That approach will not be enacted by the U.S. Congress," Bayh said. A climate treaty would have to be ratified by the Senate.
Local journalism is essential.
Give directly to The Spokesman-Review's Northwest Passages community forums series -- which helps to offset the costs of several reporter and editor positions at the newspaper -- by using the easy options below. Gifts processed in this system are not tax deductible, but are predominately used to help meet the local financial requirements needed to receive national matching-grant funds.
Subscribe to the Coronavirus newsletter
Get the day's latest Coronavirus news delivered to your inbox by subscribing to our newsletter.
---