Sports
Mason's clutch shot helps Spurs slip past Lakers
Thu., Jan. 15, 2009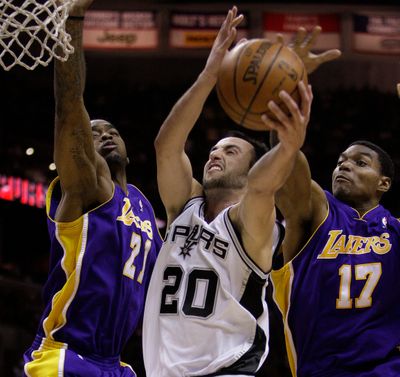 Roger Mason hit a jumper with 10 seconds left and made a free throw after being fouled by Derrick Fisher, and the host San Antonio Spurs beat the Los Angeles Lakers 112-111 Wednesday in the first meeting between the teams since the Western Conference finals.
The Lakers failed to get a final shot off when Trevor Ariza was called for traveling.
The Lakers rallied from 11 points behind in the fourth quarter and led when Kobe Bryant hit a 3-pointer with 12 seconds left.
Manu Ginobili led San Antonio with 27 points. Bryant topped Los Angeles with 29.
•Sixers whip Blazers: Andre Iguodala scored a season-high 29 points to lead the Philadelphia 76ers to their fifth straight win, 100-79 over the visiting Portland Trail Blazers.
•Celtics win third straight: Paul Pierce scored 22 points, including 18 in the third quarter, to lead the Boston Celtics to their third straight win, 118-86 over the visiting New Jersey Nets.
Women's basketball
Sooners top Wildcats
Courtney Paris had 19 points and 12 rebounds for her 107th straight double-double and No. 3 Oklahoma (13-2, 2-0 Big 12) handed No. 17 Kansas State (14-1, 1-1) its first loss, 64-48 in Norman, Okla.
•Baylor women roll: Danielle Wilson scored 18 points to help No. 5 Baylor (14-1, 2-0 Big 12) post a 68-57 win over No. 20 Iowa State (13-3, 1-1) in Waco, Texas.
NHL
Columbus gets Williams
The Columbus Blue Jackets have acquired center Jason Williams from the Atlanta Thrashers for defenseman Clay Wilson and their sixth-round pick in the 2009 draft.
The Thrashers then went out and suffered a 3-2 loss to the Ottawa Senators. Jason Spezza and Daniel Alfredsson each had a goal and an assist for the victors.
NFL
Rams still interviewing
The St. Louis Rams concluded a two-day interview with Minnesota Vikings defensive coordinator Leslie Frazier and later in the day began discussions with Dallas offensive coordinator Jason Garrett for the team's head coaching job. General manager Billy Devaney said he hoped to hire a coach before the Senior Bowl on Jan. 24.
•Chiefs' Pioli mum: If Herm Edwards is on his way out as head coach of the Kansas City Chiefs, his new boss isn't saying. In his first news conference since being hired, new general manager Scott Pioli would go no further than to say he intends to visit with Edwards.
•Browns' new coach busy: Eric Mangini is rounding up the old gang from New England to coach the Cleveland Browns. Mangini has hired Brian Daboll as his offensive coordinator, Rob Ryan as defensive coordinator and Brad Seely as special teams coach. All four were with the Patriots from 2000-2003.
•Meggett charged again: Several months after he was charged with raping a South Carolina woman, former NFL running back David Meggett was in jail again on allegations of another sexual assault. Meggett, 42, was arrested and charged with raping a 21-year-old woman in her North Charleston, S.C., home.
Major League Baseball
Cry goes out for cap
Some baseball owners say it may be time to reconsider a salary cap after the New York Yankees spent nearly a half-billion dollars on free agents during a recession that may cause some teams to retrench.
"I would ask, if it's such a bad idea, what sport doesn't have a salary cap other than us?" Milwaukee Brewers owner Mark Attanasio said.
A salary cap isn't on the agenda of the major league owners meetings this week. But it could become an issue when the present collective bargaining agreement expires after the 2011 season.
"I think there's a lot of owners that would like to have that right now," Oakland A's owner Lew Wolff said.
•Cubs remain hopeful: The Chicago Cubs hope to have a new owner by opening day. It's an optimistic timeframe, because the sale of the storied franchise still must be approved by major league owners. But club chairman Crane Kenney said he hopes commissioner Bud Selig will help speed the process.
•A's may look elsewhere: Commissioner Bud Selig has given the Oakland A's permission to "discuss a ballpark with other communities" if officials in Fremont, Calif., don't quickly approve a proposed new stadium.
NASCAR
Smith lands ride
Regan Smith, last year's top rookie in the Sprint Cup Series, will drive for Furniture Row Racing in 2009. Smith will drive the No. 78 Chevrolet beginning with the season-opening Daytona 500.
Toyota eyes cuts: Lee White, the president of Toyota Racing Development, said he expects budget cuts in its NASCAR program as the Japanese automaker feels the effects of the global economic crisis.
Miscellany
Two declare for draft
Pittsburgh sophomore running back LeSean McCoy and Ohio State junior receiver Brian Hartline will leave school early and enter the NFL draft.
•Aussie Open seeds announced: Top-ranked Rafael Nadal will be the No. 1 seed at the Australian Open, which starts Monday, and Jelena Jankovic will be the women's top seed.
•Tennis tourney scrapped: The German Open was dropped from the 2009 women's tennis calendar after the tournament's owners sold the sanctioning rights to the WTA.
•Vancouver needs more money: British Columbia will hold a special legislative session to deal with Vancouver's financing crisis over the 2010 Olympic village. Province premier Gordon Campbell said that lawyers are drafting legislation to amend the Vancouver Charter to allow the city to borrow more than $360 million to finish the project.
Local journalism is essential.
Give directly to The Spokesman-Review's Northwest Passages community forums series -- which helps to offset the costs of several reporter and editor positions at the newspaper -- by using the easy options below. Gifts processed in this system are not tax deductible, but are predominately used to help meet the local financial requirements needed to receive national matching-grant funds.
Subscribe to the sports newsletter
Get the day's top sports headlines and breaking news delivered to your inbox by subscribing here.
---