News > Washington Voices
Newest drug jargon: sit, stay, sniff
West Plains has nosey officer
Thu., Jan. 15, 2009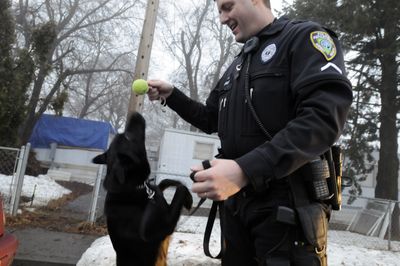 The dope has to be somewhere.
Austin, Airway Heights' new narcotics dog, is taut and jumpy as he follows his officer's hand along the wall, sniffing and searching. He's a wriggling picture of muscles, nose and canine glee.
And then…
He sits down. It's the clincher, the signal that all is not as it should be, according to Austin's killer nose.
Airway Heights Officer Mike Ziegler leans down and draws out a marijuana pipe from between two boxes.
Yes, it was a demo, but Airway Heights' newest 18-month-old officer (and Austin does get his own badge on his collar) cares little about the dope.
The black lab and shepherd mix dog still has his eyes on Ziegler, who produces a nice tennis ball. Austin goes bonkers as he gleefully snaps the thing into his mouth for a few minutes of play.
"He wants to find the dope so he can get the ball," Ziegler said.
Austin is the latest tool in Airway Heights' quest to fight drugs, particularly drugs heading down Highway 2 into Spokane. The city doesn't have heavy drug traffic, but the police department is glad to have an extra hand for the current problem.
In his short month and half on the job, Austin and Ziegler have already found traces of marijuana in someone's jacket, along with three other minor finds.
Austin's powerful nose can hunt out marijuana, cocaine, crack cocaine, methamphetamines and heroin. If he finds these drugs, he only sits down or displays other more subtle signs that something is amiss. Austin does not attack people if he finds something.
"It's like DUIs. If we can find one (possession of drugs), there's probably 10 more," said Airway Heights Police Chief Lee Bennett.
Austin lives with Ziegler's family, who has two other dogs. He has his own little heated dog house and eats "plain old Costco lamb and rice mix," Ziegler said with a laugh. He's a regular dog in most other aspects; he's a personal favorite of Ziegler's young son, who calls him "his work doggie."
Ziegler said Austin does seem to have a loyal attachment to him. "We're starting to get that bond," he said. "He knows I'm 'dad' and 'let's go to work with dad.' "
Ziegler traveled over to McNeil Island Corrections Center on the southern Puget Sound for a six-week training program in the fall. There, he was eventually matched with Austin, as they worked well together.
The Department of Corrections narcotics program on McNeil Island provides the majority of the narcotics dogs throughout the Northwest, Ziegler said.
Austin was originally found abandoned and roaming the streets of Tacoma. He was placed in an animal shelter, where he was eventually recruited by the program's director.
Ziegler said narcotics dogs are found through a simple test. A recruiter will get a tennis ball, enter an animal shelter or pound, and then walk in front of each cage, bouncing the ball. If a dog just goes crazy wanting the ball, he or she is marked for service. Trainers use a dog's desire for the ball to motivate their work.
"He showed such drive and such willingness to do the work," Ziegler said.
Ziegler, who performs the regular traffic stops and patrols of an officer, had a special partition built in the back of his patrol SUV. The padded interior is a good size for Austin, who rides in it while they are on patrol with his officer's badge dangling off his collar.
Before the department had Austin, it could take around 45 minutes for an officer from Spokane to arrive in Airway Heights with a narcotics dog, if one was even available. Now that they have Austin, Airway Heights also has offered to let Cheney and Medical Lake use him.
Bennett said his city was originally interested in a drug dog because it would be another great tool – and it cost very little for the training and the dog.
"That dog is outstanding. I'm glad to have him on board," Bennett said.
Local journalism is essential.
Give directly to The Spokesman-Review's Northwest Passages community forums series -- which helps to offset the costs of several reporter and editor positions at the newspaper -- by using the easy options below. Gifts processed in this system are not tax deductible, but are predominately used to help meet the local financial requirements needed to receive national matching-grant funds.
Subscribe to the Coronavirus newsletter
Get the day's latest Coronavirus news delivered to your inbox by subscribing to our newsletter.
---
Subscribe and log in to the Spokesman-Review to read and comment on this story