News > Spokane
Avista customers shocked by big bills
Longer billing cycle partly to blame, utility says
Sat., Jan. 17, 2009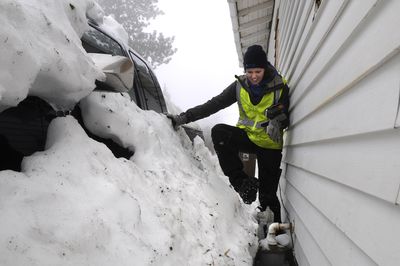 A lot of people got a shock in the mail over the past couple of days: a whopping power bill.
January's bills are typically among the year's highest, and this year's came loaded with the effects of four weeks of harsh winter, a longer-than-average billing period, and rate increases for Washington customers.
Add to that the fact that many bills are computer estimates – since meter readers couldn't reach many homes during the peak of the storms – and customers have a lot of questions for Avista.
Dayna Chisum owns a South Hill apartment building, and she's been hearing from tenants whose bills have skyrocketed. In one example, a tenant was billed $459 for a 1,200-square-foot apartment – a bill that was estimated at 1,000 kilowatt hours more than the unit used last year, Chisum said.
"I don't know why they thought they could just add 1,000 kilowatt hours into a bill and have that be OK," she said.
Avista spokeswoman Debbie Simock said the utility's phones have been lit up with customer questions and complaints, which isn't unusual for January bills. This year's calls include questions about the estimated bills; it's the first time in more than 30 years the utility has had to estimate usage for so many customers, Simock said.
"The fact that customers are getting estimated bills right now is the exception," she said Wednesday.
Simock said the bills are calculated with a computer program based on each household's previous 12 months of use. Customers' bills should indicate if the charges are based on estimates; if actual use falls below estimates, customers' February bills will be adjusted, she said. "Customers never pay for more energy than they use," she said.
Chisum said she called Avista to complain about the bills, and was unhappy with the response.
She was told this year's billing period was three days longer than last year's, so that was one reason for the increase. She also was told that if she read the meters and provided readings to Avista, the bills could be adjusted now, she said.
Chisum said that if Avista couldn't get to the meters, it should have simply billed the amount from last year until it could get an accurate figure.
"Some of these people are struggling to make ends meet," she said, referring to the tenants of her 43-unit apartment building at 44th Avenue and Regal Street. "A hundred dollars is a lot of money to some of these people."
Simock said the right thing for customers to do if they feel their estimates are incorrect is to read their meters and compare their actual usage with the estimate; if they provide a reading, the utility can make the adjustment in minutes.
About 13 percent of Avista's meter readings in Eastern Washington, North Idaho and parts of Oregon were based on estimates in the most recent billing period, she said. That's more than 83,000 meters, though fewer total households, since many customers are metered for electric and natural gas.
The January bill is often the shocker of the year. If it's not the season's largest, it's usually the one that takes the biggest jump – thanks to colder weather and increased power usage over the holidays.
A minor additional factor is rate increases for Washington customers that took effect Jan. 1. The changes cost an average electricity user $5 a month, and the average natural gas customer will see a $2 hike.
In addition, the combination of wintry weather and holiday schedules meant that some people's billing cycles were lengthened. "It was a lot of things at work," Simock said.
Peak winter bills usually drive up the number of people seeking help from government assistance programs, said Ron Hardin, spokesman for Spokane Neighborhood Action Programs.
This year, the agency has a lot more money to help families in need – an expected $7 million in federal funding compared with about $4.6 million last year. The agency also has increased its maximum grant for help in paying heating bills to $1,000, from $750, though most clients don't receive the maximum, Hardin said.
"It does give us a little more latitude in terms of assisting families that have extremely high bills," he said.
During the worst of the storm in late December, meter readers couldn't reach many homes – and if they could reach the homes, they couldn't reach some of the meters.
Simock said that usually Avista reads 99 percent of its meters each month. While there are occasional and limited instances where bills have been estimated, the last time meter readers were pulled off the job in such numbers was 1988 – when temperatures plummeted far below zero.
"Even during Ice Storm, meter readers were able to get out," she said.
Local journalism is essential.
Give directly to The Spokesman-Review's Northwest Passages community forums series -- which helps to offset the costs of several reporter and editor positions at the newspaper -- by using the easy options below. Gifts processed in this system are not tax deductible, but are predominately used to help meet the local financial requirements needed to receive national matching-grant funds.
Subscribe to the Coronavirus newsletter
Get the day's latest Coronavirus news delivered to your inbox by subscribing to our newsletter.
---