News > Idaho Voices
Bird receives national honor
Sagle man given Presidential Citizens Medal
Sat., Jan. 17, 2009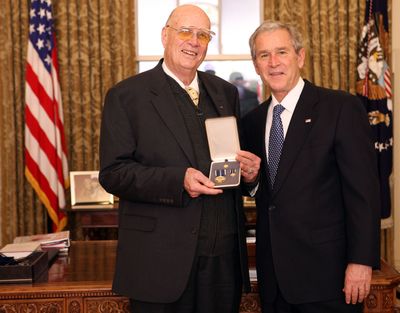 Sagle resident Dr. Forrest Bird has spent his entire life making a difference in the world around him.
From serving his country in World War II, to inventing life saving medical apparatus, to creating a museum to educate and encourage people of all ages, Bird has touched countless lives in his 87 years.
In recognition of his life-altering inventions and his desire to give back to the world, Bird was honored by President George W. Bush in a ceremony at the Oval Office in early December. There, the president presented Bird with the 2008 Presidential Citizens Medal, an honor that Bird said was a complete surprise and touched him deeply.
"It was totally unexpected," said Bird who learned about the award while lecturing at an air base in Germany in late November. "It makes you think through the pathway of your life and about all those who have helped you along the way."
The Presidential Citizens Medal is second only to the Presidential Medal of Freedom in honors bestowed upon civilians.
Created to honor those who have served the country in extraordinary ways, the award was first given in 1969 and has been presented to approximately 100 other U.S. citizens.
Bird, whose inventions are utilized worldwide, also is known for his love of aviation.
As a young boy and the son of a World War I pilot, Bird was interested in aviation from an early age and joined the Army Air Corps after receiving a degree in aeronautics.
"On Dec. 14th, 1941, I had to report for duty," said Bird. "I was a flyboy."
During his time in the service, Bird flew all types of aircraft, including helicopters. It was during this time that changes in aircraft design resulted in the capability of airplanes to fly at higher altitudes. But with that came other issues. How were the pilots to breath at the higher altitudes without some sort of assistance? This marked the beginning of Bird's interest in medicine and respiratory concerns.
Upon leaving the service, Bird attended several medical schools and served as a resident in a variety of fields. In 1954 he opened Bird Products Corp. and one year later he introduced the world to the Bird Universal Medical Respirator. To test his innovation, Bird flew in his own aircraft to medical facilities throughout the country asking medical personnel to try the new device on those whose diagnosis was the most severe. For many, it saved their lives. The Bird, as the respirator has since become known, was the first reliable, low cost, mass-produced medical respirator in the world.
But Bird did not stop there. In 1970 he went another step with the invention of the BabyBird respirator, which significantly impacted infant mortality rates as they relate to respiratory problems and changed the world of neonatal care forever.
These and other extraordinary accomplishments culminated in December with the presentation of the Presidential Citizens Medal.
Of his time spent with the president and Mrs. Laura Bush, Bird said, "He is really down to earth, and she's a lovely lady."
They spent about 15 minutes together and spoke mostly about their interests. "We didn't talk about anything political," Bird said. While he enjoyed his visit with the president he said standing in the Oval Office taught him something he didn't expect.
"One thing I learned is that it's not the person you look up to, it's the office (that he holds)," said Bird. "He (President Bush) is a regular guy."
The whole experience caused Bird to reflect on his life and those who have helped him on the road to his many accomplishments.
"It gives me great humility," said Bird. "You begin to realize how by fate and circumstances you've come to where you are. There are all the wonderful people in the medical field who have taken the time to explain things to me, and I want to thank so many people who have shown me the way."
But aviation and medical inventions are just part of the reason that Bird is so highly respected in this North Idaho community.
In July 2007, Bird, along with his wife, Pamela Riddle Bird, gave an incredible gift to the community when they opened the Bird Aviation Museum and Invention Center. Located just south of Sandpoint in Sagle, the museum is a celebration of those who through hard work and imagination have changed the world.
"It (the museum) gives me a lot of personal satisfaction," said Bird. "Almost anything you're interested in, it's there."
According to Bird, there have been nearly 2000 school field trips that have come through the museums doors. But it's not just school-age kids who enjoy the museum. There have been several busloads of people from retirement homes visiting the museum. And it doesn't take long for the stories to flow once the older people walk through the door.
"They look at things and start to relive their lives. We all have to do that once in a while," said Bird.
Bird and his wife hope that by exposing youth to the museum they can show them that one person can indeed change the world. "The biggest deficit (in education) is that kids are not learning enough about the sciences," said Bird. "There are sharp people all over the world. We just have to expose them to more of the sciences and math. Math is the basis for almost anything you do in life."
Bird said there are many people whom he has to thank for his success, and he hopes that by paying it forward for future generations he can continue to encourage youth.
"If we can influence just one or two kids, we've left something wonderful behind," Bird said. "It's a good feeling."
Local journalism is essential.
Give directly to The Spokesman-Review's Northwest Passages community forums series -- which helps to offset the costs of several reporter and editor positions at the newspaper -- by using the easy options below. Gifts processed in this system are not tax deductible, but are predominately used to help meet the local financial requirements needed to receive national matching-grant funds.
Subscribe to the Coronavirus newsletter
Get the day's latest Coronavirus news delivered to your inbox by subscribing to our newsletter.
---
Subscribe and log in to the Spokesman-Review to read and comment on this story