News > Spokane
Gun sales are booming
Democrats' resounding election victories have many worried about a crackdown
Sat., Jan. 17, 2009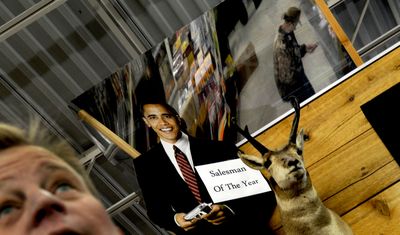 Gun sales have skyrocketed around the Inland Northwest since the November general election, with gun shop owners citing fears that a Democratic president and Congress will tighten gun control.
"The day after the election, it started," said Terry Rogers, owner of All American Arms in Spokane Valley. "It was starting to build before that, but it just went crazy after the election."
Rogers and other store owners said the most sought-after items are semiautomatic rifles and high-capacity handguns. Customers also are stocking up on ammunition, gunpowder and primers, such as explosive caps, said John Ragan, owner of the Blue Goose Sport Shop in St. Maries.
"We have a Democratic everything in there," Ragan said. "There are going to be some more restrictions than we're used to – at least people think so."
Police records for Spokane County show gun sales at pawnshops more than doubled from November and December 2007 to November and December 2008. And applications for concealed pistol licenses in Spokane County rose 40 percent in the last two months of 2008, compared to the same months a year earlier, according to police records.
The Kootenai County Sheriff's Department saw a 65 percent increase in applications for concealed weapon permits in the fourth quarter of 2008, from the same time period in 2007, records show.
In a February 2008 press conference, President-elect Barack Obama expressed support for an individual's right to bear arms but said, like most American rights, it is subject to "common-sense regulation." Obama said enforcement of gun laws should be more effective, and he listed strengthening background checks, tracking guns used in violent crimes to unscrupulous dealers, and closing gun show "loopholes" as important items "on the agenda."
He also expressed support for federal passage of a law like one recently passed in California. It would use laser technology to etch a serial number onto each bullet. Obama called the tracing of bullets used in crimes "the kind of common-sense gun law that gun owners as well as victims of gun violence can get behind."
Mirroring a national trend, some gun owners in the Inland Northwest appear to be responding by purchasing as many guns as possible before Obama takes office. At Black Sheep Sporting Goods in Coeur d'Alene, a life-size cutout of Obama stands behind the gun counter. The cutout is adorned with the label "Salesman Of The Year."
"There's a lot of fear of people's gun rights," said Dave Knoll, owner of Black Sheep, speaking from a gun show in Las Vegas this week. "With a total Democratic Congress, anything's possible. People are reacting in a strange way."
Rogers, of All American Arms, said this is the largest run on firearms he's seen in his 30-plus years in the business. Despite the tough economy, he said, "my business is doing the best I've ever done. I think most gun stores are feeling the same way."
Local journalism is essential.
Give directly to The Spokesman-Review's Northwest Passages community forums series -- which helps to offset the costs of several reporter and editor positions at the newspaper -- by using the easy options below. Gifts processed in this system are not tax deductible, but are predominately used to help meet the local financial requirements needed to receive national matching-grant funds.
Subscribe to the Coronavirus newsletter
Get the day's latest Coronavirus news delivered to your inbox by subscribing to our newsletter.
---
Subscribe and log in to the Spokesman-Review to read and comment on this story