News > Nation/World
Obama finishes rail trip to capital
Journey a tribute to Lincoln
Sun., Jan. 18, 2009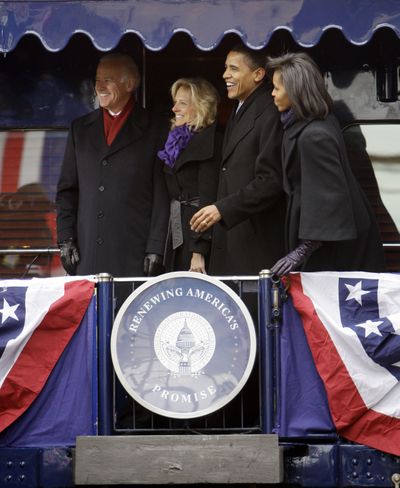 WASHINGTON – On the final leg of a two-year road trip, Barack Obama rode into Washington on Saturday in an antique caboose with the contented look of a man convinced he is arriving at his rightful destination.
A slow-rolling special Amtrak train carrying the president-elect, his family and his closest friends and advisers departed Philadelphia at noon and pulled into Union Station 6 1/2 hours later. It was the end of a journey that has taken him to the White House, and for Obama, it was a day to be savored. He spent much of the 137-mile train ride, his wife Michelle and their two daughters by his side, staring out the train's windows at a vista of supporters who waved and chanted Obama's name.
Bundled in winter jackets, they gathered on highway overpasses, frozen lakebeds, Little League baseball fields, cow pastures and neighborhood cul-de-sacs – all to catch a fleeting glimpse of a 1930s-era blue caboose at the end of the train as it rumbled by. Firefighters stood on their trucks to take pictures; schoolchildren waved handmade signs. Three times during the trip, the train slowed and Obama stepped out on the rear platform to wave at shrieking onlookers and blow the train's whistle.
What began for Obama two years ago as a long-shot presidential bid launched in Abraham Lincoln's shadow in Springfield, Ill., ended with another tribute to the 16th president, Obama's political idol. His 10-car train retraced the route Lincoln took to the capital before he assumed the presidency in 1861. Obama stopped to deliver speeches in Philadelphia, Wilmington and Baltimore, often referring to the spirit of Lincoln and the Founding Fathers.
"We are here today not simply to pay tribute to our first patriots but to take up the work that they began," Obama said.
At Obama's planned stops in Wilmington and Baltimore, thousands of supporters waited outside for hours in temperatures that dipped into the teens. They bundled in winter jackets and climbed onto trees, flagpoles and walls to secure a clear sightline of the stage. Obama entered the rally in Wilmington wearing a long black jacket. He rubbed his hands together and blew on them for warmth. The crowd applauded for more than a minute before Obama managed to bring silence.
"Thank you. Thank you," Obama said. "We have been touched by your grace, and we will fight for you every single day that we are in Washington."
Obama, typically so serene, was visibly affected by the receptions he received. He sometimes paused on stage to survey the magnitude of the crowds, and he beamed in Wilmington as more than 7,000 joined in a chorus of "Happy Birthday" to his wife, Michelle, who turned 45.
He put on gloves before he spoke in downtown Baltimore, but Obama still kept his remarks to less than 10 minutes. Before Obama stepped off the stage, he stood for a few more minutes with his wife to wave back at more than 40,000 supporters who huddled under blankets and filled a square block.
More than 250 credentialed photographers and cameramen followed Obama to record the day for history, but this counted as Obama family history, too. So Malia, the elder Obama daughter, dressed in a yellow winter jacket, followed behind her father to snap pictures with a pocket-size digital camera. Several times throughout the day, Obama turned back to smile for his daughter and her camera while he readied to speak or shake hands with supporters.
Aboard the train, Obama generally stayed within the confines of his historic railroad car, which was delivered from Florida and attached to the back of a standard Amtrak commuter train. Obama had complained often during the 20-month campaign about the loneliness of traveling without his family, so for his final trip before assuming the presidency, he traveled en masse. A group of Chicago friends – Eric Whitaker, John Rogers, Penny Pritzker, Yvonne Davila and a half-dozen friends of the Obama children – moved between a VIP car and Obama's caboose. Joseph R. Biden Jr., the vice president-elect and a loyal train commuter, joined Obama in Wilmington and referred to the station as his "second home."
"What a journey!" Biden said in Wilmington. "This whole experience is unbelievable."
Saturday's trip was a nod to the simple romance of a train cutting through the countryside – a tableau of America, Obama advisers said – and for moments of the journey the theme resonated. Forty-one invited guests – "regular Americans" from 15 states – rode with Obama and sometimes introduced him at the rallies. The train passed Delaware's woodlands, Maryland's rivers, urban downtowns and suburban malls before rolling into Union Station under the cover of darkness.
Many other presidents had similar ideas for their arrivals in Washington. Lincoln and Franklin D. Roosevelt came slowly by train; Bill Clinton took a bus from Thomas Jefferson's home outside Charlottesville. Obama, the former law professor, turned his experience into a history lesson. He spent time during the last few months studying Lincoln's epic journey – a 12-day, 1,600-mile trip that included an assassination threat in Baltimore – and recounted it to friends earlier this month. Similarly, Obama spoke to each of his crowds yesterday about the significance of his presidential predecessors.
"What is required is the same perseverance and idealism that our founders displayed," Obama told a crowd of 300 invited guests in Philadelphia. "What is required is a new declaration of independence, not just in our nation, but in our own lives."
Five hours later in Baltimore, Obama reinforced the message.
"We should never forget that we are the heirs of those early patriots, ordinary men and women who refused to give up when it all seemed so improbable, and who somehow believed that they had the power to make the world anew," Obama said. "That is the spirit that we must reclaim today."
Obama's journey necessarily included some of the modern realities of life as a soon-to-be president. Secret Service agents monitored the train from the ground, the surrounding waterways and the air above, paying special attention to bridges and chemical plants along the route. Two large planks of protective glass flanked Obama's lectern in Baltimore, and snipers lined the nearby rooftops.
The Obama family walked out of downtown Baltimore surrounded by a cadre of security guards and retreated to the train for the final hour of their journey. Michelle and her daughters gathered with friends in a train car decorated for Michelle's birthday party. Balloons filled a corner of the car and a birthday banner bordered the windows.
A group of five or six young girls surrounded Michelle, and she danced with them in a circle. Malia placed a necklace around Michelle's neck, causing both of them to laugh.
Then the train rolled away toward Washington, finally headed for home.
Local journalism is essential.
Give directly to The Spokesman-Review's Northwest Passages community forums series -- which helps to offset the costs of several reporter and editor positions at the newspaper -- by using the easy options below. Gifts processed in this system are not tax deductible, but are predominately used to help meet the local financial requirements needed to receive national matching-grant funds.
Subscribe to the Coronavirus newsletter
Get the day's latest Coronavirus news delivered to your inbox by subscribing to our newsletter.
---