News > Features
Ron Howard creates drama, suspense in 'Frost/Nixon'
Fri., Jan. 23, 2009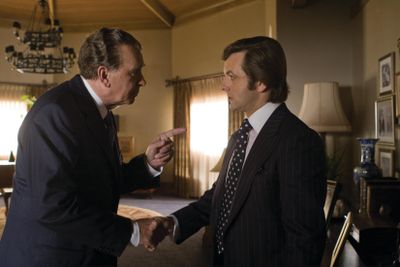 History makes a great first draft for Hollywood.
Case in point: Ron Howard's newly Oscar-nominated "Frost/Nixon," which Peter Morgan adapted from his stage play about the series of taped interviews that British presenter David Frost did in 1977 with former President Richard Nixon.
The interviews really happened (the Watergate segment is available on DVD through Liberation Entertainment). But it's doubtful the events unfolded quite the way Howard and Morgan envision them for the big screen.
The reason why is fairly obvious: History seldom fits into the neat dramatic form required by pop filmmakers such as Howard.
That said, "Frost/Nixon" does manage to provide an engaging view, suspenseful even to those of us who remember how things ended up.
Part of the credit goes to Howard, the director of such reality-based melodrama as "A Beautiful Mind" and "Apollo 13," not to mention such pure genre action as "The Da Vinci Code."
Howard does himself a great favor by, one, keeping his film moving (he assumes we know enough about Watergate to understand what's going on instead of bogging us down with an extended History 101 recap of the events).
Two, he has cast his film well. Michael Sheen, last seen as Tony Blair opposite Helen Mirren's Elizabeth II in "The Queen," makes a perfect Frost, comfortable with interviewing the likes of The Bee Gees yet hungry for more.
And Oscar nominee Frank Langella, known mostly as a stage actor, is far closer in figure and speech to the real Nixon than what Anthony Hopkins managed to create for Oliver Stone's 1995 biopic, "Nixon."
Backing them up are Oliver Platt and Sam Rockwell as, respectively, journalists Bob Zelnick and James Reston, and a virtually unrecognizable Kevin Bacon as Jack Brennan, Nixon's chief of staff.
As the characters jockey for their respective places in history, fighting flop sweat while struggling to maintain their individual interpretations of integrity, the actors embody the essence of good ensemble acting.
Overall, the film ends up being an insider's look at a version of history that, depending on your political view, will seem either something close to what really occurred or maybe just a clever fabrication.
The truth, of course, is probably somewhere in the middle. This is, after all, Hollywood.
'The Wrestler'
Everybody loves a comeback. And with "The Wrestler," Mickey Rourke achieves one of the greatest comebacks Hollywood has ever seen – culminating in Thursday's Best Actor Oscar nomination.
Rourke, the once-baby-faced kid from 1982's "Diner," threw his early promise into the toilet through a series of bad film choices, disastrous off-screen behavior and a general attitude that said he simply didn't care.
Surprise – neither did the world. Nor Hollywood. And so the big roles stopped coming.
But Darren Aranofsky, director of such cerebral films as "Pi" and "Requiem for a Dream," saw something in the haggard wreck that Rourke now calls a face.
He saw the character of Randy "The Ram" Robinson, protagonist of Aranofsky's new film "The Wrestler," based on Robert D. Siegel's screenplay.
Robinson – or Robin, as he prefers to be called – is nearing the end of his once-illustrious professional wrestling career. Like Rourke as an actor (who, for a time, boxed professionally), Robin is trying to hold on.
He still looks good, in the ring at least, but it's mostly smoke and mirrors. The tan comes from a booth, the muscles are chemically enhanced, the blond hair is straight from a bottle.
And the venues in which he performs are no longer coliseums but small-time convention centers, sometimes high-school gyms. That, and the reduced purses, is why Robin has to work part-time for a store, moving crates and, when called upon, filling orders at the deli counter.
That's also why, lonely and living in a trailer as dented as his face, Robin wants desperately both to hook up with an exotic dancer (Marisa Tomei, also an Oscar nominee) and reconnect with his disaffected daughter (Evan Rachel Wood).
That such possibilities are as fleeting as they are unlikely is what gives Aranofsky's film its soulful-if-depressing tone. Randy's hard to resist, even when he seems unable to stop his stumble into despair.
This may, ultimately, be true also for Rourke. But for the moment, and fresh off his Best Actor win at the Golden Globes, he again is on top.
Enjoy the moment. The present is really all that any of us has.
– Dan Webster
'Inkheart'
The children's fantasy "Inkheart" arrives in theaters as an orphan of Warner Bros.' decision to fold up its New Line Cinema division, an orphan dumped in the movie wasteland of January.
Does this film of Cornelia Funke's novel deserve dismissal? Not really, though it is a bit of a humorless slog. In any event, one can exult in the Italian Riviera locations and see in a flash why a trio of Oscar winners and Mr. PG-rated Kids' Fantasy, Brendan Fraser, would sign on for the job.
Fraser stars as a book-binder who drags his daughter (Eliza Bennett) through every dingy old bookstore of Europe, seeking a novel that swallowed his wife nine years before.
Not that he tells daughter Maggie this. But she's smart enough to recall that he hasn't read her a bedtime story ever since Mom disappeared.
Dad, it seems, is a Silvertongue, one of those characters described in the novel he seeks (titled "Inkheart"). In the act of reading a story aloud, he brings that story's reality to his own.
Thus, characters from "Inkheart" – the fire-juggler Dustfinger (Paul Bettany) and the villain Capricorn (Andy Serkis) and his henchmen – are chasing Dad. And Mom is lost in the book.
(And yes, this is awfully similar to last month's "Bedtime Stories," but never mind.)
The bad guys catch up and Dad, finally confronted by Dustfinger's desire to go home, enlists wacky, book-collecting Aunt Elinor (Helen Mirren) and the actual author of "Inkheart" (Jim Broadbent) to help foil the villains, who want Dad to summon up this great special effect called "The Shadow."
The Oscar winners (Mirren, Broadbent and Mrs. Bettany, Jennifer Connelly, who has a one-scene cameo) enliven things considerably with just a sprinkle of wit. Fraser and Bettany are reduced mostly to advancing the corny and worn action plot, blathering pages of exposition during the exceedingly dull middle third of "Inkheart."
So while we can appreciate the decent effects, the bang-up settings and a good cast, we can only hope they got some sight-seeing in on their days off. Whatever magic there was on this shoot is probably in their home movies.
– Roger Moore,
Orlando Sentinal
'Not Easily Broken'
"Not Easily Broken" is a well-crafted message picture disguised as soap opera.
It's the latest production from Bishop T.D. Jakes, a popular TV clergyman and author who is expanding his reach through film.
If that sets off alarm bells, relax. Religion plays an important role in the lives of the movie's upper-middle-class black characters, but the tone isn't preachy.
The film opens with the wedding of Dave (Morris Chestnut) and Clarice (Taraji P. Henson), whose minister symbolically unites them by draping a three-stranded cord around their necks. Two fibers represent the couple and the third is God, he explains, and if they remain intertwined the relationship will thrive.
The homily is filed away as they pursue upward mobility. Dave's dreams of a baseball career are shattered by injury. Instead, he starts a modest practice as a building contractor, while Clarice outpaces his earnings as a real estate saleswoman.
Time-pressured and focused on getting ahead, she begins to ignore him. Dave starts spending every free hour with his basketball buddies or coaching his Little League team.
As their relationship frays, they grope for outside sources of support. Dave seeks solace with his pals, who have comic women problems of their own, and his young ballplayers, especially one neglected by his ex-con father.
Clarice turns to her job, her girlfriends and her overbearing, bitter mother (steely Jenifer Lewis), who scapegoats Dave for every flaw in their marriage.
When a traffic accident puts Clarice in a wheelchair, and an attractive blond physical therapist enters the couple's lives, they're ill-prepared to handle the temptation and jealousy her presence generates.
Jakes's message is nuanced; piety doesn't offer prefabricated answers. He approves of the couple's efforts to get ahead, but cautions against letting an acquisitive lifestyle distract them from basic values.
George Orwell observed, "All art is propaganda. But not all propaganda is art." "Not Easily Broken" gets the equation right.
– Colin Covert,
Star Tribune (Minneapolis)
For movie times and locations, see page 6.
Local journalism is essential.
Give directly to The Spokesman-Review's Northwest Passages community forums series -- which helps to offset the costs of several reporter and editor positions at the newspaper -- by using the easy options below. Gifts processed in this system are not tax deductible, but are predominately used to help meet the local financial requirements needed to receive national matching-grant funds.
Subscribe to the Coronavirus newsletter
Get the day's latest Coronavirus news delivered to your inbox by subscribing to our newsletter.
---