News > Features
Bush sent back to his own league
Sat., Jan. 24, 2009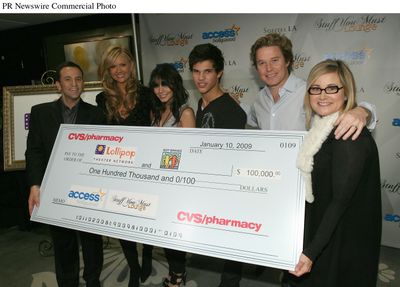 If you've ever spent any time at the Sundance Film Festival, you know that some of the parties there are hard to get into.
Even for such would-be celebrity presenters as Billy Bush.
The New York Post reports that Bush, host of Access Hollywood, tried to crash the dinner held to celebrate the screening of Trudie Styler's documentary "Crude."
A lot of stars were in attendance at the party, which was hosted by Self magazine editor Lucy Danziger. Guests included Sting (Styler's husband), Pierce Brosnan, Kevin Bacon, Paris-Hilton-wannabe Tessa Benson and Emma Roberts (niece of Julia Roberts and costar of "Hotel for Dogs" fame).
But not Bush who, the Post reports, "was escorted across the street by his pal, NBC Entertainment chief Ben Silverman."
Meanwhile, according to the Post, "Sting stayed close to the deejay booth and danced until the wee hours."
Call him The Abuser
Hayden Panettiere may play a superhero on television, but her father is anything but. Alan Panettiere, arrested in August on suspicion of hitting his wife, Lesley Panettiere, was ordered to attend a yearlong domestic violence treatment program, pay a $400 fine and serve two years of summary probation.
Change is name of the game
Seems the influence of our new president has affected everyone but especially those in the arts. Singer Pink apparently has teamed up with producer Damon Elliott and fellow singers Macy Gray and Brooke Hogan to produce a tune called "Stomp for Change."
"It's based on the positive attitude that (President Barack) Obama has set forth," Damon says. "It's been a long time since there was a 'We Are the World'-type song."
Everybody loves Tina
The hottest television cameo ticket seems to be Tina Fey's "30 Rock." Entertainment Weekly reports that Tony-winning Broadway star Patti LuPone has been tapped to guest-star on the NBC sitcom "30 Rock." LuPone will star as the mother of, Frank (Judah Friedlander).
Has show 'Lost' its appeal?
Is the "Lost" phenomenon finally over? Wednesday night's two-hour fifth-season premiere of J.J. Abrams' show was its lowest-rated season opener ever, says USA Today.
Nielsen numbers indicated that ABC's Matthew Fox-starring drama drew 11.4 million viewers, far behind the night's No. 1, "American Idol," which drew 24.2 million viewers.
Cougars to prowl yet again
Both Us Weekly and E! Online report that the entire "Sex and the City" crew – Sarah Jessica Parker, Kim Cattrall, Cynthia Nixon and Kristin Davis – has agreed to do a sequel to last year's $153 million-grossing "Sex" film.
The birthday bunch
Actor Ernest Borgnine is 92. Cajun fiddler Doug Kershaw is 73. Singer Ray Stevens is 70. Singer Aaron Neville is 68. Singer Neil Diamond is 68. Actor Michael Ontkean ("Twin Peaks") is 63. Comedian Yakov Smirnoff is 58. Actress Nastassja Kinski is 50. Actress Matthew Lillard is 39. Actor Ed Helms is 34. Actress Tatyana Ali is 30. Actress Mischa Barton is 23
Local journalism is essential.
Give directly to The Spokesman-Review's Northwest Passages community forums series -- which helps to offset the costs of several reporter and editor positions at the newspaper -- by using the easy options below. Gifts processed in this system are not tax deductible, but are predominately used to help meet the local financial requirements needed to receive national matching-grant funds.
Subscribe to the Coronavirus newsletter
Get the day's latest Coronavirus news delivered to your inbox by subscribing to our newsletter.
---