News > Spokane
Future of NIC's Popcorn Forum uncertain
Former organizer tells college to keep series
Sat., Jan. 24, 2009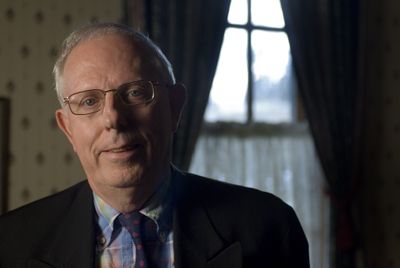 Tony Stewart, who for 38 years led North Idaho College's popular annual lecture series, gently chastised his former employer Friday for not making plans to continue the Popcorn Forum after he retired.
Stewart launched the series shortly after his arrival at the college in 1970 and led it until he retired last May. Over the years, the weeklong series brought in speakers as noteworthy as former Vice President Hubert Humphrey, civil rights leader Julian Bond and architect and visionary thinker Buckminster Fuller.
Most colleges and universities have lecture series, Stewart said, and they are especially important in regions as homogenous as North Idaho because they help expose students to divergent viewpoints and different cultures. A former Sudanese slave who speaks nationwide about the Darfur genocide, for example, spoke at the 2007 forum.
"The college should not be stepping backward," Stewart said. "That is something the college owes the student body. We need to move beyond the classroom and provide this additional information."
The college does not intend to allow the Popcorn Forum to fade away, said NIC spokeswoman Stacy Hudson, who called the lecture series a "tried and true tradition." A committee has been formed to examine ways to rejuvenate it, but, she said, the college hasn't identified someone who could put in the same time and effort that Stewart did.
"He put in hours and hours and hours of contacts with speakers," Hudson said. "When you have a leader of a volunteer event like that, you have a leader that pushes it and makes it happen year after year."
The weeklong series generally occurs in March.
Stewart acknowledged that he had years of experience and contacts that helped the event come together. But he respectfully disagreed that the college couldn't pick up the pieces and go on. The faculty and staff who devoted hours of volunteer time to put the event together are still there and committed, he said. He urged the college to recruit a faculty member to take it over and to give that person free time to devote to it.
"It's never a one-person operation," Stewart said. "I might be the director of the band, but if there are no band members, there's no music. The infrastructure was in place to continue. Whoever coordinates the program has all of this support system in place."
The lecture series was funded primarily from two sources, Stewart said – the student government budget and the college president's budget for "convocation." The Associated Students of North Idaho College budget still has a $6,000 line item for the forum. In addition, the president's budget has $8,000 designated for a speaker series of some sort, said Rolly Jurgens, vice president for administrative services. Stewart said $4,000 in grant money was left over as well, but Jurgens said that money was not designated in the budget for the Popcorn Forum as far as he could tell.
And those designations did not cover the entire bill. Stewart said he pursued additional funding from sources including Spokane Teachers Credit Union, the Idaho Humanities Council and local citizens like Scott and Mary Lou Reed. Secondly, he said, he drew upon years of connections to bring in highly placed experts at budget rates.
"Most lecture series around the country spend much, much more," Stewart said. "We ran it very conservatively."
Local journalism is essential.
Give directly to The Spokesman-Review's Northwest Passages community forums series -- which helps to offset the costs of several reporter and editor positions at the newspaper -- by using the easy options below. Gifts processed in this system are not tax deductible, but are predominately used to help meet the local financial requirements needed to receive national matching-grant funds.
Subscribe to the Coronavirus newsletter
Get the day's latest Coronavirus news delivered to your inbox by subscribing to our newsletter.
---