Sports
It was meant to be
Arizona general manager has had plenty of inspiration
Sat., Jan. 24, 2009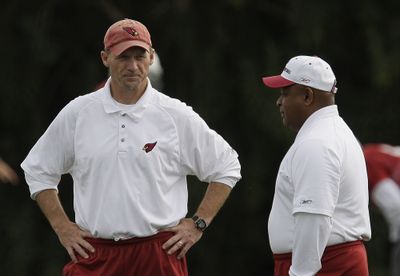 TEMPE, Ariz. – Tears welled up as Arizona Cardinals general manager Rod Graves drove home from the team's complex Monday night.
Graves, 49, thought of his late father, Jackie, a highly respected, longtime NFL scout and former player personnel executive with the Philadelphia Eagles until his 1989 death.
Graves said he was overcome by a sense of "angels" entwined with Ken Whisenhunt's coaching, offensive coordinator Todd Haley's aggressive play-calling, Kurt Warner's 66.3 percent postseason completion percentage, Larry Fitzgerald's breathtaking catches and Clancy Pendergast's take-away defense.
The previous night, Graves stood on the NFC Championship Game trophy platform inside raucous University of Phoenix Stadium after Arizona's 32-25 win sent the team to the Super Bowl.
Graves received an emotional embrace from fullback Terrelle Smith, whose dying mother envisioned the moment in April.
Sheryll Smith's breast cancer metastasized and spread to her brain. She lost her sight before her Dec. 10 death, but her vision for her son's team has come to fruition.
"She said I'd be part of the biggest game in Arizona Cardinals history, part of a bowl game," Smith said.
Graves understood.
"Terrelle hugged me as tight as anyone did that night and said with tears, 'Rod, my mother told me this day would come,' " Graves said. "That's when I was thinking about my dad.
"We've had a lot of angels looking after us.
"It couldn't have been any other way."
Graves choked up speaking of his father, whose reputation opened doors for his son with the USFL's Philadelphia Stars, the Chicago Bears from 1984 to 1996 to his present position as architect of this Cardinals team.
Graves drafted Pro Bowlers Fitzgerald, Anquan Boldin, Adrian Wilson and Darnell Dockett, then tapped dynamic rookie cornerback Dominique Rodgers-Cromartie and running back Tim Hightower in last April's draft.
He paid homage to his father's heart-and-soul sacrifice by calling each Cardinals scout individually to thank them Sunday.
"I think about the character my parents gave me," he said. "If you have a situation where you feel like you have one hand tied behind your back, you fight like hell with the free arm.
"After all the negativity … that's really been the nature of my approach: 'We're going to fight like hell with the free arm to get to where we are.' "
When Graves and team president Michael Bidwell identified what they wanted in a head coach after Dennis Green was fired in 2006, former Pittsburgh Steelers offensive coordinator Whisenhunt's calm, firm vision fit their profile.
"Ken has a great presence as a leader," Graves said. "Here's a guy who spent years under Bill Cowher, Joe Gibbs and Dan Henning, Rod Dowhower, Bill Curry and Ted Marchibroda."
After the Super Bowl, financial reality sets in. Warner's contract is up.
"We'd like for him to end his career a Cardinal," Graves said. "In my career, I can only put one person next to the qualities I saw in (late Hall of Fame Bears back) Walter Payton. That's Kurt Warner.
"He's a Hall of Famer. Walter was extraordinary in terms of his talent on the field and extraordinary in how he dealt with the public … Kurt has always shown an appreciation for fans and for where he came from."
Will the team satisfy Boldin, who said in training camp he wanted to be traded because an under-market contract with two years remaining wasn't redone?
"We're going to sit down and revisit his situation," Graves said. "We have to take a look at where he is and try to balance all the other challenges we're going to have during the off-season and do exactly what we feel is best for our team."
Did last Sunday's sideline blowup with Haley change things?
"No, no," Graves said. "That kind of passion, that's who Anquan is. Those guys have great respect for one another. We want that kind of passion in our locker room."
As for Haley, Graves said league rules "prohibit any contact with our coordinators while we're involved with the Super Bowl. Obviously, teams are following the rules."
Graves chases another ring Feb. 1, one few believed the Cardinals would be one win from.
"I gave my Super Bowl (XX) ring to my dad," Graves said. "My father was so proud of that ring. He put it on display in our home and showed it to everybody.
"What we've got to do now is go and finish."
Local journalism is essential.
Give directly to The Spokesman-Review's Northwest Passages community forums series -- which helps to offset the costs of several reporter and editor positions at the newspaper -- by using the easy options below. Gifts processed in this system are not tax deductible, but are predominately used to help meet the local financial requirements needed to receive national matching-grant funds.
Subscribe to the sports newsletter
Get the day's top sports headlines and breaking news delivered to your inbox by subscribing here.
---